This Olympics marks the 20th anniversary of Michelle Kwan not winning the gold medal in ladies figure skating in Nagano. I'm sure that Tara Lipinski, who did win gold and became the youngest skater ever to do so, remembers this occasion differently. Kwan herself probably does, too. Kwan, for her part, has long ago moved on from this competitive disappointment and despite never winning the "big one," she still became the greatest American figure skater of all time. By the time her competitive career was over in 2006, Kwan had won five world titles, nine national titles, and two Olympic medals: a bronze in 2002 and that silver behind Lipinski in 1998. It is good and healthy that she has moved on. I haven't.

Up until last week, I hadn't watched Kwan's or Lipinski's long programs from Nagano since the night they aired in the States. They weren't shown live at the time, given the time difference between the East Coast of the U.S. and Japan, and 1998 was the first year that I was truly aware of tape delay. By the time I sat down with my mother to watch the Olympics in our living room, I already knew the result. Earlier that day, I'd heard two teachers at school talking about it. Overhearing it in the hallway felt like a sucker punch.
"1998 was the first Olympics in which the internet was a thing," Robert Samuels told me. Samuels is a national political reporter at the Washington Post most of the time. But as a lifelong figure skating fan, he becomes the publication's foremost figure skating analyst during the Winter Olympics. I met Samuels at the 2018 national championships after our mutual friend Diana Moskovitz made a figure skating shidduch. (Check out Samuels' gorgeous, poignant essay about his experience growing up as a young black man in the Bronx who was obsessed with figure skating.)
"I remember, just by accident, I was off from school. I remember signing onto AOL," Samuels said. That's when he came across the news that Lipinski had won the 1998 Olympic title. "I was stunned and confused." Kwan, after all, was coming off stellar performances at the 1998 National Championships where she regained her title with two breathtaking programs that earned her perfect 6.0s in artistic presentation. Her performance in Philadelphia had been a comeback of sorts; a return to form after injury and after a season in which she had been repeatedly defeated by the upstart 14-year-old Lipinski.
"I remember going through the story, trying to figure out where'd she fall, where'd she fall?" Samuels said. Given her favorite status in 1998, it would've taken a fall or serious stumble for Kwan to lose to Lipinski. That's what had happened in 1997, after all. But later that night, Samuels discovered, along with me and everyone else, that Kwan had in fact not fallen in her long program. She skated very well to "Lyra Angelica," an ethereal piece of music that Kwan matched in her interpretation. There was a tentative landing on her triple flip jump and the fact that Kwan seemed to move across the ice a tad slower than she had in Philadelphia. But that was it.

Still, there's no way in which Kwan's performance could be characterized as a miss. And yet her technical scores were lower than expected for a hit program from a former world champion. Kwan had skated earlier in the final flight, and perhaps judges were leaving room to reward an even better performance.

G/O Media may get a commission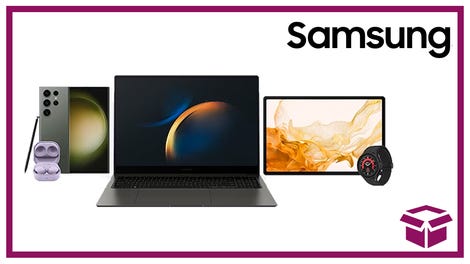 24 hour deals
Discover Samsung - Daily Deal
Lipinski, who skated later, wound up reaping that reward. She blitzed across the ice, skating to music from the movie The Rainbow, and hit two triple-triple jump combinations. "She was sort of zipping across the ice," Samuels said of Lipinski. "We could see that actually she kind of did deserve to win. She was freer and better."
I, too, grudgingly conceded that Lipinski was better in the long program than Kwan had been on that night and did deserve to win.
(Though Kwan had been leading after the short program, the rules at the time dictated that the winner of the long program—provided that she was in the top three after the short—wins the title. Lipinski had been second behind Kwan after the first day of competition and won the free skate on the second day.)

"For that one moment in time, Tara Lipinski was better than Michelle Kwan," sports journalist Christine Brennan said in a documentary about Kwan. Brennan recalled Kwan's coach, Frank Carroll, finding the disappointed skater backstage in Nagano and telling his pupil, "People will tell you that you were robbed, that you deserved to win the Olympic gold medal. You're going to hear that for the rest of your life. 'You should've won, you should've, you should've.' He said, 'Well they're wrong. You skated very well but Tara Lipinski skated better. Tara deserved to win this Olympic gold medal.'"

Perhaps that little speech—you can't quite call it a pep talk—allowed Kwan to act so graciously when she was interviewed about her silver. Or maybe not; there's plenty of evidence that Kwan really is innately graceful. Either way, she wore this huge disappointment with shocking lightness.

"When they interviewed her, she was—I'm tearing up just thinking about it—she was so calm and so appreciative of her silver medal," Samuels said. "She made it feel like it was okay. That she would be able to accept the fact that she worked hard, she tried, and she didn't win. I think watching that happen, I sort of essentialized it as that moment in my childhood when I realized life isn't fair. It really isn't because Michelle Kwan was the best. She did everything she could do at that time and she still didn't win. That's really hard to swallow."

---
Kwan's graciousness in defeat made her an even more popular figure than she had been before the Olympics, whereas Lipinski's celebrity really started and ended with that long program skate. (Until she started commentating with Johnny Weir in 2014, that is.) Kwan, after Nagano, was arguably more popular than the champion who had defeated her on the Olympic ice.
Nearly a year before the Olympics, Kwan, then 16, was asked how long she planned to keep skating. "For the next 25 years," she said in the New York Times. "We're both young. I don't know how long she [Lipinski] intends to be skating. But I'll be here, always."

Neither lasted another 25 years but after Nagano, Kwan turned in another eight years of competitive skating, including four more world titles and another Olympic medal. Lipinski, on the other hand, retired from elite skating almost immediately after she won the gold to pursue show skating. Lipinski had her Olympic moment but it was Kwan that ended up with a long skating career.

Of course, this might not be a very meaningful contrast. During their brief rivalry, which barely lasted two full skating seasons, Kwan and Lipinski were routinely set up as foils—the artist vs. the trickster; the woman vs. the child. But if you go back to the early years of Kwan's senior skating career, she actually had a lot in common with Lipinski. Both were incredibly precocious jumpers, and Kwan burst onto the scene when she was just 13 years old and was the second place finisher at the infamous 1994 national championships where Nancy Kerrigan was attacked. When Kerrigan was named to the U.S. Olympic team—she had to skip nationals due to the attack and injury—Kwan was bumped to the alternate position. (Kwan was brought to Norway, just in case.)
During this early phase of her senior career, roughly from 1994-1995, Kwan didn't yet possess the physical maturity in order to compete with the best ladies skaters in the world. Unlike Lipinski, Kwan was dinged for it. "The only thing the judges can fault her for is being 14," the commentator said two thirds of the way through Kwan's free skate at the 1995 world championships. It was enough. Despite turning in a flawless performance that included seven perfectly landed triple jumps, Kwan found herself off the podium.
In 1995, the Americans' top female skater was Nicole Bobek, who was 19 and looked every inch the woman on the ice. She won the national title that year and skated brilliantly in the short at worlds, entering the final phase of the competition in first. She fell twice in the long program and dropped to third. The fluff on Bobek was very much something you'd write the year after Tonya-Nancy: "Enter Nicole Bobek. She has everything a female skater should have: Grace, elegance, and trouble with the law." Bobek had been arrested for a home invasion. It was a crazier time in women's figure skating.
It wasn't until 1996 when Kwan arrived to the season with a more mature and artistic program, with the jumps to match, that she was able to start winning the major titles, starting with her first senior national title and then gold at the world championships. Kwan had previously pulled her hair back in a simple ponytail, but now her long black hair was tied up in a bun and she wore makeup for the first time in her competitive career.
Kwan was just 15 in 1996, the same age Lipinski was when she won her gold in 1998. Yet Kwan was capable of far more artistically than the Olympic champion was at that age. Kwan notably played a character when she skated to "Salome," whereas Lipinksi, it seemed, always played herself, a kid who loved skating and doing well. There's nothing wrong with that, per se, but that triple loop-triple loop jump combo aside, Lipinski didn't exhibit the same artistic growth that Kwan had between the ages of 14 and 15. Lipinski was the first female to perform that combination, though, and the sheer power of its newness overrode her artistic deficiencies.

To be fair to Lipinski, fans never had a chance to watch her develop artistically—she was gone before she could improve her performance and interpretive chops, before she had even gone through puberty, and long before we could see her move through the arc of a career from victory to defeat to injury to comeback in the way that Kwan later would. Lipinski had one hiccup during her entire competitive ascent, when she fell at nationals in 1998 and lost the national title to Kwan. But when you win the Olympic gold just over a month after you lose the national title, that defeat doesn't seem quite as stinging. The arc of Lipinski's redemption lasted all of one month. Kwan gave skating fans eight more years of top performances before she finally retired right before the start of the 2006 Olympics. These aren't just very different careers, they're different types of stories.

---
When I search "Michelle Kwan" on YouTube, there are practically double the number of results than there are for Lipinski. While the first results to pop up for Lipinski are her 1998 Olympic programs, the majority of the YouTube hits on her name seem to be related to her post-Sochi fame due to her commentary work with Weir.
To search for Kwan on YouTube, in contrast, is to fall down a rabbit hole of spectacular programs. I usually start with Kwan's 1998 programs—the ones at nationals, not the Olympic ones. This one that she performed to Rachmaninoff is my absolute favorite, as is Dick Button's commentary over it. And that spiral sequence!
That usually leads, with the help of YouTube's algorithm, to some video compilation of "ten best Michelle Kwan programs" or something like that; I'll stay there for about an hour unless I have something I really need to do.
One of the my favorites is her 2004 "Tosca" program from the national championships. That's due, in part, to the ecstatic footwork sequence at the end.
"Even when she makes mistakes, we're with her. That's the wonderful heart that she shows," Dick Button says at the start of that performance. Kwan didn't have any errors in that competition, as it happened, and she won another national title. But Button was referring to her fall in 2002 at the Olympics, which cost her another shot at a gold medal. American Sarah Hughes had the Tara Lipinski moment of those Games, skating better than she ever had before. This time, Kwan came away with the bronze. It was the second time that America's most beloved and respected skater failed to win the ultimate prize.
After that disappointing finish, Kwan performed a tearjerker of an exhibition performance to Eva Cassidy's cover of "Fields of Gold." (Seriously, it's going to make you cry.)
I sometimes wonder if Kwan would've retired sooner had she won Olympic gold on her first try. If she, instead of Lipinski, had been crowned in 1998, would we have had another eight years of skating from Kwan? It's unknowable, but I'd like to think she would've continued for awhile. More than almost any other skater, Kwan loved competing and performing—it's no accident that she saw herself spending the next quarter century on skates back in 1997. But would a Kwan Olympic gold medal have resulted in less Kwan for figure skating, fewer programs to put into compilations? Would it have been worth it? Again, I suspect my answer and hers might be different.

---
Success and impact are not the same. That Kwan is the most successful figure skater in U.S. history is undeniable. But what about her impact on the sport? And what of Lipinski's?
In many ways, despite her short-lived competitive career, Lipinski has in fact had a long lasting impact on skating. She was the first of the really tiny female skaters to come along and win, the ones who could land all of the jumps even if the jumps barely seem to lift off the ice. If you look at the ladies champions before Lipinski, they were not only older but looked older—even Kwan, though just two years Lipinski's senior, cut a more adult figure on the ice. It was almost ridiculous to think of Kwan, who was so young herself, as "womanly" but set against Lipinski, she was. It recalled what Evy Scotvold, Nancy Kerrigan's coach, said in Brennan's book, Edge of Glory. "If this keeps going, 16 and 17 year olds are going to feel like matrons," he said.
You can almost draw a straight line from Lipinski to the current crop of young Russian skaters—young, small girls who can jump all day and then disappear from the scene right as puberty hits. In fact, Lipinski basically drew that line for us in her recent New York Times op-ed about what is ailing ladies figure skating in the U.S. She says that the Russian women are dominating figure skating because they are pushing the technical boundaries of the sport at younger ages, just like she did.
The Russian women that Lipinski admires are more technically skilled than Lipinski was, but that's probably due to an IJS scoring system that was introduced in 2004 in which every moment on the ice is seen as an opportunity to rack up points; two-footed skating and lack of transitions between elements will hurt your overall score. These Russian skaters are also not quite as young as Lipinski was, but again, that's because the rules changed: the age minimum for senior women's skater is 16 now. There simply can no longer be 14-year-old world champions.
During Lipinski's era, the premier Russian skater was Irina Slutskaya, who was a jumper like Lipinski but cut from a different mold—she was bigger, more powerful, faster. Her jumps went up in the air and covered some serious ice relative to Lipinski's small jumps. Slutskaya would go onto become a world champion and Olympic medalist, but current Russian skaters are more similar to Lipinski.
Kwan, for her part, wasn't much of a trendsetter in her time. She didn't pioneer any jumps in the way that say Midori Ito, the first woman to perform a triple axel, had. She wasn't the first to do a particular jump combo the way that Lipinski had done. And over the course of her long career, Kwan would be eclipsed technically by younger skaters who could do the triple-triple combinations that she could only hit inconsistently.
It's tough to identify a particular skating trend, good or bad, that can be said to have been authored by Kwan. She won a lot, but that's not really a trend. Beauty and artistry aren't really trends either; they're qualities. Future skaters would exhibit some of those same qualities and would remind you of Kwan at times; Yuna Kim, the 2010 Olympic gold medalist is one, and Italy's Carolina Kostner is another. Both made you feel something more than awe for their mastery of difficult tricks and both had—or in the case of Kostner, have—careers that spanned more than one Olympic cycle. Maybe that's it, then—Michelle Kwan isn't remembered because she invented anything, or was the first to some technical summit in the sport. She's remembered because she skated beautifully, for years, in a way that no one else quite could. There is always a new trick, and some new skater coming who will master it. The older stuff, the essential stuff, the thing that Michelle Kwan did better than anyone else has always been there. It always will be.