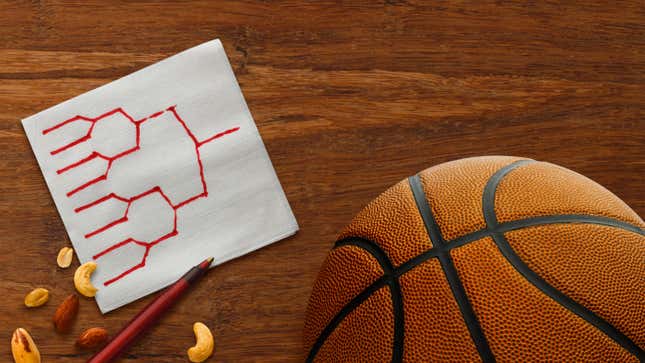 The Men's NCAA Tournament is just over the horizon and as its 32 automatic bids are earned in rapid-fire over the next week, it can be too much to track on your own. That's what this space is for. One of these 32 automatic bids from a smaller conference is likely to become a Cinderella, but first gaining entry into the ball is the priority. Check out Deadspin's 2023 NCAA Tournament's automatic bids tracker and a brief breakdown of each auto-bid team as we close in on next weekend's Selection Sunday.

Which top seed will be upset early? | March Madness
Fairleigh Dickinson
Conference: Northeastern Conference
In just his first season, Fairleigh Dickinson coach Tobin Anderson led his squad back from their 4-22 campaign in 2022 to the No. 2 seed in the Southeastern Conference Tournament. They were the first automatic bid to the NCAA Tournament because Merrimack, the NEC regular season champs and conference championship opponent, remain ineligible for the Big Dance while completing their four-year reclassification process as they transition from Division II. This team makes absolutely no sense. Logically, they shouldn't be here.
Their starting backcourt consists of 5-foot-8 Demetre Roberts and 5-foot-9 Grant Singleton and according to KenPom, they're the second-shortest college basketball team since 2007, when the site began tracking size data. Their tallest rotation players are 6-foot-6 and, as a team, they rank 331st nationally in blocks per game.

Southeast Missouri State
Conference: Ohio Valley Conference
The Redhawks marched to the Ohio Valley Conference Title Game a fifth seed, then earned their first tourney bid since the 2000 season with an overtime win over Tennessee Tech. The OVC is so small, it recently merged its football membership with the Big South Conference.
Brad Korn's Redhawks are one of the fastest-paced offenses in the country according to pace, as well as fastbreak metrics and 5-foot-10 sophomore point guard Phillip Russell is the tip of their spear. On the downside, they're not all that efficient on the offensive end either.

North Carolina-Asheville
Conference: Big South Conference
Big South Player of the Year Drew Pember is a 6-foot-10 threat from anywhere on the floor. UNC-Asheville defeated the Fighting Camels of Campbell in a tightly contested conference title game, which is a real shame because another team named the Bulldogs is going to get lost in a field of 68 and makes it harder for amateur bracketologists to make their picks based on animal mascots.
Drake
Conference: Missouri Valley Conference
The winners of Arch Madness have a history of making noise in the tournament, but this is only Drake's third NCAA Tournament appearance in 15 years. Two of those three have occurred in the five years since head coach Darian DeVries became their sideline general. Drake got here on the back of a defense that ranks in the top 25 in defensive efficiency.
Their offensive firepower derives from 6-foot-7 forward Tucker DeVries, who bears a striking resemblance to his head coach. Tucker isn't starting just because his pops controls everyone's scholarships though.

The aforementioned Tucker DeVries is the MVC Player of the Year and an NBA prospect who hoops like your typical coach's son. He doesn't waste movements or dribbles and his jumper connects with nets softly from anywhere on the floor. Also, his last name is pronounced more like Da-Vreeze, and less like Devry (University), which is perfect because he's a cold-blooded shooter and the leading scorer for the Bulldogs.
Kennesaw State
Conference: ASUN
In Sunday's Atlantic Sun final, senior guard Terrell Burden drained a free throw with 0.7 seconds left in regulation to lift the top-seeded Owls over Liberty and became the fifth team to punch their ticket for the tournament. This is special for the Kennesaw State program. Not only have the Owls never gone dancing into March Madness until now, but this is their first winning season since transitioning to Division I at the beginning of the 2009–10 campaign. The Owls aren't led by a singular talent, but head coach Amir Abdur-Rahim, 41, has a familiar name. His brother Shareef Abdur-Rahim was one of the greatest prep basketball players to ever rise out of the state of Georgia. Amir took over a Kennesaw State program in shambles, lost 28 games during his first season, and has created a new culture.
Louisiana-Lafayette Ragin' Cajuns
Conference: Sun Belt
The Ragin' Cajuns are going dancing for the first time since Elfrid Payton and his Basquiat hairdo led Louisiana-Lafayette into March Madness. Bob Marlin, the coach of that 2014 squad is still stalking the sidelines for UL-Lafayette, but this squad doesn't boast a first-round pick at point guard.

This time around, Louisiana's leading scorer is forward Jordan Brown, who transferred from the University of Arizona two years ago. The majority of Marlin's roster these days consists of transfers like Brown. Sophomore point guard Themus Fulks transferred from Dodge City Community College — after starting his collegiate career at South Carolina State, Terence Lewis shuttled in from Jackson State, and senior guard Greg Williams, Jr. transferred from St. John's. The Cajuns spread the wealth and score in bunches, ranking third in the Sun Belt in scoring, top 50 nationally, and are projected as a 13 or 14-seed in the men's tournament. However, the 6-foot-11 Brown is an imposing interior force who can take control of a contest when matched up against smaller frontcourts.
Furman Paladins
Conference: Southern Conference
Furman's run as the wire-to-wire favorite in the Southern Conference concluded on Tuesday night with a resounding victory over the Chattanooga Mocs they'd been waiting nearly a year for. Last March, it was the same Chattanooga team that stunned Furman with a buzzer-beater in overtime of the conference title game, then were touted as a potential Cinderella before nearly toppling Illinois.

The Paladins live and die by the 3-pointer, taking more triples than any team in the nation through Monday night. However, they also boast one of the highest efficiency field goal percentages (which weights 2-pointers and 3-pointers more heavily) in the nation because they score inside with remarkable efficiency and rarely turn the ball over, sitting on the brink of the top-10 in assist-turnover ratio. Led by their leading scorers Jalen Slawson and Mike Bothwell, the Paladins rank second in the nation in 2-point shooting percentage. Bob Richey's teams have been in the thick of the race for the SoCon automatic bid for the last few years and now that they have this opportunity, Furman might be a handful for whoever is pitted against them first.

Gonzaga
Conference: West Coast Conference
Drew Timme became the program's all-time leading scorer during Tuesday night's WCC Conference Championship game, which is a perfect metaphor for this upper-class-driven Zags team. This Gonzaga team is still a top-10 unit, but lacking in freshman phenom talent. As a consequence, they've been out of focus this season. Saint Mary's actually shared the regular season West Coast Conference title, but the Zags left no doubt in their 26-point demolition of the Gaels. Junior forward Julian Strawther is a name the nation should learn soon. The best-scoring offense in the country will enter the tournament on a 9-game-losing streak, although they're only 3-4 against ranked teams, which doesn't portend good things for their aspirations of going on another Final Four run.
Charleston Cougars
Conference: Colonial Athletic Association
One of the best offensive teams in the country blasted the field en route to their conference championship. These Cougars were good enough to earn an at-large bid, so by taking care of business, an extra bubble team will be granted entry into the 68-team field. Pat Kelsey has built the consummate "play for the name on the front of your jersey, not the name on the back" teams and it shows. They have five players in uniform who average double-digit scoring nightly and their top points-generator tops out at 12.3 points per game, but they dominate on the boards. The star might be their program architect, Kelsey, who recently signed an extension due to the program's rightful concerns that he'd be lured away for a more high-profile job.
Oral Roberts Eagles
Conference: Summit League
Two years after Max Abmas took the Eagles on a magic carpet ride to the Sweet 16, he's back for more. The 30-4 Eagles finished 18-0 in league play and won the final by 34 points over North Dakota State. Abmas is flanked by Oral Roberts' second-leading scorer, 7-foot-5 center Connor Vanover, and Isaac McBride's slick shooting. Oral Roberts manifests points at a prolific rate, ranking third nationally in scoring and behind Vanover's post defense, are a SWAT team, blocking the fifth-most shots in the country.
North Kentucky Norse
Conference: Horizon League
Ah, the Norse of North Kentucky. No, this isn't where New Asgard is located. North Kentucky is a March Madness stowaway who won 22 games and earned the third seed in the one-bid Horizon League's conference tournament. Get to know the name Marques Warrick. He's the Norse's steadiest starter and smoothest scorer. North Kentucky is a miniature team. Senior Chris Brandon is their most physical frontcourt body, but measures in at only 6-foot-8. But don't make the mistake of thinking this is a team that plays at a breakneck pace and tries to outscore their opponents. In addition to being a small squad, North Kentucky plays at one of the slowest paces in the nation.
Colgate
Conference: Patriot League
Colgate will be riding into the tournament for the third consecutive year as the Patriot League Conference Tournament champion after blitzing through their conference schedule, nearly going undefeated in conference play, eliminating Army in the semis (that's not very patriotic)and Lafayette in the final. Offensively, Colgate brings the fireworks. Colgate is No. 1 nationally in effective field goal percentage and 3-point percentage according to Ken Pom's advanced metrics. Their steady leader is 6-foot-5 senior wing Tucker Richardson, who recently became the first player to ever sweep Player of the Year and Defensive Player of the Year in the same season. This will be the fifth-year senior's swan song after one of the most distinguished careers in the annals of Patriot League basketball and what better way to go out than by taking the tournament by storm?
Texas A&M Corpus Christi
Conference: Southland
The Islanders of Corpus Christi are returning to the tournament with more tourney experience than their 2022 squad which got bounced expeditiously as a 16-seed. Their top-three leading scorers from last year, Isaac Mushila, Trey Tennyson, and Terrion Murdix all returned and it showed on their way to a 23-10 regular season title. For that reason, the Islanders should have a sense of familiarity when they make their 2023 Conference Tournament debut. For a program that started playing Division I basketball in 1999, the next step is to pull off an upset.
Montana State
Conference: Big Sky
With a name like RaeQuan Battle, the Montana State guard is one big game away from becoming a tournament legend. He's also the Bobcat's leading scorer. Montana State's super senior big Jubrile Belo was the first scholarship offer head coach Danny Sprinkle made when he accepted the job in 2018 and is one of the most accomplished players in conference tournament history. Together, they were the driving forces behind Montana State this season. The pair came up short in their pursuit of the regular season conference tournament title, however, they'll be entering the men's tournament on an eight-game winning streak after securing their second-straight automatic bid.