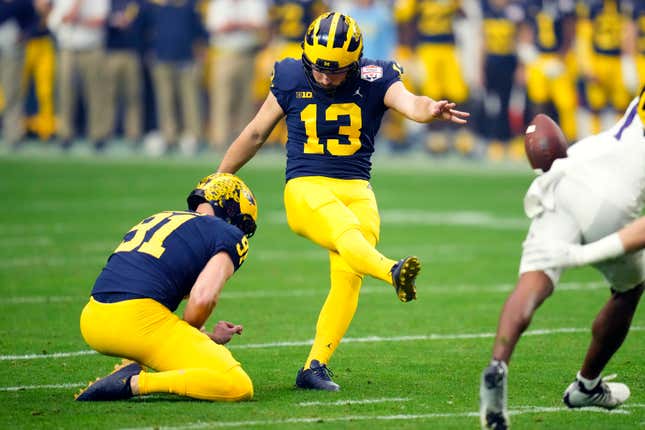 I guess if you're the San Francisco 49ers and you're set at most positions, you can afford to take a kicker in the third round of the 2023 NFL Draft. The team selected Michigan's Jake Moody, who owns the Wolverines' records for points, field goals, and 40-yard FGs, 99th overall.
Mean Joe and Tommy GOAT | Michael Evans Behling's Ultimate Sports Fantasy
While this isn't Sebastian Janikowski being drafted 17th overall by the Raiders in 2000, there's a good chance Moody, the 2021 Lou Groza Award winner, would have still been on board later in the Draft.
However, 49ers head coach Kyle Shanahan said the team had to make the move when it did.
"...[W]hen you look at the history, the majority of kickers go in the fourth round. We didn't have a fourth-round pick," he said. "The guy was not going to be there in the fifth round."
Since 2000, only 49 kickers, including Moody, have even been drafted. The last kicker taken in the third round was Roberto Aguayo, who was a 2016 selection for the Tampa Bay Buccaneers. Before that, the last kicker taken in the third round was Nate Kaeding, who was drafted by the Chargers in 2003. Both Aguayo and Kaeding won the Lou Groza Award as well.
San Fran lost Robbie Gould, its kicker since 2017, to free agency. Granted, Gould is 40. The Niners traded for Zane Gonzalez, who missed the 2022 season to injury, back in March. Moody is 23 and twice won Bakken–Andersen Kicker of the Year (the Big Ten's special teams award). He was a perfect 60-for-60 on extra points in his collegiate career.
"In Moody, the Niners get the player widely regarded as the best kicker in the draft," said ESPN Staff Writer Nick Wagoner, who added, "[t]he 99th pick in the draft is rich for a kicker."
San Francisco didn't pick until the third round, selecting Ji'Ayir Brown at No. 87 before selecting Moody 12 picks later.
The New England Patriots also took a kicker early, drafting Maryland's Chad Ryland in the fourth round.