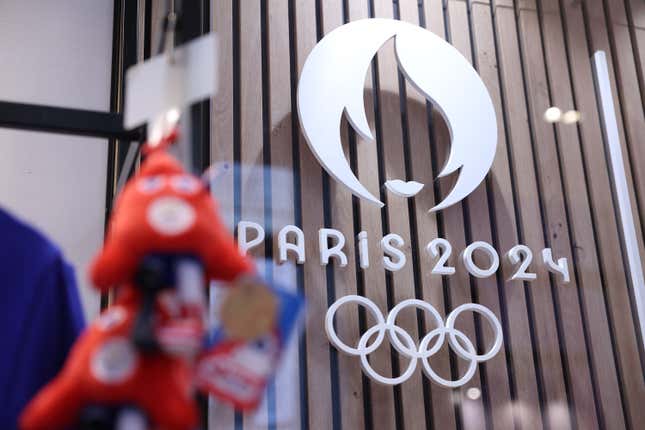 World sports fans in search of a natural antagonist for the 2024 Summer Olympics in Paris will have to find countries other than Russia and Belarus to root against. The IOC has decided not to invite the countries due to the ongoing war in Ukraine, which started mere days after the Beijing Winter Olympics. The fighting has affected sports in myriad ways since February 2022, and even as competitors from the offending countries have made their way back onto tennis courts, soccer fields, and other arenas, they're still getting booed.
Will LeBron's Team USA win gold in the Paris 2024 Olympics? | Agree to Disagree
Just this week Victoria Azarenka, of Belarus, was jeered at Wimbledon for a handshake that wasn't offered by either her or Ukrainian rival Elina Svitolina after Azarenka fell in three sets. Azarenka called the crowd's reaction "unfair" as she knew that Svitolina doesn't shake hands with Russian or Belarusian players, and thus didn't make an attempt.
In Paris for the French Open, Marta Kostyuk, of Ukraine, was booed when she opted out of the post-match handshake with Aryna Sabalenka of Belarus. Svitolina said she also was booed at the tournament.
And if you're waiting for me to make a ruling on who should be booed, it's going to be a while because I have no clue. Some athletes don't condone the actions of their countries, but can't say it for fear of retribution, yet others are allegedly attending pro-war rallies. If it feels like a continuous stream of disinformation to make fans as confused as possible, that's because it is.
The Olympics are a different level though; it's the best, most visible platform for trying to sports-launder public perception, and the IOC should avoid any scenario that could lean pro-Russia.
How genuine is the IOC's snub?
The international politics of the Ukraine-Russia war are, of course, fucked, and the conflict has been politicized whenever and wherever it's convenient. The IOC wants to be commended for this decision, but I'm going to stop short of doing that as it's also considering allowing athletes from Russia and Belarus to compete as long as they do so as "individual neutral athletes."
The decision hasn't been finalized, so we'll see what comes of it, but, and stop me if I sound too rational here, if their "teams" have been banned, what's the point in those athletes competing?
The Olympics are the perfect stage to push propaganda, which is why Russia waited until after Beijing to invade Ukraine. The presence of Russians and Belarusians at all — regardless of how gray and neutral their unitard is — nullifies the IOC's grand gesture.
Russia Olympic Committee athletes won 32 medals in Beijing, and I'm sure the motherland was proud, because the only people dumb enough to think the absence of a flag erases all connection to the country sit on the board of the IOC. An all-out ban risks pissing off Russia, who might not be so eager to pay the exorbitant price that comes with putting on the event.
Some Los Angelenos unsuccessfully tried to subvert their city's bid for the 2028 Summer Games, and considering how much infrastructure is required to stage it, and how much it cost to build it, who could blame them for not wanting to take on that burden when LA has more pressing concerns?
At this point, the IOC should be pitching its product, not the other way around, and it would be bad capitalism if the committee decided not to continue drumming up a bidding war.
The Paris Games should be a spectacle
Last month French pension reform protesters briefly stormed the 2024 Olympics headquarters in Paris. The demonstrators have even adopted a chant of "No withdrawal, no Olympics" in response to French President Emmanuel Macron's policy, with the apparent meaning being to disrupt the preparation for the Games, or the Games themselves, unless Macron relents.
So, when you hear that, it makes sense that the IOC doesn't want to invite more distractions. There have only been a handful of instances when countries have been barred from competing in the Games due to non-sports related reasons: South Africa in the '70s and '80s due to apartheid, Yugoslavia in 1992 over its military aggression toward Bosnia-Herzegovina, and Germany and Japan following World War II. Adding Russia and Belarus to that list, one could argue, would be a distraction itself simply because of how rare it is, and by making a move as drastic as this, the IOC also delivered a ruling on the war in Ukraine.
And those making that argument would be correct. This is a stance, and it should be implemented as such. No ambiguously clad competitors atop podiums, or forced sportsmanship between warring factions.
More than 260 Ukrainian athletes have been killed since the conflict began, according to the country's sports minister Vadym Guttsait, and a ban on Russia, Belarus, and their athletes — despite how unfair it may be, or the leaning of the individual — is the least the IOC can do.