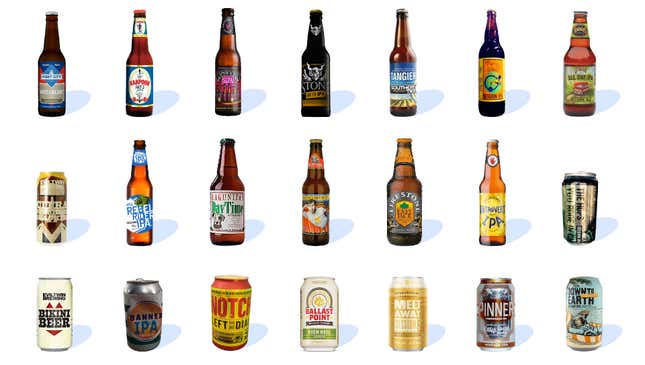 Craft-beer enthusiasts like to argue, complain, and explain. I wonder if there's any demographic commonality behind this exhausting pattern of behavior. Someone should look into whether perhaps a lot of them have graduate degrees, alcohol problems, and pale-colored penises, for instance. Or maybe they all like lasagna and the Cubs. Who knows. Anyhow, one of the Craft Beer Movement's™ most contentious debates these days concerns the existential status of the session IPA.
How running an NFL team is like running a restaurant | Chef Emeril Lagasse
You may think session IPAs must surely exist, what with all the beer bottles out there explicitly describing their contents as such. Yet many beerdoes steadfastly maintain that this fast-growing style, despite being responsible for thousands of acres' worth of new hop farms and at least as many listicles, is a dirty figment of beer marketers' collective imagination.
There are as many versions of the denialist rant as there are blowhard beer-truthers, but they all tend to boil down to something like this: These beers are just over-hopped, under-proof pale ales jumping on the IPA and session beer gravy trains. That is a bad argument: The charges may indeed be true facts, but even if so, that wouldn't negate the very reality of the beer dreamed up to fill these profitable niches. Session IPAs differ from traditional low-octane pale ales with aggressive hopping that tends to overshadow the underlying malt character of a pale ale. Another distinguishing feature is that session IPAs are called session IPAs. It's fine, just go with it.
I have little patience for the staunch IPA-change deniers, but I can understand why some sane people simply don't like the category. A lot of people disdain session beer (generally defined as those under 5-percent alcohol-by-volume) of any stripe, on the reasonable grounds that the whole point of drinkin' is to get fucked up. That's not an illogical position. And other folk suspect session IPAs are merely inferior, watered-down versions of a given brewery's standard IPA. Which, yeah, can happen. But I recently guzzled through nearly two dozen different brands of session IPA, and I was pleasantly surprised at their overall quality.
The list below is complete, definite, and flawless. It comprises an exhaustive survey of every single session IPA I found for sale around my neighborhood a couple weekends ago, plus a few out-of-towners sent as review samples. This means our perfect list favors breweries that are either based in New England or have made the smart decision to send me free shit. I didn't include any beers that were identifiably past their prime; this potentially punishes brewers who don't freshness-date their beer. GOOD.
21. Evil Twin Bikini Beer (2.7 percent alcohol by volume; Brooklyn, N.Y.) Yup, you read that correctly. This nasty bastard is only 2.7 percent ABV. I appreciate the concept of session beer, but that's ridiculous. And Evil Twin is notoriously expensive; it's unconscionable to charge $14 for a six-pack of beer that's not quite two-thirds as strong as goddamn Mich Ultra. Which bring us to the first outright corruption of this list: I didn't even drink this, on moral grounds, but I'm certain it's the worst.
20. Banner IPA (4.5 percent; Williamsburg, Mass.) I very much wanted to like this. I did not like this very much. It has a sweet caramel malt aroma, and it tastes a bit dirty. Good bitterness, though.
19. Samuel Adams Rebel Rider (4.5 percent; Cincinnati, Ohio) The zillions of new Samuel Adams beers are hit or miss, as exemplified by the Rebel line of India pale ales. Rebel Rouser, the double IPA, is really good, plain old Rebel IPA is okay, and this lower-strength number is a dud. It really does just taste like a hollowed-out version of an IPA.
18. Smuttynose Bouncy House (4.3 percent; Hampton, N.H.) I'm a big Smuttynose fan, and their new Smuttlabs line of weird beers is one of the most exciting recent developments in New England beer. Alas, Bouncy House isn't anything special. The first sniff shows nice tropical and citrus notes, but that fades fast.
17. Lagunitas Day Time (4.7 percent; Petaluma, Calif. and Chicago, Ill.) I generally like Lagunitas, too, but this effort seems a little half-hearted. It has a grassy, piney aroma that turns a bit more citrusy on the palate. I feel obligated to note that a lot of more reputable reviewers like this more than I happen to.
16. Left Hand Introvert (4.8 percent; Longmont, Colo.) This is where the list takes a qualitative leap forward. Introvert's a nice beer, with a deep tropical aroma augmented by sweet caramel malt and light pine, though the flinty finish is a touch more astringent than ideal.
15. People's Pint Training Wheels (4.5 percent; Greenfield, Mass.) The People's Pint is one of my favorite brewpubs, and this was my first time trying their session IPA. It tastes balanced but also somewhat muted, reminding me of an English-style pale ale more so than an IPA. But style qualms aside, it's a very good beer. There's a fair chance the hop character had faded by the time this undated bottle got to me. I bet this is great fresh, but I can't confirm that.
14. Lonerider Hops You Rode In On (4.4 percent; Raleigh, N.C.) Nice floral pine aroma, some light grapefruit, a gentle malt sweetness, and a firmly bitter finish. This is a serious, complex beer.
13. Harpoon Take 5 (4.3 percent; Boston, Mass.) A big departure from the flagship Harpoon IPA, with Simcoe and Amarillo hops livening things up and lending grapefruit and floral aromas along with a lightly tart, earthy funk.
12. Southern Tier Tangier (4.6 percent; Lakewood, N.Y.) This one's brewed with tangerine peels, but the predominant aroma is of grapefruit. The taste is very juicy and more tangerine-focused, with a bit of pine on the surprisingly dry finish.
11. 21st Amendment Down to Earth (4.4 percent; San Francisco, Ca.) This opens with super-sweet pineapple, followed by citrus; it's not very bitter and somewhat one-dimensional, but this replacement for 21st's recently retired Bitter American is still a winner. This is where the list takes another step up—Down to Earth and all the beers that follow could each top a reasonable drinker's ranking.
10. Founder's All Day (4.7 percent; Grand Rapids, Mich.) This one's heavy on the citrus and medium on the pine resin, with a very light bready malt character. It's one of the category's best sellers, and for good reason.
9. Oskar Blues Pinner (4.9 percent; Longmont, Colo. and Brevard, N.C.): Smells fantastic: pineapple, lemon, and grapefruit, with light biscuity malt and a gentle earthiness lending balance and dimension.
8. Stone Go To (4.5 percent; Escondido, Calif.) Super fruity, with both tropical and citrus notes, turning a bit danker on the finish.
7. Evil Twin Citra Sunshine Slacker (4.5 percent; Brooklyn, N.Y.) Okay, this goes a fair ways toward atoning for the Bikini Beer bullshit. I'm a sucker for Citra hops, which are on display here in grapefruit aromas atop pine and lemon, with that pungent cat-pee note weirdoes like me enjoy. The pine fades on the palate as the operation turns resolutely juicy, with some melon and light Triscuit-y malt emerging.
6. Newburyport Melt Away (4.6 percent; Newburyport, Mass.) More Citra, this time joined by Amarillo. Fruity and floral, Melt Away is distinguished by a surprisingly bitter jolt on the back end, making it more well rounded than some of its peers in the top 10.
5. Ballast Point Even Keel (3.8 percent; San Diego, Calif.) Complex aroma featuring pine, sugary tropical fruit, and a very slight meaty/smokiness. It's further distinguished by a strawberry note and a dry, earthy finish. This is a one-of-a-kind beer that I happen to love. I can't guarantee you will.
4. Ipswich S.I.P.A. (3.9 percent; Ipswitch, Mass.) Simcoe, Ella, and Mosaic hops representing strong in the biggest shocker of the tasting. I need to pay more attention to Ipswich, if this lush, fruity beaut is any indication. Orange, lemon, peach, pine resin, and just enough bready malt to fill it out while letting the hops shine.
3. Port City Ways and Means (4.5 percent; Alexandria, Va.) This one has the good sense to use a heavy dose of rye to add a spicy, black-pepper edge to the citrus and pine you expect from the style, along with an unexpected caramel note. Even the best session IPAs tend to show very little malt character, and rye is a clever way to address that weakness.
2. Firestone Walker Easy Jack (4.5 percent; Paso Robles, Calif.) I've liked every single Firestone Walker beer I've tried, and pound for pound Easy Jack is one of the best of their beautiful bunch. Very strong citrus and tropical fruit aromas give way to an earthy, piney finish in this pungent, multidimensional winner.
1. Notch Left of the Dial (4.3 percent; Ipswich, Mass.) I find this bright, crisp, fruity, and floral beer to be the platonic ideal of a session IPA. It even has a unique and delightful whiff of gin! It surely helps that Notch brews session beer exclusively, so Left of the Dial in no way resembles a dumbed-down version of a stronger brew. There is no compromise to this beer, and it is the best session IPA I've been lucky enough to try.
But perhaps I've missed a beer or two in my search? Such as a dozen you can name off the top of your head? All right, then, please get naming.
---
Will Gordon loves life and tolerates dissent. He lives in Cambridge, Mass., and some of his closest friends have met Certified Cicerones. Find him on Twitter @WillGordonAgain.

Image by Sam Woolley.
Adequate Man is Deadspin's new self-improvement blog, dedicated to making you just good enough at everything. Suggestions for future topics are welcome below.