Welcome to the first Drunkspin Sub-Five-Percent Friday! And maybe the last, because who knows if we'll manage the schedule properly, but the idea is to showcase a different lower-alcohol beer each week, to help shoo you into the weekend with a blueprint for maintaining a respectable 48-hour buzz.
I don't like the term "session beer" to describe lower-proof brews designed for long-haul drinking. It's one of those British expressions that clunks off the American tongue in a way that evokes a repatriated semester-abroad student who can't stop talking about mates and flats. (Quick trip to the Drunkspin Confessional: I do wish we'd import the British usage of "twat," which they seem to deploy as not a vulgarity but rather as an alternative to our overworked "douche.")
So while I approve of the concept of session beer, I must insist that one of you come up with a better name for it. Clearly I can't, as indicated by the Sub-Five-Percent Friday tag above, which sounds more like an interest-rate scam at a used-Camaro dealership. Read the fine print, Jeff—that shit compounds weekly!
Anyhow, as I meant to be saying, I'm a big fan of a lot of the newer American session beers. One of my favorite Massachusetts brewing companies, Notch, was founded in 2010 with the explicit mission to produce full-flavored beers below 4.5-percent ABV. And they have the word "session" all over their cans, which are all over my fridge, so, come to think of it, maybe session beer is a fine term. Either way, it's time to talk about 21st Amendment Bitter American.
Low-alcohol American beers have been around forever; in fact, they still dominate the sales charts—five-percent-ABV Budweiser is a relative heavyweight among the macrotrash. But the good domestic stuff had been trending steadily stronger throughout the 1990s and 2000s, so it was big news when the San Francisco brewpub named for the law that overturned Prohibition sprung Bitter American on us in early 2007.
G/O Media may get a commission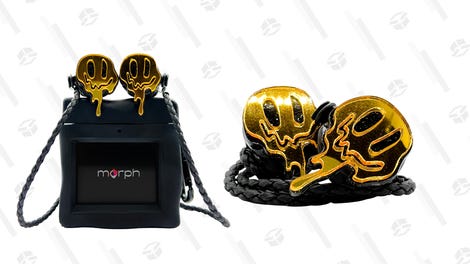 morph audio
Morph Earphones
This was before anyone had thought up the marketing goldmine of "session IPA," so they called it an "extra pale ale with bold malt and hop flavors." If it had come out a few years later, it would likely have been called a session IPA; the marketing department would have begged for it, and the hop profile justifies it.
Store-bought Bitter American only comes in cans, which is my preferred beer package, although I did pour one into a glass so I could go through the full sniff, sip, ponder routine. That's how I know it's a surprisingly deep color that reminds me of expensive apple juice. It doesn't produce much of a head. The aroma is very intense yet even-handed. The first thing I noticed was bready malt with a touch of caramel, followed by the citrus-resin notes of a classic West Coast IPA. The flavor leans hoppier than the aroma, with orange-tinted pine and a pronounced bitterness from start to finish.
Bitter American is still among the best in its rapidly expanding class.
---
This is Drunkspin Daily, the Concourse's adequate source for booze news, reviews, and bullshit. We'll be highlighting a beer a day in this space; please leave suggestions below.
Will Gordon loves life and tolerates dissent. He lives in Cambridge, Mass., and has visited all of the other New England states, including, come to think of it, Vermont. Find him on Twitter@WillGordonAgain. Image by Jim Cooke.
The Concourse is Deadspin's home for culture/food/whatever coverage. Follow us on Twitter:@DSconcourse.