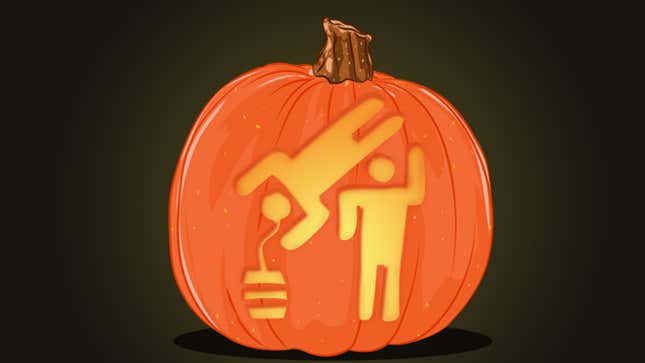 There are two kinds of people: those who embrace Pumpkin-Spice-Everything Season for the miracle that it is, and the godless, gourdless heathens who reject it and live a bland, spiceless life. I fall into the former category, which means it's time to combine two of my favorite activities: drinking pumpkin beers and inflicting my opinions on people.
Is Texas or Florida State a bigger national title contender? | Agree to Disagree
This is, to put mildly, a divisive topic: The seasonal creep alone is tantamount to kicking a puppy for some people. And granted, I would not drink the vast majority of these beers right when they arrive in July or August. But I never understood the visceral hatred they inspired even in-season, or at least I didn't until I decided to sample fuckin' 27 different varieties, by myself, most of them falling into one of two categories: "really good" and "liquid shit." This is ostensibly a ranking, but it is also one man's descent into nutmeg-induced psychosis.
Some disclaimers: First off, as you've probably noticed, I am not Will Gordon, your usual Drunkspin correspondent. I am, however, burdened by the same distribution laws, and so this list is incomplete due to matters of geography: Heavy Seas GreatER Pumpkin, Hoppin' Frog Double Pumpkin, Buffalo Bill's Pumpkin Ale, and New Belgium Pumpkick are not immediately available to me, to name just a few. Your personal favorite may likewise be absent here: Just assume it tied for sixth place, which is respectable enough for you not to complain about it.
Also, unlike, say, IPAs, pumpkin beers all have a very similar flavor profile: There are only so many ways to describe these things without abusing the words cinnamon, nutmeg, ginger, clove, vanilla, and, yes, pumpkin. And that's while you're sober. But I'll do my best.
Let's give this a shot.
27. Shipyard Pumpkinhead
This is terrible. It is also probably the best-seller in this genre, which I guess makes sense, because it tastes like someone mixed McCormick's pumpkin spice into a Bud Light. The result is super-sugary, with high carbonation and an artificial-tasting cinnamon edge, along with Bud Light's unappealing corn-like sweetness. Cinnamon dominates the aroma, and must be the "natural flavor" that was added. Note that I didn't say "natural ingredients." Don't drink this.
26. Southern Tier Pumking
Too bad. This is traditionally one of my favorites, and I'm willing to give Southern Tier, a fairly respectable outlet, the benefit of the doubt that I just got a bad bottle, but that bottle was undrinkable. The aroma is great—pie crust mixed with pumpkin puree and vanilla—but that's where my praise stops. The heavy, overpowering vanilla mixed uneasily with a medicinal sweetness and a pungent, lingering bitterness; the whole thing felt artificial and gross, right down to the metallic aftertaste.
25. Saranac Pumpkin Ale
Saranac may have been handicapped by its place in the tasting order: If I had tried this immediately following, say, Pumking, it might have placed higher, but that doesn't make it any good. This was the lightest and most watery of the beers I tried, and that includes the lagers—everything about it was bland. There's very light spice, even less pumpkin, and a cinnamon flavor that lingers. "Comparatively inoffensive" is the best I can do.
24. Ithaca Country Pumpkin
I don't know where the country of Ithaca is, but I'm betting pumpkins aren't indigenous there. This beer comes out with a far-too-strong caramel and vanilla sweetness; there's subtle hints of the titular ingredient, but not nearly enough. "This isn't terrible" is the best I can do.
23. Two Roads Roadsmary's Baby
Connecticut's Two Roads was a late addition to this tasting, as they're largely regional, but expanding rapidly. I only mention this because this was the beer where doubt first creeped into my mind, and I feared I had forgotten what actual pumpkin tastes like. Are they supposed to taste like a cinnamon-covered green apple? I don't know anymore, and I need to rethink my life.
22. Cisco Pumple Drumkin
Nantucket's Cisco is a (relatively) local brewery to me, and as such I root for them, and make the mistake of getting some Pumple Drumkin every year, because we all need a reliable disappointment in our lives (and I don't have kids). This has a heavy grain flavor amid the spice, but there's a noticeable absence of pumpkin flavor. This reminds me too much of a macro-brewed beer, with the aforementioned corn-like sweetness and bad spice aftertaste.
21. New Holland Ichabod
The runner-up for best-named beer, Ichabod finishes far worse in taste. This has a weird, what-the-hell-is-this-doing-here lemony flavor, almost like a shandy; a huge nose of nutmeg, clove, and ginger mixes uneasily with the zesty intruder. The pumpkin tastes unripened, too. Did someone paint a bunch of lemons orange and trick New Holland into buying them?
20. 21st Amendment He Said – Tripel
So 21 st Amendment releases a four-pack of pumpkin-flavored beers called He Said/He Said, because originality in names is for the birds. Half of this pack is a Belgian tripel: the inferior half, as it turns out. The beer itself is actually a very solid example of the style, but it totally muscles out any pumpkin taste with heavier spices. There's a hint of rye, pepper, cloves, and ginger—and the beer finishes dry with a nice, boozy warmth—but are they sure they didn't forget something, uh, important? If you want a clove beer, though, this is your guy.
19. 21st Amendment He Said – Baltic Porter
Yet another beer I remember being better. This is the alcohol equivalent of the Cinnamon Challenge, with an aggressive aroma and flavor that isn't balanced enough with the porter's natural roastiness. This gets noticeably better as it warms to room temperature, and it'll get all the way there, because it will take you a while to drink it. The pumpkin doesn't arrive until later in the show, but by then, the cinnamon-napalm bomb has made a scorched earth of your palate.
18. Weyerbacher Imperial Pumpkin
Somewhere around this beer, I had an identity crisis. I'm a pumpkin-beer guy. It's one of my defining qualities, alongside "Twitter oversharer" and "douchey-haircut-haver." But are these things just not as good as I remember? Were they never good? Did the rush to get all this stuff out in July deep-six the quality? This is cinnamon-heavy, and too spice-laden, and a hair too light on body.
17. Harpoon UFO Pumpkin
Say what you will, but no one has done more to advance the idea of adding fruit to beer than these guys, and that's either an indictment or high praise. This continues in the tradition of light and drinkable beers with a hint of the eponymous flavor; it's yeast-forward, with light clove and bubblegum characteristics mixed with a little vanilla. It's a bit too sweet and artificial-tasting, though: Think of it as a better version of Saranac's offering.
16. Anderson Valley Pinchy Jeek Barl
Is using a bourbon barrel to make a pumpkin beer cheating? Yes, but in the immortal words of Ric Flair, "If you ain't cheatin', you ain't tryin'." Pinchy Jeek comes on strong with Wild Turkey notes, but as it warms, the pleasant vanilla, oak, and bourbon characters fade in with the pumpkin and spices. They just don't fade nearly enough. The aroma is too strong, and a little too boozy: They need to dial back significantly on the hard stuff. Cheaters don't always win (said the Patriots fan).
15. Shipyard Smashed Pumpkin
Significantly better than its more popular brother (see no. 27), this is an improvement all the way around: There's a nice mix of your standard trinity of pumpkin spices in the aroma and flavor, though it still finishes a bit too sweet. It also suffers from the same artificial-tasting sweetness that plagues Pumpkinhead: It's like drinking pumpkin syrup. Another disappointment: I had it pegged for the Top 5.
14. Traveler's Jack-O Traveler Shandy
This was the most pleasant surprise, and might have been ranked higher if it weren't already blasphemous enough to have it 12 spots ahead of Pumking. Jack-O has a strong, sweet pumpkin smell with pepper and nutmeg notes; it tastes a lot like an augmented ginger beer. The sweetness is slightly artificial-tasting, but at nowhere near the criminal levels of its predecessors here, and it balances well with the spices. The lemon is reserved and comes out more as it warms; if there's a major flaw here, that's it, but that's not too bad.
13. Long Trail Pumpkin Ale
Vermont's a weird place, though more wacky-aunt weird than creepy-uncle weird, and besides, it's the state that finally restored my faith in pumpkin beer. Long Trail's offering has a strong vanilla and pie aroma, with the right amount of the titular sweetness up front on the flavor, cinnamon in the middle, and a ginger/clove finish. My only gripe is it tastes slightly medicinal, though nothing that would keep me from drinking it again or recommending it to a friend that I don't mind losing, but would prefer to keep.
12. Smuttynose Pumpkin Ale
Hailing from the state where Bostonians who are too poor to afford a house on Cape Cod spend their summers (New Hampshire, FYI), Smuttynose's entry is a surprisingly hop-forward brew. That's daring, and it almost pays off, but the floral notes from the hops slightly overpower the pumpkin and spices. This is a beer I would recommend to the guy that only drinks IPAs, if I had to speak to that guy for some reason, which I pray I don't.
11. Uinta Punk'n
Uinta was my very first taste-test for this project, and I expected it to finish a little worse than this. It hits all the checkmarks on aroma and flavor: This is very much a beer with added pumpkin that stands up well on its own, as opposed to an overpoweringly pumpkin-y beer. If I awarded bonus points for being organic and/or brewed with renewable energy, this would be a Top 10 beer. But I don't.
10. Post Road Pumpkin Ale
There's something shady about Brooklyn Brewery not stamping its trademark "B" onto this, like they don't want to be associated with it. I can't imagine why: This is a simple but tasty ale that is subtle and restrained on the pumpkin without being overpowered by the spices. That said, it's a surprisingly spicy beer, adding what tastes like rye for good measure. It's a unique flavor in a category not exactly known for its uniqueness.
9. Lakefront Pumpkin Lager
My personal belief is that stouts and porters are the best beer styles for making pumpkin beer, but there's certainly a growing case to be made for lagers. The cleanness here allows a great pumpkin and cinnamon aroma to waft off this beer; the result is clean and light, if a bit too heavy-handed with the nutmeg. Nice hints of clove and vanilla, too, and it's certainly easy-drinking.
8. Southern Tier Warlock
I still feel bad about the Pumking thing, but as Southern Tier products go, this is clearly the superior beer. Where the former was too vanilla-heavy and syrupy-sweet, this one's roasted malts and chocolate notes balance that vanilla perfectly. As it warms, the pumpkin starts to shine through, presenting you with a nice mix of flavors. I still think it's a hair too sweet, but everything works well together.
7. Dogfish Head Punkin
It's odd to think of the "Off-Centered Ales for Off-Centered People" brewery as an "old reliable," but that's exactly what this is. If you've never tried a pumpkin beer before, but you've had one of Dogfish's IPAs, this won't disappoint you: Punkin's aroma is light and subtle, with hints of cinnamon. The beer starts slightly bitter, but finishes with a tasty sweetness mixed with a little brown sugar. There are hints of vanilla and possibly too much nutmeg, too: I can't be sure, because no one knows what nutmeg tastes like well enough to deduce the appropriate amount of it.
6. Wollaver's Organic Pumpkin Ale
This won a gold metal at last month's Great American Beer Festival, and I can see why: It's an exceptionally well-balanced beer, and there's absolutely nothing wrong with it. Just a nice, balanced, if slightly subdued mix of spices and sweetness. We've officially entered "Excellent" territory, though we're not quite at "Interesting" yet.
5. Cape Ann Fisherman's Pumpkin Stout
I don't know about you, but when I think of pumpkins, I think of guys on boats with yellow rain-slickers. Despite the unlikely combination of imagery here, this is an excellent mix: First, it's seven-percent-ABV, which is enough to combine all the flavors, but not too much to hide behind. Second, the natural roasted and caramel flavors of the stout mesh perfectly with cinnamon and nutmeg, as long as you don't overdo it; Cape Ann doesn't overdo it. All of this sets the stage for a subtle pumpkin flavor that is bolstered by dark chocolate and vanilla. If you're an aroma person, this smells the most like pumpkin pie of any of the beers I tried.
4. Anderson Valley Fall Hornin'
Anderson Valley is my pick for the most underrated brewery in the country, so much so that despite being a fan of AVBC's seasonal offerings, I had never tried Fall Hornin' before, and I had no idea what I was missing. This has a solid pumpkin flavor that doesn't come across as overpoweringly sweet, and it blends perfectly with your usual range of spices. The nice hint of vanilla is a bonus, as is the spot-on texture and carbonation. This may be the best bang for your buck.
3. Sam Adams Fat Jack
Sam Adams gets a lot of shit, and while some of it is deserved, most of it is not. Fat Jack is better than I remember thinking it was last year, and in fact is downright excellent: It's probably the most pumpkin-heavy of the bunch, bolstered by a handsome dark-amber/orange color and a strong clove/nutmeg/cinnamon triumvirate on the finish. I would describe the effect as "meaty," but that sounds gross, so we'll go with "substantial." The aftertaste is of pumpkin pie: perfect.
2. Harpoon Imperial Pumpkin
The number of breweries with two different pumpkin beers on this list speaks to the ubiquity and market demand for all things fat, short, and orange, but this Harpoon's jam is more than a boozier brother to the UFO— it's so much better than that. In addition to a solid pumpkin character and the spices-that-shall-no-longer-be-named, HIP has tasty notes of brown sugar and molasses that complement its base flavors. It errs on the side of sweet over spicy, making it almost a dessert beer, but still drinkable in its native 22-ounce format.
1. Troegs Master of Pumpkins
Beer names are a pun-heavy clusterfuck of clever and stupid, but Master of Pumpkins is probably the best damn beer name in a long-ass time, and it's a damn good beer, too. Brewed with local pumpkins and saison yeast, it has a unique profile that mixes the best aspects of a saison (drinkability, high carbonation, estery aromas, clove and honey flavors) with the best of a pumpkin beer (which we've covered pretty thoroughly at this point). The aroma is light, but the flavors are balanced and complex. If you're not a pumpkin beer fan at all, this'll make you one.
---
Vinny Mannering lives in Quincy, MA and was born and raised in Boston. He writes about craft beer and homebrewing at his blog, Anti-Hero Brewing, and complains about the Bruins on his Twitter.

Image by Sam Woolley.
The Concourse is Deadspin's home for culture/food/whatever coverage. Follow us on Twitter.