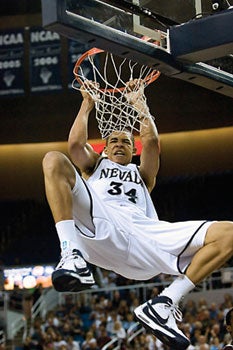 It seems like a safe bet to say that Nevada center JaVale McGee will be a first round pick in the NBA Draft this summer. He has a 7-foot body, is athletic, and Chad Ford has him at No. 17 in his prospect rankings. Pretty admirable, no? But clearly this level-headed analysis is selling the precious McGee short. Which is why his mother, Pamela McGee, took to task of writing up his draft profile.
Before you start laughing, just remember the Mrs. McGee was a former star herself, winning college championships at USC and playing in the WNBA, as well as coaching there. Now you may resume laughing, as here's what she wrote about her baby boy:
He blockshots [sic] like Tyson Chandler and has a 33 inch vertical jump and dunks like Micheal Jordan, as a seven-footer. He can face the basket and create off the dribble like an athletic Dirk. The intriguing question that baffles scounts [sic] is not is he a pro? But how good of a pro will he become.
If that doesn't win over the scouts, imagine how impressed they'll be with this slideshow of a four-year-old McGee eating Cheerios all by himself and drinking juice without need of a sippy cup.
2008 Draft Profile - JaVale McGee [MyNBADraft.com]