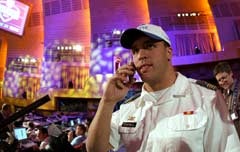 On Wednesday night word broke that Caleb Campbell, 7th round draft pick out of Army for the Detroit Lions, would not be allowed to play NFL football in the 2008 season. Campbell, a 2nd Lt. who graduated from West Point on May 31 of this year, owed his ability to play in the NFL to a 2005 Army policy that allows cadets of "unique talents and abilities" to pursue an alternate service policy. As part of his service Campbell would be required to "participate in activities with potential recruiting or public affairs benefits to the Army."
With a letter sent to the Detroit Lions on Wednesday morning the Army effectively excised this policy in one fell swoop and with no prior warning. The Army waited until the last possible moment to announce their decision.
The news reached Campbell in his Detroit hotel room at 11 in the morning yesterday. Campbell's agent called and said he needed to get down to the Lions facility in a hurry because stuff was happening. It was the day before the Lions training camp was to begin. I spoke to Campbell last night, after all this went down. He had spent the past week at West Point, and says the Army's decision "left me in the complete dark. No one said a thing to me on campus last week about anything changing. Nothing."
Which is all the more galling because the Army made the change to their policy, according to the AP article, on July 8. Only they didn't bother informing Campbell until the day before his dream of being a professional football player came to fruition.
Campbell said he couldn't dispute the orders because, "I'm a soldier first and foremost and I go where they order me to go." As of now, Campbell says he's being ordered back to West Point where he will be assigned to be a graduate assistant with either the Army football team or the West Point Prep School team for the fall. He's uncertain what comes after that.
On what was to be the eve of his professional football career Campbell said Lions coach Rod Marinelli had him stand in a team meeting and informed the Lions that Campbell would be leaving to fulfill his military obligations. "The team was blown away, just shocked," said Campbell. "So was I."
Right now the Army says that Campbell will not be eligible to play football until 2010. The Lions, meanwhile, will retain the rights to sign Campbell for the next calendar year. As of now, the feel good story of the 2008 draft, is in a precarious holding pattern.
U.S. Army orders Lion draft pick Campbell to withdraw [Yahoo]
War Games [Sports Illustrated]