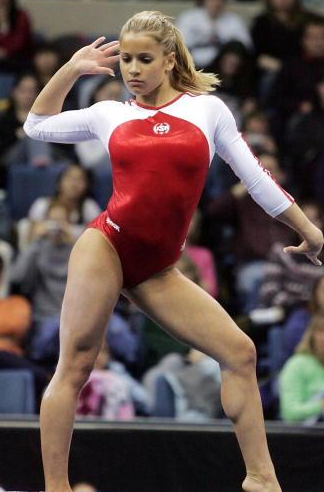 What happened in the Olympics as you peacefully slumbered ... Even though she fell from the balance beam, possibly costing her team the gold; was browbeaten by Andrea Joyce, and finished with one measly team silver medal, U.S. gymnast Alicia Sacramone is emerging as one of the biggest stars of the Beijing Games. In fact, according to the San Diego Union Tribune, our pert hero is second only to Michael Phelps as most-Googled Olympic athlete.
Charts on Google Trends, which tracks Web searches, indicate more people have performed Google searches in the past week for Sacramone than for Liukin or Johnson. At one point, Sacramone ranked No. 4 on Google's Hot Trends list. Her hotness, as Google puts it, was rated as "volcanic." Dozens of new Sacramone pages have been created on Facebook. One is called "Alicia Sacramone cost us the gold." Another is called "Alicia Sacramone has a gold medal in my heart." Still another: "Alicia Sacramone Transfer to SDSU." The page's stated goal is "to have Alicia Sacramone visit or transfer to San Diego." (The U.S. women's gymnasts, in fact, are to tape an ABC television special at the Sports Arena on Sept. 14.) "I guess it's kind of surprising," Sacramone said of her sudden fame, "because I didn't have that good an outcome here."
And, update, one entry that is NSFW. Ha. None of this should be a shocking surprise to anyone except Buzz Bissinger. Meanwhile, Shawn Johnson won the gold medal in the beam finals on Tuesday, and Nastia Liukin finished second. They were also 1-2 in the all-around last week, Liukin winning gold and Johnson silver. Marco! Polo! Brenda Villa, known as the Wayne Gretzky of women's water polo (does not compute), scored with one minute remaining to win it for the U.S., 9-8 over Australia in the semifinals. Brittany Hayes of Santa Ana, Calif., had two goals. The United States will play the Netherlands in the championship game. Soon To Be A Lifetime Movie Of The Week. To the horror of Lou Dobbs, Henry Cejudo of the U.S. beat Japan's Tomohiro Matsunaga, 2-2 on a tiebreaker and 3-0, for the gold medal in freestyle wrestling at 55 kilograms (121 pounds). Cejudo was born in Los Angeles to parents who were undocumented workers.