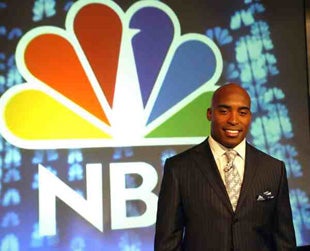 My favorite Tiki Barber moment will always be that time he appeared on the Discovery Channel game show Cash Cab. When asked what Steinbeck novel included a character named Tom Joad, Tiki answered, "Lonesome Dove." Your favorite moment may vary. Perhaps it was Tiki criticizing Michael Strahan's holdout when they were teammates with the New York Giants, or maybe it was Tiki as an ex-player blasting Tom Coughlin's coaching style, just before the Giants went on to win the Super Bowl. Or maybe it was this latest controversy, where it appears that he called NBC colleague Jenna Wolfe a "total medal c—-" live on the air. For the record, he denies that one. It was an on-air discussion from Beijing between Tiki, Wolfe and Brian Williams on the subject of the total medal count, and at one point Barber turns to Wolfe and appears to say "You're a total medal c—-." Here ya go ... judge for yourself.
Newsday contacted MSNBC, which relayed this statement from Barber:
"I would never disrespect a colleague and friend with that kind of language. It's disappointing someone would intentionally misrepresent the hard work Jenna and I are doing."
MSNBC said in a statement, "Tiki and Jenna were discussing total medal count versus gold medal counts and Tiki's words were unclear." MSNBC is saying that Barber said to Wolfe "You're a total medal count," which makes no sense, but could catch on. Just yell it out the next time someone cuts you off in traffic. You'll either get a surprised look, or a severe beating administered with tire changing tools. At any rate, Barber and Wolfe, co-hosts of "Olympic Wrap-up" on NBC, have never been the smoothest of teammates. Tiki can probably skate through on this, but that's the last we'll see of this pairing, I'm sure. Tiki Barber Denies He Called Co-Host A Bad Word [Newsday]