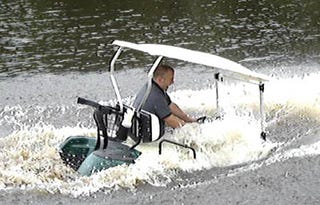 Steal a golf cart in broad daylight? Check. Ram a police car during getaway? Check. End up in swamp? Yes, it's all there; this is indeed Florida.
Meet Jonathan C. Pierce, 29, a self-employed graphic designer from Port Richey who really wanted a golf cart. So much so that he sneaked onto Magnolia Valley Golf Course and took off in one. Slow-speed hilarity ensued.
Witnesses trailed him until a deputy with the Pasco County Sheriff's Office arrived. According to a report, the deputy found Pierce and the cart at a Walgreens parking lot on Massachusetts Avenue. The deputy told the suspect to stop, but he rammed the patrol car with the golf cart and sped off, the report said. The chase ended when Pierce drove the golf cart into a swamp, the report states. He ran, but was caught.
Ha. I wonder if they tried to employ a spike strip.
Bonus humor: Pierce is being held in Land O'Lakes jail.
Swamp, Arrest End Golf Cart Joy Rice In New Port Richey [St. Petersburg Times]