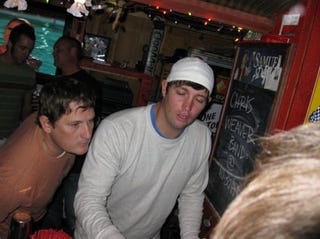 Dem's fighting words. Or, at the very least, words that could result in a spirited Indian Leg wrestling bout. But that's what Denver "TV analyst" Scott Hastings called Jay Cutler on Dan Patrick's show today.
Hastings told Patrick his dislike of Cutler began after the punky qb in training boasted about how his arm was better than Elway's and when he didn't show up to the introductory press conference of new head coach Josh McDaniel. From then on, Cutler's been little bitch'd in his eyes.
Hastings was a former NBA player, does Nuggets color commentary, and co-hosts a radio spot on Sportsradio KKFN-FM 104.3 The Fan in Denver.
I'd say the chances of having Cutler appear on that program anytime soon are pretty slim.
Some Guy Does Not Like Jay Cutler [With Leather]