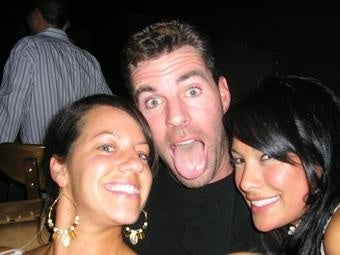 Here's something fun for Midwesterners looking for a bazoonga-infested activity on a lonely Friday night in St. Louis: It's a "Queen Of The Pole" party, with your very special guest, former Cardinal Jim Edmonds.
No, the ladies in the above photo are neither strippers nor queens, so let's not cast aspersions upon them like that. They just won the Jim Edmonds Google image search contest. And Edmonds apparently owns the restaurant where this event is taking place,so let's not pin the scumbag tag on him so quickly either.
Here's the flyer, courtesy of the Riverfront Times:
Classy! 20 dizzy, bubble-chested girls. One long pole. Jim Edmonds.Even though he's now a Cub, I know some lovely people in Mattoon that might be willing to hop on the family motorcycle and make that trip to see this in person.
The only thing that would make it more special is if Texas A&M-Commerce guard Britney Jordan would slap on the pasties one more time since Edmonds is back in town.

Queen Of The Pole: With Special Guest Jim Edmonds [Riverfront Times]