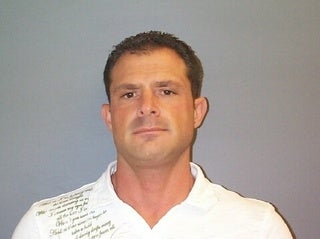 As if Steven Russo's previous antics had not convinced everyone that he has serious mental problems, he decided to kick the crazy up a notch by sitting in his closed garage with his car running.
Even worse, he dragged his four-year-old son along for the ride. (They were discovered by the child's grandfather and everyone was okay.) Russo became famous earlier this week, when it was alleged that he allowed his 17-year-old son to host a wild drunken party in his home and encouraged the boy's cheerleader friends to hop up on his homemade stripper pole. (And maybe there were some pictures taken too.)
I guess the pressure of being revealed as a world class creep was a bit much for Russo, so he decided to off himself and apparently felt that an unknowing toddler needed to pay the price too. But not before sending a text to the boy's mother, blaming the whole thing on her.
Quoted in her statement to police, Jessica Clapso said Russo text-messaged her, saying, "This is on you and good-bye."
Sigh. I think Steve needs some quiet time now.
Bethlehem Township man who allegedly hosted stripper-pole party ordered to stay away from son [Express-Times, via Busted Coverage]
Previous: Cheerleaders: It's All Fun And Games Until Your Cheerleader Stripper Pole Photos Show Up On Facebook (With Update)