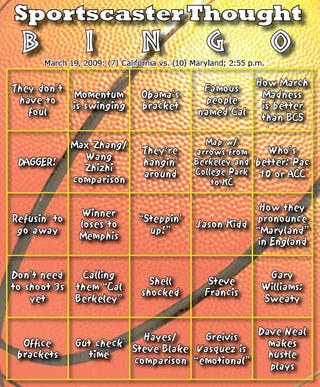 Your live blogger for this game will be the vivacious University of Maryland scholar Rob Gindes from Blazin' With Phelps.
Hi, my name is Rob from Blazing With Phelps and I'm blogging into you LIVE from beautiful Annapolis, Md. I hope you like my attempts to look funny. If you don't, then my name is Greg from Blazing With Phelps.

I'm also going to attempt the Sussman Special of the little pictures with the score thing. So we'll see if my degree of difficulty can offset some of my execution score.

This is a game between the streaky team I root for in Maryland and a Cal team that just seems really boring. Cal brings guard Jerome Randle, who is very good at three-point shooting, and we counter with Greivis Vasquez, who is good at talking trash and having rosy cheeks. Certainly the matchup to watch in this game. Let's get it on!


*********
Postgame: Well, that's it and that's all. Thanks for following along, and if you liked my liveblog, please check out my site and have all your friends check it out as well. Also, if you happen to go to Maryland, you should read my columns in the newspaper. I think that's all I've got as far as pimping myself out.
I'd like to especially thank Suss for orchestrating all of this today and putting up with my roughly 43 e-mails I sent him asking if I was doing this right in the past few days. Truly an American hero.
5:07 PM: The Vivacious Venuzuelan Sensantion is named the player of the game with 27 points. But how about Adrian Bowie's 12 and 7 assists? Next up is a date with Memphis. Final score: 84-71.
5:05 PM: Before I could even click "save," Greivis scored five points. Yikes. 82-71, Cal's not fouling, we'll see you in the round of 32.
5:04 PM: This game isn't over. Cal fouls the "Guy You Don't Want to Foul" (Hayes) and he naturally misses one. Then some long-haired man named Gutierrez hits an and-one and it's an 8-point game. 1:27 left, hopefully we'll jst grin and "bear" it!!234.
5:02 PM: 2:11 to go and the Terps are holding on, 76-66. This game has made me believe that Cal and Maryland are basically the same team, because Cal has played Bad Maryland Basketball.
4:59 PM: What's up with the Craig Ferguson "they told me not to play basketball or I'd break this vase" ad? Is he supposed to look badass because he broke a vase? Is this funny? I'm so full of questions. Maryland by 11.
4:56 PM: Dave Neal was left wide open for the dagger but missed it. Terps by 13 with 3:32 to go and we're on commercial. 13 isn't too much when playing a team that can start drilling threes though, so this is by no means over. Also, we're Maryland, so 50 isn't too big a lead.
4:53 PM: Holy crap, Dino brings the God-damned thunder just now. "That's what Dino Gregory brings," say the announcers. This is horribly untrue but I will take it. Maryland by 15.
4:52: Maryland is starting to pull away. 72-59 and even legally dead Dino Gregory just made a great hustle play and got a tip-in. It's Terp ball, too.
4:49 PM: Great play all-around just now as Bowie scrambles and makes a Scheyerface while recovering a loose ball to Greivis, who gets the and-one to bring the lead back to 10 (Apparently there was a Randle 3 I missed). Neal jersey-dirts a shot in and it's 68-56. I can't even barely keep up right now; a 3 from Cal makes it 68-59.
4:47 PM: Vasquez's game is feeling like he's been slighted by someone and feeding off of it. I'm on the record that I've never been a huge fan of his, but the guy shows up to play every day and he plays his heart out. You don't have to like him, but I respect him.
4:44 PM: Greivis steals, drives, lays in. Gives the old "shush" sign to the crown, which sounds like it's really pro-Maryland. But you tell 'em, Greivis. Terps, 63-53.
4:43 PM: We get lots of guys in foul trouble. And then Vasquez shoots an airball. Sheesh. He is emotional and rosy-cheeked about it.
4:42 PM: Apparently I ripped the Nic Cage hate from Saberhagendaaz. Have I mentioned his awesome post on Avoiding the Drop?
4:39 PM Gawker just did something weird, so sorry if there's some shady thing happening on this page. I was typing a whole ordeal about Maryland's current 9-0 run. Eddie Munster hit a wide-open three, gobbled up a rebound on the other end, and then Milbourne mademe look stupid for saying three minutes ago that he couldn't hit threes. Hustle plays 59, three-ball 51.
4:37 PM: The referees in this game have called a ton of travels. Milbourne thinks about a three and then remembers he can't shoot those. Bowie hits a crazy angle layup and it's Terps by 2.
4:34 PM: Speaking of that Nic Cage movie, when his kid goes "are we going to die?" And Nic Cage goes "I would never let that happen." I mean, really? Like, everyone dies. Your kid is immortal? You're a bad movie parent, Nic Cage, and I hate you.
4:32 PM: And we're back from Purdue evening up my bracket. This has turned out to be a pretty interesting game. Cal takes the lead, 51-50 at the 12-minute mark. Their shooting seem to be shaping up. "Dave Neal keeps opportunities alive. He does the grunt work." Milbourne to the line after yet another commercial. Oh, hey Nic Cage. Kill yourself.
4:30 PM: Robertson converted and Bowie missed on the other end. Cal ball with a chance to take their first lead.... and they do. Jumper from Boykin. What a great time to switch away, CBS. Great. 47-46 Cal.
4:26 PM: CBS has switched over to Purdue-UNI unannounced. Holy crap, what a game this is. Robertson's basket counted for Cal and the foul was on Mosley. I legitimately think that they called a TV timeout in the Maryland game to switch over to Purdue. "Hey guys, this game's interesting. Stop playing for a sec ad check this out."
4:25 PM: Here come the threes. Greivis is answered by Robertson. I'll tell you what: If Cal starts hitting any small amount more of three pointers, the Terps are in trouble. Sugar Sean with a lay-in, 46-42 Terps with 15:17 to go.
4:22 PM: Dave Hustleplay gets to the line after picking up a ball that Sugar Sean Mosley couldn't grab. Then he hustles down the court an hacks Robertson so he can't get an easy dunk. Hustlehustlehustle dirty uniform hustle.
4:20 PM: Vasquez makes a layup off of a Neal screen. Man, Neal does all the small stuff like screens and going for loose balls and drawing walks.
4:18 PM: Handles McRandle gets an and-one after Greivis bricks a three. If you picked this game based on whose cheerleaders are hotter, your team is currently down 36-34. Anyways there have been lots of charges in this game.
4:17 PM: Second half just started and that was a scary moment where my whole liveblog erased because the internet hates me. The guy I partied with in high school just hit a shot and we're up 36-31 with the ball, under a minute gone in the half.
Still halftime again: Also from that game against Cal, I was sitting right next to the visitors' section and all the Cal fans kept doing something that looked like the Florida Gator chomp. Anyone know what the idea behind that is? The best I could think of was that it was the "bear trap," but why would Bears fans want to do a bear trap? Anyways, the second half is starting in a minute.
Still halftime: If you're enjoying this... thanks. Also thanks to everyone who has checked out my blog lately. Which reminds me, this game is an important matchup between probably the two best state flags in America. On one side we have the badass Maryland flag. What could be cooler than that? How about a ferocious bear, ready to strike? I say the winner of this game gets the "best flag" recognition.
Halftime: Hey, speaking of Cal-Maryland, remember this? Jahvid Best doesn't. I was in the stands and the sound that hit made was just sickening. Sickeningly awesome.
3:54 PM: With a second left, one Maryland player throws it off another and out of bounds. Fortunately, Cal is stupider than we are and Robertson tries to ball fake with a second left and never gets the shot off. 34-31 at half. I'm going to try to get my funny little pictures to work.
3:52 PM: You know, for the best 3-point shooting team in the country, Cal sucks at free throws.
3:50 PM: Just seconds remaining in the first half. If I know Maryland, here comes a layup from Cal and we miss our shot so all our hard work ends up as a halftime tie.
3:47 PM: The announcers for the game are revealed as Tim Brando and Mike Gminski. Is it a rule somewhere tthat a former Duke player has to broadcast every Maryland game? Screw Mike Gminski.
3:46 PM: The scoring is picking back up as Cal hits a 3. 32-30, good guys. Bad guys going to the line.
3:45 PM: The announcers are referring to ave Neal as "Dave," like he's their buddy that just got picked up into this game and doesn't belong. Which is an apt description. "I don't think opponents respect him," they say.
3:42 PM: So much for Chattanooga. Someone with a scary facemask just hit a free throw.
3:39 PM: TV timeout. This game started pretty well, but both teams have looked pretty sloppy as of late. Dino Gregory is in the game, which scares me because he's not talented at basketball. He did take a solid charge though, so there was that. But offensively, both teams could be looking better. Cal is just 2/10 from three right now.
3:37 PM: I love when refs get really pumped about a charge and throw the arm out all dramatically. HELL YEAH, GOING THE OTHER WAY BROTHER!!!!
3:35 PM: Vasquez tries his shot I clued you in on earlier, except it doesn't go. That came off of a Dave Neal Hustle play. Dave Neal is the Eckstein of Maryland basketball. He loves getting his jersey dirty.
3:33 PM: Maryland is such a weird team this year. Nobody on the team actually has a legitimate basketball position. We don't have a point or a center. Everyone's just kind of like, 6'6" with a good midrange jumper. Also, we're killing ourselves in this game right now with turnovers. 24-23 and Cal ball.
3:30 PM: Another commercial break, still 24-21. Terps have walked the past two times down, which also counts for the first two times travelling has been called in a basketball game since 1984. Greivis and Handles Randle both have 9 with 7 and a half to go in the first.
3:28 PM: Eddie Munster spots up for two. A weird white guy for Cal tries a shady shot and hits the side of the backboard. Turtles 24-21 before Landon "D.J. Strawberry" Milbourne walks and turns it over. When Strawberry and Milbourne were on the same team, it must have been confusing as hell to people. I mean, they look exactly alike.
3:26 PM: Big alley-oop for Cal. I wish there was a stat on giving up momentum-shifting plays. We do it more than anyone in the country. Remember Gerald Henderson's thunder dunk in the second game we played against them this year? Yikes.
3:24 PM: "The handle for Randle!" Apparently Maryland-Cal is a 1940's championship boxing match. Greivis hits a 3, it's 22-17 couch burners.
3:22 PM: Looking at the comments, I have to agree with The Boy Wonder's nickname for Greivis, "the headcase who becomes less than useless once you get him frustrated." But you forgot to mention that he's from Venuzuela.
3:19 PM: Cal opens up the 3-pt arsenal with a deep one from Patrick Christopher. 17-15 Terps at commercial with 11:38 left in the half.
3:17 PM: The Venezuelan Vanguard hits two free throws and it's Terps by six. The leading scorer right now is Dave Neal, who showed up at a party a friend of mine threw in high school. This was a big moment for me.
3:15 PM: Okay, what's up with this "Vivacious Venuzuelan" shit? Why is the media trying to force it on us that he has some weird nicknames like that? ESPN said he is "known as the Venuzuelan Sensation." Is that supposed to rhyme? God, I hate all of these people.
3:12 PM: Alright, I think I've worked it out. Unfortunately, my funny pictures won't show up right. It's been a wide open game so far, which happens when nobody is taller than 6'8. Commercial break, 14-10 Terps.
3:08 PM: Sorry this has been getting off the ground kind of slowly, my computer is taking forever to upload this post. It's been a sloppy first three minutes. Watch for Vasquez's move: He cuts right, drives through the lane, and lays it in off the glass. Ugh, what an awful time for technical difficulties on my end.
3:04 PM: If basketball games were four minutes long, Maryland would be a 1-seed. Bowie takes the tip right to the hole, Cal gets an over and back, Milbourne cans a J. Neal hustles a 3 in. Let's try the pictures!
They don't work. It was 7-0 at this point.
3:02 PM: Here we go, CBS has switched over to our game. And already one of Cal's players has been called a "mighty mite." I knew the center square should have been "smallball."
Pregame III: Just a couple minutes until tip now. I'm learning how the cold efficient machine of Gawker works. Apparently I don't need the br tag. This saves so much time for activities.
Pregame II: It seems like a lot of people are picking Maryland in this one, but I'm telling you it's a coinflip. Two really streaky teams without any real size. It could be a blowout either way, it could be close, who knows. So if you're Gary Williams, you're really going to be "sweating" this one out!!!12.
Pregame: The Memphis- CSN game pushed our tip time back to 3:03, so we've got 13 minutes of that awkward getting-to-know-you phase. How're your brackets doing? Mine already sucks. Also, apparently Cal has recruited a chicken to play power forward next year. So there's that.