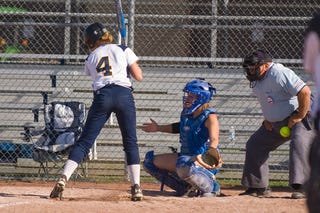 Got an image you'd like to see in here first thing in the morning? Send it to tips@deadspin.com. Subject: Morning crap.
I've been watching a lot of college softball lately. It's that time of year, isn't it? The softball failure series is ticking along just fine, and my intramural softball team beat up on fraternities before losing to the future clergymen of America (they had God on their side).
So maybe that's why I decided to open up everyone's day with this shot, from an anonymous tipster's high school softball game. Plus, there weren't really any alternatives.
And in case you were wondering, this was ball three.
*****
Good morning. It's the Sunday before Memorial Day — one day at a time. Some good stuff on tap today, so let's give it 110 percent before the bye tomorrow.