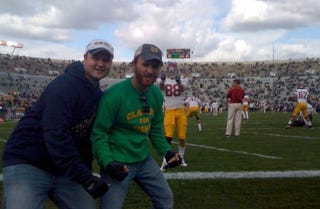 Got an image you'd like to see in here first thing in the morning? Send it to tips@deadspin.com. Subject: Morning crap.
Look at these two Notre Dame fans, who were so thrilled to feel the turf under their feet before their beloved Irish took on USC this weekend. Let's get a picture! With a real life college football player in the background for some "color."
So do you think they knew that sophomore tight end Blake Ayles was giving them the 'ol double deuce all along? Or was that just a pleasant surprise waiting for them when they checked their camera later?
The USC Trojans: We got your school spirit right here.
[Photo by Nick Shelton via Facebook]
* * * * *
How was your weekend? Did you see "Where The Wild Things Are," the first kids' movie designed to make you hate childhood? No wonder there are so many nine-year-olds on Prozac these days. Sheesh. Lighten up, Francis.