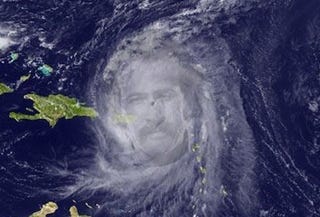 Because no one reads the newspaper, and SportsCenter's anchors are too perky for this early in the morning, Deadspin combs the best of the broadsheets and internets to bring you everything you need to know to start your day.
•Byron Leftwich goes down, meaning the Steelers have to start the season with either Charlie Batch or Dennis Dixon behind center. You see, NFL players? When Roger Goodell wants to extend the season to 18 games, he's only doing it so you don't have more meaningless preseason games in which to get injured. It's for your own good.
•It's not truly football season until a Dave Wannstedt team shits the bed. Pitt gave up on Heisman hopeful Dion Lewis after the first quarter, and fell to tough-but-unranked Utah in overtime.
•Are we projecting qualities onto Kevin Durant that aren't actually there? It's Tommy Craggs on Slate: think maybe there'll be some contrarian thinking?
•Here's Andrea Bargnani, trying his damndest not to pop a boner during a GQ photoshoot:

•Time Warner and Disney reached a deal, keeping ESPN on the air and giving millions more access to ESPN3. Good, because I'm sure everyone is as excited to watch today's Temple vs. Villanova game as I am.
(Thanks to our own KareemCheese for the pic)
•••••
It's Friday before a long weekend. Don't work too hard today.