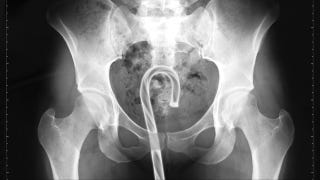 As in past years, the Sun Sentinel has created a searchable database of emergency room visits around the country. And as in past years, we have trolled the data for the finest examples of insertions showcasing extraordinarily bad luck and/or ingenuity.
Sorted by orifice, working south:
Ear:
POTPOURRI BEAD
STRAWBERRY
ERASER
CHALK
GREEN LEAF
JUICE STRAW
PENCIL LEAD
SILVER METAL CHARM
A TOY
COMB
Nose:
CHRISTMAS ORNAMENT
BATTERY
TIP OF SKI POLE
TOOTHPICK
ALUMINUM FOIL
PLASTIC FISHING WORM
SPONGE
6" NAIL
STUFFING FROM STUFFED TEDDY BEAR
A BEAN
Throat:
COAT HANGER
MOUTHGUARD
CONFETTI
"WATER WITH COINS IN IT"
PLASTIC EGG
DOG TOY
DRY ICE
SCREWDRIVER
"PART OF A TISSUE OR A FUZZY PART OF MY BLANKET"
BEE
Penis:
PEN
PEN CAP
PAPER CLIP
STICK
PLASTIC PIECES FROM A GAME CARTRIDGE
FISH HOOK
"A PIECE OF A PLASTIC SPOON TO SEE HOW IT FELT"
Vagina:
TOY CAR
TOY SCREWDRIVER
ICE CREAM SCOOP
SHOWER KNOB
GLASS VIAL OF COCAINE
BALL OF YARN WITH KNITTING NEEDLE
BRACELET
SMALL RED RUBBER BALL
Rectum:
TOY SOLDIER
ACTION FIGURE
SHAVING CREAM CAN
TRAVEL TOOTHBRUSH HOLDER
NEEDLE NOSE PLIERS
SMALL BEAD
"RIDING BICYCLE NAKED, LOST BALANCE, LANDED ON POLE CAUSING TRAUMA TO RECTUM"
PENCIL ERASER
CONDIMENT BOTTLE
TIP OF TOILET WAND
SEWING THREAD 8CM LONG
DRUGS IN SOCK
PLASTIC BOTTLE OF DRUGS
HAIRBRUSH
"JAR TO DILATE RECTUM SO HE COULD MOVE HIS BOWELS"
FALSE FINGERNAIL
GLASS DILDO
PLASTIC DILDO
SOFT RUBBERIZED DILDO
VIBRATING DILDO
DOUBLE DILDO
GOLF BALL
"ATE OATMEAL, DECIDED TO STICK GARDEN HOSE IN HIS RECTUM & FLUSH SELF OUT"
6" SEX TOY
10" BOTTLE
16" SEX TOY
REBAR WIRE
"BABY BOTTLE USED IN KINKY SEX"