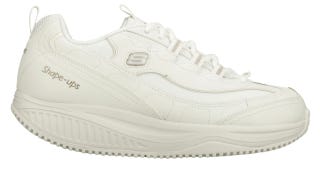 Look at that ugly, ugly shoe. It's a white Skechers Shape-Up. Scocca wrote in February that Nike's Galaxy Foamposites were the ugliest shoes ever, but we'll have to disagree on this one. These shoes grace an aesthetic level that Phil Knight can only dream about.
But their ugliness appeared to be pragmatic—these shoes would help their owner lose weight and tone muscle during mundane walks. Here's the ad copy:
Skechers Shape-Ups Strength shoes are a great way to get in shape, with an innovative style that helps tone your muscles and burn calories.
Alas, that's not true at all, says the Federal Trade Commission:
The footwear company will pay $40 million to settle charges by the Federal Trade Commission that Skechers made unfounded claims that its Shape-ups shoes would help people lose weight and strengthen butt, leg and stomach muscles.

The settlement also involves the company's Resistance Runner, Toners and Tone-ups shoes. The FTC alleges Skechers made deceptive claims about those shoes, too.
As bad as this settlement makes us feel about corporate America—it's no good that a fine shoe outfit such as Skechers would lie about its products—it makes us feel even worse about regular America. No matter how lumpy and bloated your flesh, you should never, ever, feel bad enough to wear shoes that look like this. They're way more disgusting than rolls or stretch marks could ever be.
Skechers will pay $40 million to settle false-ad claims [AP, via USA Today]