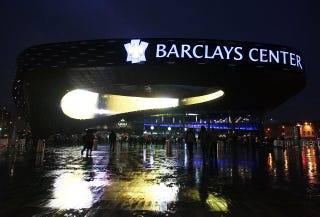 Attention, people who go to the Barclays Center: stop peeing wherever you want. Park Slope residents are done putting up with your shit (or piss). City Council members Letitia James and Stephen Levin have been inundated with complaints from citizens, and the Barclays Center quality of life committee dealt with numerous aired grievances this week.
Like any story about people peeing in inappropriate locations, the quotes are the best part. From Leslie Albrecht of DNAinfo:
A greenthumbed resident who tends the Brooklyn Bears Community Garden on Pacific Street and Flatbush Avenue said she watched in horror on the arena's opening night when a patron almost relieved himself on some of the garden's greenery.

"He was about to release himself on the bushes and I told him, 'Hey, the plants!,'" said Michelle R., a member of the garden who didn't want her last name used. "He was right by the rose bushes, poor babies, a few feet from the grape vines I planted this year."

[...]

Concerned about how the Barclays Center could affect the flora-filled patch, she stationed herself inside the garden on the night Jay-Z performed his first concert across the street on Sept. 28.
"Everyone on the block is complaining about it," said the resident, who gave his name only as K.W.

"It smells up the block. It's been noticeably worse since the arena opened. It was just totally disgusting. In New York City you don't accept that kind of uncivilized behavior."
Representatives from the Barclays Center will inspect the urine-covered locations with neighborhood organizations. Hopefully, this crisis can be resolved before it leaves a stain on the new arena's reputation.
Barclays Center Patrons Urinate All Over Park Slope, Locals Say [DNAinfo]