Game 1 was two minutes from feeling very different. For a span of nearly 50 minutes, it appeared that Alex Killorn's absurd deflection (I don't want to call it "fluky," because it wasn't accidental, but Killorn couldn't do that again if he tried) would stand up and give the Lightning a series lead. The Blackhawks were slight Cup favorites, if only because of their experience—this matchup pits the youngest and oldest teams to make the playoffs—but any confidence or intimidation factors would have disappeared with a Bolts win. So naturally, it was the Blackhawks' youngest player that changed everything.
Rookie forward Teuvo Teravainen is still just 20 years old—that photo above is the best playoff beard he could muster over these last six weeks—and he is unflappable.
"He doesn't seem to have a heartbeat," teammate Marian Hossa said of the 20-year-old. "He's so calm. He's Finnish cold."
(The NHL.com writeup that quote comes from actually has Hossa calling Teravainen "so clam," which I think is a typo, but maybe not! I hope not.)
We've fawned over Teravainen this season, on those occasions he's lived up to the unrealistic expectations his potential has brought upon him. But he's not quite there yet; certainly not the Blackhawks' top centerman behind Jonathan Toews, and he'll likely be within a few years. These playoffs have been odds ones for him—he, along with deadline acquisition Antoine Vermette, was actually a healthy scratch for Game 3 of the Western Conference Finals, a baffling decision by coach Joel Quenneville. But Teravainen appears to be settling in as a right winger, alongside Vermette and Patrick Sharp. It was that line, and Teravainen especially, that accounted for both Chicago goals.
G/O Media may get a commission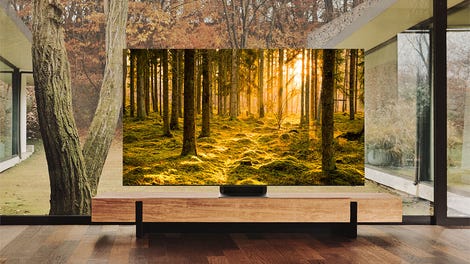 Up to 40% off
Samsung Smart TVs
Teravainen's equalizer, with 6:32 remaining, was actually the less impressive of his two pivotal plays. It was a simple shot through traffic. "I just tried to shoot high and sometimes good things happen," Teravainen said.
Teravainen joked afterward even the biggest moment of his professional career came with a major drawback:
"I think I've said before, I'm a lot more confident out there [on the ice] than in the media right here, so that's a good thing to be," Teravainen said. "When I scored the goal, I think the first thing [I thought] was, 'Oh no, I have to go do media now.'"

A reporter asked if the media is really that terrifying.

"Yeah, you are," he said.
Teravainen deserves as much credit for the Blackhawks' second goal, a lovely snipe by Vermette. But it looked to be a non-starter, the Lightning having solid possession in their own zone. But Teravainen snuck up behind J.T. Brown, and perfectly poked the puck away to Vermette.
And that's how Chicago goes from "holy shit, we can't keep up with the Lightning" to "why are we worrying, we always win these things" in a span of 1:58. There were good signs for both sides—Bishop looked good and the Lightning could easily have come out of this with a win, while the Blackhawks were able to scrap out two goals on a night their top six were shut down—but at a certain point, moral victories pale to actual ones.