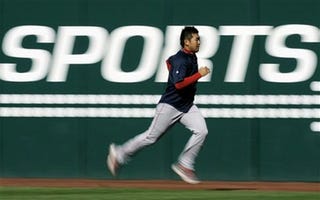 It's an early start for the ALCS tonight, 7 p.m. ET, which the game should be over before midnight. Absolutely. Possibly. Perhaps?
This is the most pivotal game of this postseason so far, and we're sure Joe Buck and Tim McCarver will rise to the proverbial occasion. There's plenty of stress in the air in Boston, so much so that fans are becoming envious of the Patriots. (This seems like piling on.) But they'll all feel much better if they can take back homefield advantage tonight.
Your starters are Jake Westbrook for the Indians and the estimable Daisuke Matsuzaka for the Red Sox. If there's ever a time that $103.11 million pricetag will be tested, it's tonight. Enjoy.