cockroach at cowboy stadium
Your morning roundup for Sept. 27, the day we feared the Uniboob. H/T for the video to Brian. Got any stories or photos for us? Tip your editors.
Jokic? Embiid? The NBA MVP is obvious... right? | Keep it a Buck(et)
What we watched: Finally got around to seeing Bill Buckner's appearance on "Curb Your Enthusiasm" last night. The episode, which had originally aired a couple of weeks ago, includes Buckner playing himself and playing along by sending up his infamous error in Game 6 of the 1986 World Series.
G/O Media may get a commission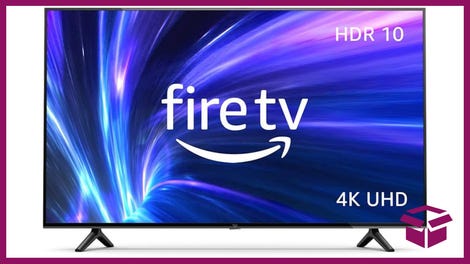 42% Off
Amazon Fire TV 50" 4K Smart TV
I don't want to spoil anything for those who may not have seen it, but the entire episode says much about Buckner's ability to make peace with a moment that will unfortunately define his 22-year career for most of us forever. He shows a confident sense of humor throughout, even as the program does all it can to emphasize his long-ago mistake. There are indeed those New England fans who will never forget nor forgive Buckner, but it's refreshing to know he's accepted it to such a degree.
Elsewhere
Josh Beckett, everybody: "That's baseball,'' he said. "You can't be [expletive] when your team needs you. That's the way it is.'' [Boston Globe]
Who's bitter? "Guillen became the Sox's former manager Monday night when he volunteered to end an era and embark on a money grab to South Florida. Expect Guillen to sign a more lucrative, long-term contract with the Marlins any day now. This is not a fish story hard to believe for anybody paying attention. In the end, after all of Guillen's macho blather about putting his players and coaches first, Ozzie was always about Ozzie. This was always about the dough. You can follow the money all the way to Miami." [Chicago Tribune]
This probably qualifies as a distraction: "Dimitar Berbatov has been rocked ahead of Tuesday night's Champions League clash against FC Basle [sic] after discovering a man was arrested by Bulgarian police for allegedly plotting to kidnap his mother." [Daily Mail]
Your Hammerhead Shark Interlude:

Kinda looks like it's Sparano's fault, though: "Meanwhile, exasperation was evident in some corners of the Dolphins locker room, a day after a 17-16 loss to Cleveland left Miami as one of only five winless teams. 'It's something that's so [bleeping] frustrating,' linebacker Karlos Dansby said. 'It's [bleeping] puzzling and frustrating.' Bush again raised an issue that was broached last week: There are too many mistakes occurring in practice. Bush said the players should "not walk off the field until you get it right. That starts with leadership on this team. I don't think it's Sparano's fault.'" [Miami Herald]
Merch: Managing editor Tom Scocca and contributing editor Drew Magary have both written books. You can buy Scocca's Beijing Welcomes You: Unveiling the Capital City of the Future here, and Magary's The Postmortal here. Now do it.
Send stories, photos, and anything else you might have to tips@deadspin.com.