A mid-major lifer is calling out the NCAA tournament for the cartel system it is. And college basketball's mid-major conferences aren't silently nodding their heads anymore.

In May and June, after nearly a year of consulting with former coach and current ESPN commentator Mark Adams, Conference USA commissioner Judy MacLeod and Sun Belt commissioner Karl Benson announced their conferences would be adopting a revolutionary conference scheduling system, one that would turn the final four games of their regular seasons into mini-tournaments meant to boost the profiles of their best teams.
Led by Adams, the two mid-major conferences are trying to do what the blue bloods have been doing for years—manipulate their schedules to "gain an unfair advantage," as Adams puts it. It won't be easy—they face a system that has long stacked the cards, and the cash, in favor of the major conferences. But they all know the status quo isn't working for anyone outside the Power Six.
"The top six spending conferences in the country have created their own cartel. It's legal, but it's a cartel," Adams said. "So I figured, if I can only control my conference schedule, how might I manipulate that schedule in order to gain an unfair advantage just like what I see at the top level of NCAA basketball?"
---
Every March, college basketball fans eagerly await the NCAA Tournament Selection Committee's bracket. It should be fun and exciting, but to anyone who follows along for a few years, it feels largely performative and predictable, with a fairly consistent list of programs dominating the top seeds in each region. In a failed attempt to heighten the drama, TBS extended the runtime to two hours for its show dedicated to the unveiling. CBS pulled the same stunt before them.

That's because NCAA tournament seeding is a fix.
For years, the NCAA has sold its biggest money-maker on the upsets, the underdogs, the unbelievable finishes—the memories of Loyola-Chicago, George Mason, or VCU are more vivid than a specific Duke or North Carolina title team. But rather than open up the field to allow more potential Cinderellas, the NCAA and its major conferences have devised ways to work within the system and benefit themselves, both competitively and financially.
Nowadays, terms like "RPI," "Strength of Schedule" (SoS), and "Quadrant I wins" are far more important than a team's conference record, if it happens to be in the right conference. As long as a school plays the best teams in the nation during its conference slate and stays above .500, it can feel relatively relaxed about its chances come March.
Large programs at the top-six conferences boast average budgets nearly four times the size of the mid-majors. This money regularly goes toward items meant to make the end-of-year budget look balanced, like high-tech locker rooms, state-of-the-art dorms, and bloated coaching salaries. It's also spent paying smaller schools cash for early nonconference cupcake games, and then for a charter plane to whatever major-conference tournament offered an invitation. These larger schools are essentially buying wins and RPI, and as Adams points out, that's something unique to college sports.
"I felt like the lone voice asking why do we allow buy-games?" Adams said. "The Yankees can't buy home games to make the Major League Baseball playoffs. The Patriots can't buy home games to make the NFL playoffs. And my local high school team, in Springville, Ohio, can't buy home games to make the high school playoffs. Why do we allow this in Division I basketball?"
For mid-major programs not named Gonzaga, this means organizing a competitive, impressive nonconference slate is close to impossible, because there's little to no incentive for the Power Six schools with decent RPIs to take a chance on being upset.

Conference USA and the Sun Belt, for instance, ranked 15th and 21st among the 32 conferences in average RPI last season, respectively. This was not due to losing the games they played. The problem was, the 26 teams in the two conferences combined to play just 50 Power Six opponents during the 2017-18 regular season. For contrast, take the ACC, made up of 15 Power Six teams. Those 15 teams played 50 Power Six opponents before beginning conference play, where every game is a Power Six game.
MacLeod, who served a term on the Selection Committee, noted this trend during her time there. She said the one question that came up the most was, "How many Quadrant I wins did somebody have?"

The tournament field is made up of 68 teams, with four teams forced to compete in a play-in game prior to the tournament's real start. Here's how the bracket broke down by conference this past March: The ACC led the way with nine teams, the SEC landed eight, the Big 12 got seven, the Big East placed six, the Big Ten snagged four, and the Pac-12 managed two. That's 36 slots for the major conferences, or 54.5 percent of the possible tournament openings. Of those 36 slots, 24 (of a possible 32) were top-eight seeds; just nine were seeded in bottom-eight slots.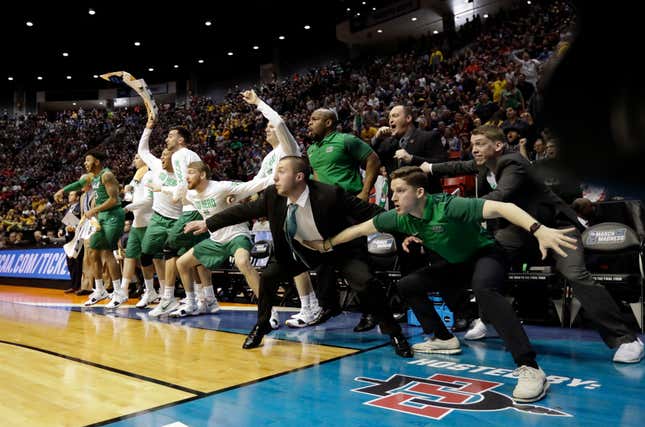 Here's where the Big Money comes into play.

For each game a team plays, their conference is awarded a "unit." That means that as teams advance, conferences collect more units. A unit for the 2017 tournament was worth $264,859—the first time it's paid out. Units are paid out for six years after they're earned, so in fact, earning a single unit (playing in one game) earns a conference roughly $1.59 million. Conferences then pay out the combined total earned among their teams, with some opting for an even split and others choosing to pay their top earners more.
Naturally, with the payout system set by how many teams a conference can place in the tournament, the Power Six conferences have done everything in their power to ensure that more of their teams not just enter the tournament with precious at-large bids, but enter it with high seeds and favorable matchups.
Thirteen of the teams that advanced to the most recent Sweet 16 belonged to the ACC, Big 12, SEC, Big Ten, and Big East. That's a combined $41.34 million in units just for advancing two rounds, and that's not even counting merchandise sales. The remaining three seeds and $9.54 million belonged to Loyola, from the Missouri Valley Conference; Nevada, from the Mountain West; and Gonzaga, from the West Coast Conference.
This is why the ACC alone racked up over $100 million in unit payouts in just three tournaments while the Big Ten hauled $75 million. The scraps are for whoever gets lucky—at least, just maybe, until now.
---
Adams has always been a champion of the smaller conferences.

Adams is a former mid-major coach who now works as a commentator on mid-major games for ESPN. He also runs a consulting firm and spends a significant amount of his time tweeting college basketball research he's completed over the years. This work history, combined with a friendship with former Middle Tennessee State head coach Kermit Davis and a growing sense of frustration among a couple of mid-majors, is why Adams found himself sitting across from CUSA's coaches during their spring meeting in May 2017.
"Kermit Davis followed me on Twitter all these years, and we've been friends a long, long time," Adams said. "So he calls me up last spring, says, 'We're having a Conference USA coaches meeting, I've followed all your stuff. I was wondering if you'd be interested in talking to Commissioner MacLeod about talking to the coaches. She'll call you and you guys need to talk.' Next thing I know, I'm on my way down to Destin, Florida."
In Destin, Adams threw all his research at the coaches, and laid out mid-major basketball's current situation.
He explained how the average budget of a Power Six conference was $8.9 million versus their $2.8 million; how the Power Six play 88.5 percent of their nonconference games on a home or neutral court; and how they get away with essentially paying cash to raise their RPIs during nonconference play. The CUSA coaches picked up what he was putting down.
"The coaches were militant. That's the best way I can describe it," Adams said. "When I was in that room, letting them know the financial situation of college basketball, putting it in black-and-white, it was like a Bible revival. Tim Floyd told me at the end of that meeting—he was at UTEP at the time—in front of every coach in that room that this was the greatest college basketball meeting he'd ever attended in his coaching career."
That's when Adams's work began. With the thumbs-up from MacLeod, Adams started on a cross-country trip to present his plan for saving the mid-majors. He started in August, visiting UAB's campus in Birmingham, Ala. On his visits, he met with presidents, athletic directors, coaches, players, boosters, local media, fans—basically anyone that would talk to him about his plan.
By October, when he set foot on Rice's campus, Adams had visited every single CUSA member campus; he managed to convince every campus leader in CUSA that the new scheduling setup was worth the risk. MacLeod said that she brought him in to speak with the CUSA board and athletic directors during a meeting in January. At the time, the specifics weren't quite hammered out—given the breadth of the conference, travel concerns were the main item that needed to be cleared up—but the CUSA leaders were ready for a change.
Adams pitched them on a conference schedule change that would turn their normal 20-game conference slate into a 16-4 split, with the teams being broken up into four groups based on their performance after 16 games, the best being grouped with the best, the worst with the worst. The teams then face off against one another in a four-game round-robin pre-tournament playoff, with incentives like a two-round bye in the conference tournament awarded to the winner of the top pod.
The idea is meant to present the conference's best team with an opportunity to log quality wins against the second- and third-best squads, rather than play a second game against a bottom-dweller and risk a potential ugly upset or meaningless victory. If the top teams succeed, the pre-tournament series will bump their RPI and chances of winning the ensuing conference tournament, two key items given the scarcity of at-large bids for mid-majors other than the West Coast Conference, American Conference, and Atlantic 10. While the official announcement was held for May, CUSA right then and there voted to adopt the new setup.
"We adopted it in late January but we still had some kinks to work out and we weren't really ready to throw it out there in the middle of the season," MacLeod said.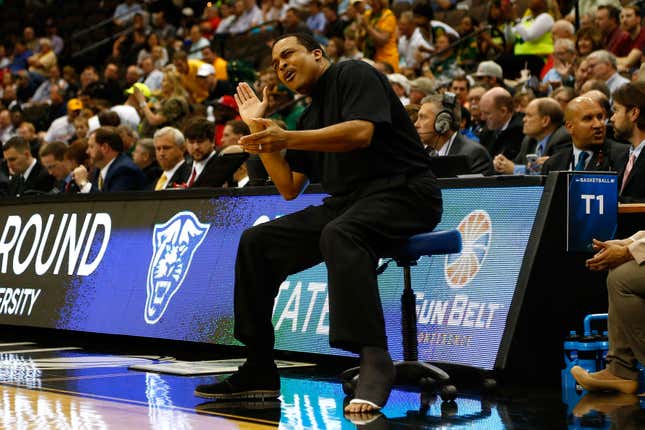 All the while, Adams was working to ensure CUSA wouldn't be the only mid-major stepping on the ledge.

In November 2017, just a month after his CUSA tour ended, Adams fielded a meeting with Karl Benson, the commissioner of the Sun Belt. Benson, an old friend, was eager to give his conference a kickstart and asked Adams to speak with its university leaders. Two months later, Adams went around to meet with the presidents and athletic directors of the Sun Belt schools, then, in March, to Sun Belt coaches.
Initially, Sun Belt coaches offered more resistance to the idea than their CUSA counterparts, according to Adams and Benson. While certain concerns, such as travel logistics and repeat matchups, came up multiple times, the question that rang out the loudest from the coaches came not from those at the top of the conferences, but the bottom. Benson, MacLeod, and Adams all admitted that the schedule change is not meant to get more teams into the tournament, but to bolster the RPI of the one bid that's guaranteed to mid-major conferences, so it would only help their best teams.
Because college coaching jobs can turn into a unending turnstile when a program can't consistently succeed, coaches at programs facing tough times were wary about trying something new when they would not be the immediate beneficiaries.
"I was in one meeting where I mentioned the goal was to improve the seed of the conference champion," Adams said. "And the coach says to me, 'Well, that's really not my goal.' Every coach had agreed to this, by the way, they all agreed to that goal. But as time goes along, people forget things; that coach said, 'My goal is to keep my job. We could end up in the last pod of teams and that could cost me my job.' And I looked at him and said, 'That's a good point. If the goal is to save your job, that's not really why I'm here. But, let me explain to you how it might save your job.'
"'If you go to the NCAA tournament as a 14 seed, what's the percentage since 1985 of a 14-seed over a three-seed?' He said, 'I don't know.' I said, 'I do, it's 15 percent. But if we improve you by doing this and you get an 11 seed, do you know what their winning percentage is?' He said, 'No, but I think you do.' I said, 'You're right, I do. It's 37.5 percent.' So if I can help you go from a 14 seed to an 11 seed, you have 2.5 times greater chance to win an NCAA tournament game. Does that help your career?' He said, 'Yes.'"
On May 3, the Sun Belt coaches decided to place the decision in the hands of the president and chancellors. The vote was to be held June 3. At the time, it was still unclear just how many programs supported the change.
On May 29, Conference USA announced it would be adopting the schedule change. The news was met with praise from both local outlets and the occasional blogger, as well as the CUSA fanbases. Benson told Deadspin that while the Sun Belt coaches' concerns didn't disappear, the CUSA vote helped them feel more secure with the new plan and helped the presidents understand the long game Adams was trying to play. Still, even he wasn't expecting an 11-1 vote in favor of the change. (The Sun Belt declined to say who was the sole dissenter.)
"I think it kind of surprised all of us," Benson said. "We knew that there were pockets of reservations. In the meantime, between when our meetings were over, Conference USA came out of their meetings and all the media attention that they got about a week ago was so positive that it probably resulted in some residual there, where presidents got excited about it."

"One of the other things that our coaches indicated was that they didn't want to be the quote, 'guinea pigs.' They said, 'Let Conference USA do it and we can wait and see if it works or not.' And yet, I think our presidents recognized the immediate value of it."
---
Of course, the crucial question won't be answered until next March: Will this work? Adams, MacLeod, and Benson are fairly confident, with MacLeod noting that the conference schedule is just "one prong" of their overall plan to solve the problem of NCAA tournament seeding and revenue—nonconference scheduling is the next step. MacLeod and Benson both want their top squads to go deeper because they're competitive individuals, but also because of what it could mean for their conferences' visibility and bottom line. To ignore that is to ignore the business that is men's college basketball in America.
"There's no question we're always trying to increase our revenue sources," MacLeod told Deadspin. "Not a secret to anyone."
NCAA leadership, meanwhile, has little reason to be positive about a change that calls their system a cartel. And yet, to hear Adams tell it, even the NCAA brass are impressed with what he cooked up. The NCAA did not respond to our request for comment.

"Dan Gavitt, who's the [senior vice president] of basketball for the NCAA, I got the chance to meet him personally for the first time at the Conference USA meetings and I stole 10 minutes of his time afterward," Adams said. "He was in there during my presentation. Everything I just said to you, he heard. Every term that I've used with you—think back now: collusion, cartel—he heard it. I asked him afterward, 'Dan, what do you think?' He said, 'It's innovative, it's creative and when you can create compelling matchups in February, the tournament committee is going to like it and they're going to watch it.'"
Maybe the plan fizzles out after five years, maybe all the top Sun Belt and CUSA teams go 0-4 in the pre-tournament series and lose in the conference tournament, maybe their RPIs don't improve, maybe the selection committee ignores any progress and keeps slapping a 12-seed on the mid-majors. But even in the worst-case scenario, these teams will just continue in one-bid leagues getting the shit end of the stick when the tournament field's decided.
The mid-majors are lining up behind Adams, MacLeod, and Benson because they have nothing to lose and everything to gain. They are tired, they are frustrated, and they are coming for their slice of the pie. Maybe they'll fail in this attempt; if they do, rest assured that Adams will be back on the road next year, raving against the Power Six and pushing the conferences he loves so much to try something different.
"The last question I would ask in every meetings—with presidents, ADs, anybody I was talking to—the very last question, after the research, the conclusions, and what the recommendations would be, was always: How's the status quo working for you?"