We're doing a season-long NFL roundtable with our friends at Slate. Check back here each week as a rotating cast of football watchers discusses the weekend's key plays, coaching decisions, and traumatic brain injuries.
« Previous entry | Next entry »
From: Jeremy Stahl
To: Emma Carmichael, Stefan Fatsis
Jon Gruden has been whinging about namby-pambyism for two seasons, but it's true that Monday night's performance was especially boorish. Right after waxing nostalgic for the good old days of John Lynch's near decapitations, Gruden said, "I realize that player safety is paramount, but I've seen way too many of these great plays by secondary people that have been penalties." Roughly translated that means, "I have to pretend that player safety is more important, but I don't like the new rules so I'm going to act like they don't exist."
G/O Media may get a commission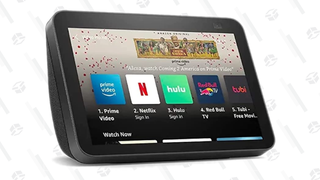 We all have our favorite safety and our favorite hits (as a Washington fan, I'm partial to Sean Taylor). And I admit to getting the same old tingling in the limbic region of my brain that I'm sure Gruden also felt when he saw Hakeem Nicks get squashed. But, as you say, Stefan, the days of unmitigated violence in the NFL are over. The new rules mean that we have to redefine what qualifies as a great defensive play.
The NFL actually attempted to do this last year with a dos and don'ts instructional video. Yes, it's true that removing the voice of league official Ray Anderson and replacing it with an Eminem track would turn this into another "NFL's hardest hits" YouTube compilation. Even so, the video—like the rulebook itself—is actually pretty instructive and unambiguous on what qualifies as legal and illegal.
"Initial contact in the head or neck area with a forearm, shoulder or helmet is prohibited," Anderson says as you watch assorted Browns and Bengals receivers go flailing. The examples of legal hits include a shoulder-to-chest block on a Seahawks punter and a Ray Lewis shot on a defenseless Dustin Keller that does not include helmet-to-helmet contact or launching. "Proper technique that minimizes the risk of injury to the opponent: this is what we're asking." (If Ray Lewis can do it, so can you!) ESPN might want to sit Gruden down with the league's video every week until he figures out that a John Lynch layout no longer qualifies as a great play because it means your team is going to lose 15 yards.
With Gruden (supposedly) staying in the Monday Night Football booth for another five years, the Jaguars will (maybe) have to look elsewhere when it comes time to hire a permanent replacement for Jack Del Rio. Like most things in life, Del Rio's mid-season firing can be linked directly back to Tebowmania. A popular storyline goes that Jaguars owner Wayne Weaver got fed up with watching Jacksonville's native son win in Denver while the Jags' callow quarterback, Blaine Gabbert, stunk it up. Weaver, who sold the team on the same day that he gave Del Rio the boot, had other reasons to dismiss the coach, like the fact that he's the only coach in NFL history to serve for nine years without winning a division title. But the Tebow story is more interesting and probably at least partially true.
What is silly, though, is the counterfactual history proposed by the Orlando Sentinel's Mike Bianchi. In Bianchi's fairy-tale universe, Tebow is leading the Jaguars to a winning season and possible playoff berth all while selling out EverBank Field for still-owner Wayne Weaver under the watchful eye of adoring, merchandise-purchasing Evangelical fans, thus saving the team from certain relocation to Los Angeles. While Tebow would have been an improvement over Gabbert right now (Jacksonville is currently last in the league in total offense, so he couldn't do worse), he's not a long-term solution. The Broncos are winning on account of a ridiculous defense that has held the opposition to piddling point totals (13 15 per game) in the five games Tebow has won. If Tebow played for almost any other team, he'd be piling up losses right now.
A more likely scenario: The Jaguars, after having drafted Tebow in the first round, would have been trapped into appeasing their fanbase by sticking with a "franchise quarterback" who couldn't throw the ball even as their offensive performance got progressively worse. Who knows how many years they would have lost to Tebow-dom only to be placed right back in the situation they are today. If Gabbert keeps sucking, though, he'll be far easier to jettison than Tebow, especially in a draft year with a great crop of quarterbacks. This time next year, Matt Barkley or Landry Jones or Robert Griffin III could be starting in Jacksonville. And for that, Jaguars fans—however many there are left—should be very thankful.
Jeremy Stahl is Slate's social media editor. Before joining Slate, he worked as a sports editor at Yahoo U.K. in London and as a contributor for the Riviera Times in Nice, France.
Image via the Orlando Sentinel.