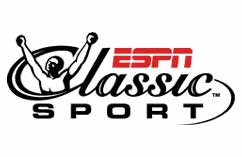 Now that ESPN Classic no longer shows "original" programming like "Classic Now" or "Cheap Seats," the channel is supposedly back to its roots of showing historic sporting events ... you know, the reason the channel existed in the first place.
So how's that going? Future Considerations checks in with a look at today's programming for the network, and finds it considerably less than "classic." Two highlights:
• 12:30 PM: Streetball: The And 1 Mix Tour Presented by Mountain Dew
If I had any ability with video editing, I would combine clips of Vince Carter's only showing in the NBA Dunk Contest with clips of TV Funhouse's The Baby, The Immigrant, and The Guy On Mushrooms sketches. Because that is every Streetball show.
• 8:00 PM: 2005 World Series Of Poker presented by Milwaukee's Best Light
Lon: Well, it's time for our all-in moment of the match
Norm: This guy is almost as big of a dog as my wife
Lon: *polite chuckle* OHHH ITS A CARD I KNEW WAS COMING! [POPULAR PLAYER} IS ELIMINATED.
Norm: You hate to go out like that. My wife threw me out once when the odds were in my favor.
We're doing a feature for that whole book thing next week where we're watching all ESPN networks for 24 hours and seeing if we survive. This post did not encourage us.
R.I.P. ESPN Classic [Future Considerations]