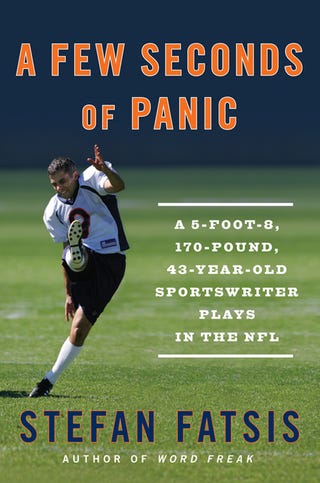 Author of "Word Freak" and renowned short person Stefan Fatsis, who I've had the pleasure to meet on a few occasions and was once beaten at Scrabble by Big Daddy Balls Magary (Drew never shuts up about this), is coming out with a book this summer about his experiences joining the Denver Broncos camp in 2006 as a kicker. One of Fatsis' MSM homes, the Wall Street Journal, had an excerpt from "A Few Seconds of Panic" yesterday, and it's a fine read.
Then Shanahan motions the team to the middle of the field. "In this business," he says, "there's a lot of pressure, and a lot of pressure put on kickers. We're going to put some pressure on our kicker, Stefan. He's going to kick. If he makes it, meetings will end at 9:00 instead of 9:30."
Now I don't want to give you any SPOILERS! of how it's going to turn out, but...
Amid a pulsing dance beat, I do a perp walk through the locker room. The reviews are not good. Linebacker Keith Burns: "I was thoroughly disgusted." Center Tom Nalen: "Thanks for f—-ing us." Tight end Chad Mustard: "S—- the bed! Call housecleaning! We need new sheets!" Quarterback Jake Plummer: "Don't ... come near me. Get out of here."
Sorry Stefan. If it's any consolation, Jake Plummer has all sorts of time to talk to you now.