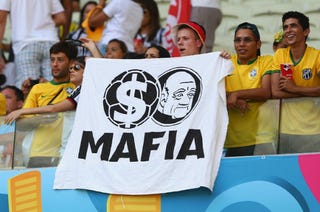 If it surprises you to know that there's a FIFA financial watchdog group, you may find it less surprising to learn that one of the members of this group has been arrested on suspicion of corruption and money-laundering.
His name is Canover Watson, and he is also the president of the Carribean Football Union, the members of which complete in our own CONCACAF.
Thankfully, these particular accusations of corruption don't have anything to do with soccer. Just defrauding a hospital.
The arrest follows following a police investigation into a hospital swipe-card billing system in the Cayman Islands.

According to a police statement, Watson's arrest was for "suspicion of breach of trust contrary to section 13 of the Cayman Islands Anti-Corruption Law, as well as abuse of public office... and conflict of interest", as well as "suspicion of money laundering contrary to section 133 of the Proceeds of Crime Law".
I trust that all his soccer dealing have been above board, though.