It's kind of weird to picture, this report from the Post-Dispatch's Joe Strauss. Mark McGwire leaving St. Louis to become the Dodgers' new hitting coach, even turning down the Cardinals' offer of a contract extension? It's not just that McGwire has been wearing red for 15 years-sometimes we prefer to remember him in green and gold, or as a skinny kid in USA Baseball duds-it's that we thought of him as still kind of…toxic?
It's hard to deny the results of McGwire's three years on the St. Louis bench. The Cardinals have boasted one of baseball's best offenses, with a massive share of that coming from players fresh out of the minors. Two deep playoff runs and a championship later, and he doesn't really have anything to prove re: his ability to teach what he knows. He and his family live in Southern California, and he's supposedly always wanted the Dodgers job, and with Dave Hansen's firing it's vacant, so here we are.
Mark McGwire did steroids. A lot of them, for a long time. He's the most famous player to be implicated in the whole mess, and that's pretty much his legacy now. It was sort of weird in 2010 when the Cards brought him on as hitting coach, even though he had to semi-admit his PED use first (he claimed it was only for recovering from injury, not to become a hulking dinger machine). Because, like, he's Mark McGwire. He took pills and got injections and hit home runs, and now he's supposed to tell younger players how they should hit? There was a sense that he should be ostracized, De-Stalinized from memory. But we've come a long way in just these last few years. McGwire is a respected coach. Barry Bonds is attending Giants games. Ryan Braun is an MVP candidate.
It took way more mental contortion than it ought to have, but we've finally been able to separate the concepts of natural talent and illegal performance enhancers, and recognized that guys like Bonds and McGwire and Braun and Manny Ramirez were able to combine the two. Maybe it's because so many shitty players have gotten caught-I don't know. But using technology to enhance one's own abilities is not mutually exclusive from knowing what you're doing at the plate, or being able to verbally impart that wisdom. The fact that a team that wasn't the direct beneficiary of hundreds of millions of dollars in fan interest from McGwire's playing days is hiring him, and no one's raising an eyebrow, is a good thing. We're getting smarter about a very dumb chapter in baseball.
G/O Media may get a commission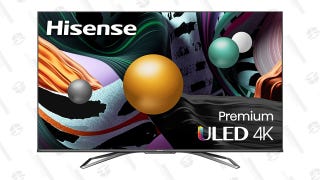 Save $350
Hisense ULED 65" Android 4K HDR Smart TV