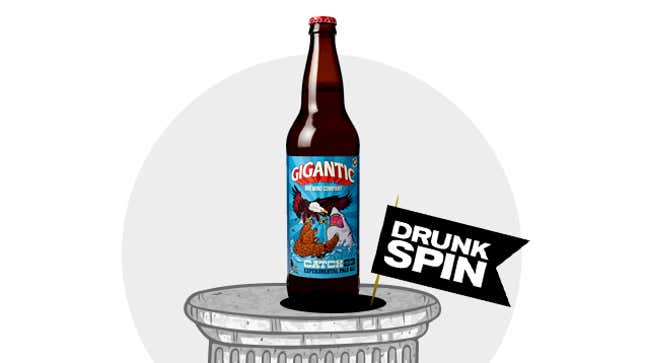 I ran into an old friend Sunday afternoon, and he asked what I had planned for this Wednesday. I had no ready answer, of course, because what kind of a monster has anything particular planned for a Wednesday? I suppose if I'd thought it through for a few minutes I could have projected that as the day when I'd be out of clean socks and English muffins and therefore given a guess as to Wednesday's likely list of errands, but that seemed both beneath my dignity—I don't have to justify my laundry schedule to this chump—and above my station. Who am I to pretend I can't make it through at least one day with some gently used socks or a Wheat Thin pizza?
Aaron Rodgers should go full Joe Namath | Comedian Bert Kreischer
It turned out, however, that my interlocutor wasn't trying to pry into my hamper or judge the soundness of my lunch; he was referring to tomorrow's fakest of all holidays, April Fool's Day. I have a well-documented fondness for made-up holidays: If you know anyone who went harder than I did on last week's International Waffle Day, then you know someone who still has syrup stuck in places Mrs. Butterworth never intended to breach.
But that said, I don't think I've ever celebrated April Fool's Day. I don't really care for pranks. And when you're in this racket, "prank" is really just another word for "troll"; to wit, my best prank idea for a special holiday edition of Drunkspin was to pretend I really like Yuengling. That would have been really stupid. But once I got through that rant—Sunday afternoon is a regularly scheduled event during which we celebrate the irrational, conclusion-jumping-to rage induced by my running out of biscuits and gravy before I run out of hangover—my friend explained why he asked.
It is rumored that a deluxe beer bar in my neighborhood runs an April Fool's meta-prank in which they advertise (on Twitter or whatever, I suppose) all the rare and exotic beers they have on tap for one day only, stuff that you just can't find in these parts. So we're supposed to get all excited for a minute, then realize we've been duped and say, "Nice try, deluxe beer bar, but I'm not falling for this hoax. I'll stay home and let you deal with the hoards of angry people who thought they were going to drink Pliny the Middle-Aged only to get a face full of Bud." But then, surprise, they really DO have all the dope shit on tap.
That's a pretty good reverse prank! I still don't think I'll make it, though, because it's time I put the landing gear down after a pretty extensive winter of beer research. I'm sure I'll come to regret missing out on all the rare and handsome brewskis available right down the street for one night only, but I've had a pretty lucky stretch of trying new things lately, and I have enough notes compiled to ease me through a relatively sober April. Speaking of which, did you know that even when you're out here doing god's work, you have to pay income tax? And that income tax on freelancers is about 500 times higher than it is for traditional employees? So yeah, lot of home-time scheduled for April. At least I get to go out of March with the bang of reporting on one of the best beers I've tried in 2015, though.
Gigantic Brewing Company is a funny little outfit in Portland, Ore., a municipality formerly known in these parts as Other Portland, but recently rebranded as the Most Prominent City in the Former Racist Utopia of Oregon. Clean that up, Oregon. But I'll allow for some progress, and everyone's always yammering at me about how good Oregon beer is, so I wasn't opposed to cracking my free sample of Gigantic's Catch 23 Experimental Pale Ale. (The experimental part refers to a Hop 527, a new one from Roy Farms in Yakima, Wash. It could also refer to school desegregation, but I didn't have time to really look into that part of it, so let's stick to sports from here on out.)
This is an exceptionally complex beer, especially for a 5.6-percent alcohol-by-volume pale ale that doesn't undergo any barrel-aging or other associated production voodoo. The label art, by a guy named Ben Walker, depicts a pretty intense battle royale twixt a shark, a bear, and an eagle—I would think advantage shark, since they're in the water, but then I guess bears can kinda swim, and flying never hurts, either, so this could be a pretty fair fight—but that mayhem aside, this is a fairly straightforward beer.
This gosh-darned beer smells like strawberries! And also nectarine, I thought, though the tasting notes on their website says mango instead. I also hallucinated some dried apricot. There are plenty of fruity pale ales out there—especially these days, with so many new-fangled hops that provide more aroma than actual bitterness—but Catch 23 does show some solid resin bitterness on the back end, after all the fruit, some bread, a small does of peppery spice, and an undercurrent of chocolate and molasses.
Far be it from me, sitting over here with my heart full of whimsy and my armpits full of syrup, to tell you Fools not to celebrate tomorrow however you see fit. But may I recommend you see fit to have at least one excellent beer? Gigantic Catch 23 is one excellent beer.
---
Will Gordon loves life and tolerates dissent. He lives in Cambridge, Mass., and some of his closest friends have met Certified Cicerones. Find him on Twitter @WillGordonAgain.
Illustration by Sam Woolley.
The Concourse is Deadspin's home for culture/food/whatever coverage. Follow us on Twitter.