It's not a proper summer until I visit Wildwood.

I've been going to Wildwood since I was in utero. My parents took me every year. I started going down myself once I got my driver's license. I've taken day trips and weeklong stays. I go every summer. I usually go in the fall, too. Sometimes I even take a trip down to see the eerily empty boardwalk in the winter.
Wildwood is an oceanside resort in South Jersey. The island, technically three separate municipalities, has long attracted families from the Philadelphia area (and, for some reason, French Canadians). The resorts' beaches are wide, more than a quarter-mile long at some points, and free. The town has long attracted working- and middle-class families. It's a place you go and never leave; most Wildwood tourists are repeat visitors.
The boardwalk is my favorite thing in Wildwood. It's where I played in arcades all day as a kid and explored without my parents for the first time. It's where I brought girls as a teenager (and, in my 30s). Running the length of Wildwood into North Wildwood, it's two and a half miles of pizza shops, ice cream stands, arcades, amusement piers, and t-shirt stores.

Wildwood is a land free of good taste and unfettered by corporate sensibilities. Chains have long struggled to establish a presence down the shore. A weird indie, throw-it-together sense prevails. Trends are followed. In 2004, one entrepreneur opened up a "Whack the Iraq" stand where you could shoot paintballs at a live target dressed like Saddam Hussein or Osama bin Laden. By 2008, it had been changed to a game where you took a shot at Big Oil.
But t-shirts dominate the Wildwood boardwalk. I've always been fascinated by boardwalk t-shirt culture, back to when I was a little kid and struggled to figure out what COED NAKED shirts meant. The boardwalk's shirts are tacky and irreverent, liberal and conservative, kiddie and adult. Shop owners will sell pretty much anything.
G/O Media may get a commission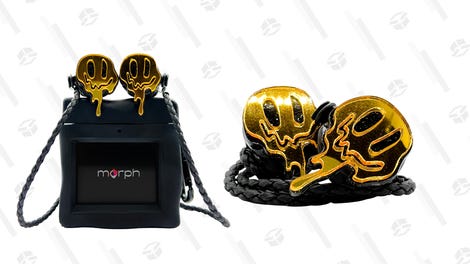 morph audio
Morph Earphones
For example, the image above is from a shop on Memorial Day weekend, with two shirts right next to each other. One quotes Matthew 14, where Jesus walked on water, and says "Jesus, my lifeguard, walks on water." The other is a shirt that reads: "I'm not gay, but $20 is $20." It is a shirt primarily worn by gay dudes, a tacky form of pride. These coexist on the Wildwood boardwalk.

As do a ton of shops. "There are 32 shirt stores on this boardwalk," says Maximilian Kelly, part-owner of three of them in Wildwood. "Thirty-two is a lot of competition close together." There are plenty of places similar to Wildwood in terms of tacky t-shirts: Venice Beach and Santee Alley in Los Angeles, Gatlinburg in the Tennessee mountains, other beach resorts in Jersey and along the East Coast. But nowhere I've been to matches Wildwood's breadth and tackiness in the t-shirt realm.
Kelly is like me. He grew up coming to Wildwood, he went to a Catholic prep school in Philly and he loves the shore. After taking classes at the Pennsylvania Academy of Fine Arts and a suburban community college, he turned his love of Wildwood into a job. He now spends 7 months a year down the shore running his three t-shirt shops: Mr. T's, Zombieshark, and Hat Trick.
Kelly tells me his shops are the most organized ones on the boardwalk. After checking them all out last weekend, I think he's right. "I have a lot of love for Wildwood," he says, "and I want to help this island in any way I can," explaining the well-organized store. And he says his organized store, and his own personality, helps make sales.
"I, personally, cannot stand Drake," he says. "But Drake is one of my best sellers. So I put his shirts behind Wu Tang out front. And this store, versus my other two, sells a lot more Wu Tang. Maybe because I have a lot of love for Wu Tang, and my sales pitch is a bit different." Who knew one salesman could reinvigorate teens' love for Wu Tang?
Beginning in 2012, I started chronicling the yearly trends in Wildwood boardwalk t-shirts at Philadelphia magazine. I did t-shirt trend pieces in 2013, 2014, 2015 and 2016. This year, Kelly was nice enough to let me hang out with him for a bit while he peddled his wares on Memorial Day weekend.

He tells me tie dye is going to make a huge comeback at some point this summer. Boardwalk t-shirt fashion moves quickly. You are unlikely to find a Sex. Drugs. Dubstep. shirt this year, but they were common in 2012. (Really!) Kelly remembered one year when every store was selling "Taylor Gang or die," a reference to Wiz Khalifa's record label. One day a customer asked Kelly for a "Taylor Swift or die" shirt. He made it, people liked it and soon the entire boardwalk was selling "Taylor Swift or die" shirts.
Why are t-shirts such a big thing in Wildwood? "It's Wildwood, man," Kelly says. "You act a little bit more crazy, you act a little different." And you buy a t-shirt, generally. From talking with him and my own observations on the boardwalk so far this summer, here's what you'll find on the boardwalk this year.
Fidget Spinners
For the first time in the six years I've been chronicling Wildwood boardwalk trends, the most-visible thing on the boardwalk isn't a t-shirt this year. It's a little contraption called a fidget spinner. As our own Drew Magary put it in GQ, a fidget spinner is "a weighted three-pronged thingie with a lone wheel at the center and three inset wheels at each end." You spin it. It's supposed to allow you to concentrate better while your hands tinker with the little toy. They are currently the bane of my high school teacher girlfriend's existence.

And they are everywhere on the boardwalk. I could blindfold you, take you to the Wildwood boardwalk, spin you around, and tell you to throw a beach ball in whichever direction you please. You will hit a fidget spinner. Is this the biggest non t-shirt boardwalk crazy since 1994, the summer of pogs? Maybe. At least they're not that bad, price-wise: The little contraptions are six or seven bucks on the boardwalk.
Fortunately, many stores are selling "Fidget with your spinner" shirts, which I'm just going to assume is a sex or masturbation reference of some kind.
Cool Cats and Dogs
What's not a sex reference? Cat shirts. "Moms are always in here asking what the cat shirts mean," says Kelly. "I keep telling them: There's no hidden message. People just like cats."

Senior Week
I spent my senior week on 26th Avenue, the Wildwood/North Wildwood border, a block and a half from the boardwalk. Five of us paid $125 each for a week in a motel in an old house that normally catered to Québécois. I slept in a fold-out bed in the kitchen. I spent hours on the beach, ate pizza from Sam's every day and hung out on the boardwalk every night. It was perfect.

I'm sure I bought a senior week t-shirt, but I don't have it anymore. (Not that it would fit.) I am positive my senior week shirt did not read "PERCOCET MOLLY PERCOCET," if only because we called it ecstasy back then.
Gay Pride
Back in 1994, t-shirt shops on the Wildwood boardwalk sold a t-shirt with the Trix rabbit and the slogan: "Silly faggot, dicks are for chicks." The shirts prompted a protest from 10 womens groups in Belmar, traditionally a gay-friendly shore town. Then Gov. Christine Whitman called the shirts "an appeal to personal bias and bigotry." Even General Mills denounced the shirts, which nonetheless sold like hotcakes: The Philadelphia Inquirer quoted a t-shirt shop owner who said he sold six dozen a day at $10 each.

Anyway, the t-shirts with a homophobic version of the Trix rabbit are gone. Possibly in their exact place are gay pride shirts. Many may be a bit crude, but there has been progress on the Wildwood boardwalk.
Confederate flags
Or not. Despite being in a union state, Wildwood boardwalk t-shirt sellers offer a small variety of confederate flag t-shirts. People—okay, generally racist white people—will joke that Wildwood is "below the Mason-Dixon Line," which would be true if the Mason Dixon Line extended through New Jersey (it doesn't). If you need an example of why the southern stars and bars is generally a symbol of white pride, just look to Wildwood.

Marijuana
Public attitudes toward marijuana have shifted in recent years. Reformers are optimistic they can legalize weed in the state once anti-drug Gov. Chris Christie leaves office at the start of next year. Judging by the amount of pot t-shirts on the Wildwood boardwalk, they are set. If I lived in Jersey, I'd vote for stoned Bugs Bunny for governor.

General Patriotic Merchandise
There's always a market for American stuff, particularly if it also involves telling people you like to get completely wasted.
Conservative Political Merchandise
If you need a t-shirt that sounds like a text from your uncle, you can buy it on the boardwalk.

Ethnic Pride
Are you proud of your heritage or want to tell people you have a temper and you're italian? Wildwood has you covered.
Boy Shorts With Problematic Slogans
Imagine wearing a shirt that shows you are the "bitch" or "property" of some dude. Now imagine doing that… on a pair of boy shorts! I have to admit, though, "E-ZPass" is a pretty good boy short slogan.
Creepy Father T-Shirts
These are some of the scariest t-shirts on the boardwalk. It's understandable fathers are worried about their kids when they begin dating. It's understandable—in a weird Wildwood sense—that they'd want to buy a t-shirt expressing this worry. But it is not understandable that dads want to wear these horrific shirts.

Politicians
Kelly told me the election tore the boardwalk apart last year. People were so angry about Trump and/or Clinton that they sometimes even yelled at him, he says, even though the vendors on the boardwalk are agnostic about the content of their merchandise. He keeps his political stuff in the back, a tactic a bunch of t-shirt sellers appear to have taken this year.

If the Halloween mask poll correctly predicted Trump's upset win last November, then the rapid disappearance of Trump merchandise from boardwalk store fronts does not bode well for the president.
There are also a collection of Kanye/Beyonce/Justin Bieber for President shirts for the kiddies.
Sports!
Honestly, these are probably the most popular shirts on the boardwalk. Kelly tells me that he expects his biggest sellers the first half of the summer to be Team USA basketball shirts (every boardwalk store also sells pinnies made up to look like basketball jerseys). Even though it's now been almost a full year since Rio 2016? "The Sixers aren't very good," Kelly says, "but people around here often don't want to wear jerseys of other teams, even if they like the players." Team USA swag it is!

Couples Shirts
These are all over. I have to imagine boardwalk t-shirt sellers started pushing these kinds of products in order to sell double the amount of t-shirts.
Tattooed Disney Princesses and Marilyn Monroe
I am not sure where these came from. Not because they sprung out of nowhere, but because there have been several different artists who drew tattoos on Disney princesses. Ditto Disney princesses under arrest. The Marilyn Monroe shirts appear to be derived from Miami's now-defunct Purple Heart Clothing, which put Marilyn in Miami Heat jerseys back in 2012. Or maybe they ripped off someone else instead! The Wildwood boardwalk leads you to many, many mysteries.

Lifting
People who lift generally have to tell everyone about it, but now they can do it with a shirt instead of their words. Much easier.
Kids Cartoons
I've been told (by my friends with kids) that Paw Patrol is the bane of their existence. Well, you can be sure to find a bunch of Paw Patrol stuff on the boardwalk this year. Keep an eye out: When Despicable Me 3 hits theaters later this summer, the boardwalk is going to be crawling with Minions again.
The One Shirt Truly Unique to Wildwood, New Jersey
Wildwood's boardwalk is so long there is a motorized tram car that runs the length of it. The trams play an old recording of a woman saying, "Watch the tram car, please." Wildwood's t-shirt stores, of course, have long sold a shirt that shows a seagull about to be run over by a tram car. Happy vacation!

In recent years, however, the graphic has been altered. Now Minions or Angry Birds are about to be run over by a tram car! Honestly, I don't like it.
Miscellaneous
And the rest. There is literally an endless number of t-shirts you can buy on the Wildwood boardwalk. No matter if you like the salt bae, Bill Murray in 3-D glasses, cars, or the classic "If you see da police, warn a brother" t-shirt, you can buy it in Wildwood. I highly suggest you visit one day. Buy a shirt.