Dodgers catcher A.J. Ellis had a very eventful October 12. His wife, Cindy, was pregnant with the couple's third child, and two weeks before her due date, her water broke. Cindy's preferred doctor was half an hour away, so as A.J. drove 75 miles per hour in an attempt to reach the doctor in time, she had to deliver the baby in the front passenger seat.
From Molly Knight of ESPN The Magazine:
But by the time they got into their car at 7:25 a.m., Cindy's contractions were happening every 45 seconds to a minute.

She began screaming at her husband that she didn't think they were going to make it to the hospital.

"And I'm thinking, this is 2012, not the 'Oregon Trail.' Of course we're gonna make it," Ellis said. "So I'm calmly telling her we're making it. I figured she was just panicking because she was in excruciating pain."
The baby, Audrey Elizabeth Ellis, weighed in at 6 pounds, 10 ounces. Although the whole account is worth reading, the best part is how Cindy and A.J. dealt with the placenta:
Ellis was so discombobulated he forgot Cindy would also have to deliver the placenta in the car after Audrey was born.

"So she says to me, 'Oh, this is gonna be gross, don't watch this,'" Ellis said. "But whenever someone says that, of course you're going to look."

And what does he recall of that event? "It looked like purple brains," he said.
A.J. Ellis makes a very special delivery [ESPN]
G/O Media may get a commission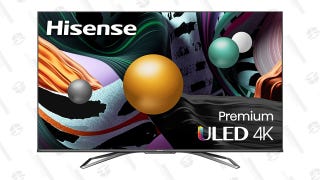 Save $350
Hisense ULED 65" Android 4K HDR Smart TV