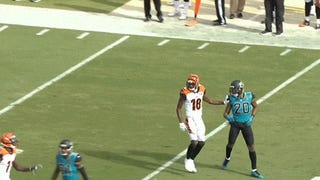 Just before halftime in today's Bengals-Jaguars game, Jacksonville cornerback Jalen Ramsey gave A.J. Green a little shove at the end of a play. The Bengals receiver absolutely lost it.
Green put the Ramsey in a chokehold and tossed him before unwisely throwing punches at the Jaguars defender's helmeted head. Both teams' players got involved to break up the one-sided fight.
Both players were ejected, making the prospect of watching Bengals-Jaguars even more unappealing.