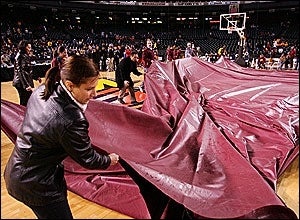 Far be it from us to deign to understand what it takes to schedule a sporting event, but we would like to suggest that, in the future, basketball games continue to be played indoors.
In a classic "Duh" moment, the Arizona State-Texas Tech women's basketball game, played outdoors at Chase Field in late December, was rained out with four minutes left. That picture is a grounds crew putting a tarp on a basketball court, which is just a beautiful image, like watching an April baseball game when it's snowing.
The real question, and we don't have an answer to this yet, is whether or not they initially tried to play through the rain, or if they pulled the tarp out at the first sprinkle. We love the idea of people falling down all over themselves, pulling ankles left and right, before finally someone said, "All right, this probably just isn't a drizzle." Suck it up, people; it's just a little rain.
Arizona State Women Are Getting Wet [The Big Picture]