With 18 seconds left in the first half of Super Bowl 43 and the Cardinals on the doorstep, James Harrison picked off Kurt Warner and barreled 100 yards for a touchdown, dancing along the sideline as he went and narrowly breaking the plane of the end zone before Larry Fitzgerald dragged him down. As referee Terry McAulay went under the hood for the replay, he and the fans at home watched cameras track Harrison from the sideline, from the end zone and in super slo-mo as he crossed the goal line. That we all had definitive looks at this pivotal play was no accident; it was the product of months of preparation by NBC, and additional cameras meant to capture every angle.
This past Monday, two NBC crew members went to Fishers High School, in Fishers, Ind., to teach the school's football team the Patriots and Giants playbooks, offensive and defensive. On Friday, the Fishers Tigers will take the field in Lucas Oil Stadium to run a dress rehearsal, so that NBC can work out the camera positions for the whole assortment of formations and plays—and for all the contingencies that might arise from them.
"I'll have a guy run 100 yards up the near sideline as close to it as he can," producer Fred Gaudelli said. "I want a guy two yards, five yards, and 10 yards behind him. At every increment, I want to see which camera got the best look."
Gaudelli, a 10-time Emmy winner, has watched 30 hours of game film to come up with the formations and plays he wants to rehearse. For a regular-season Sunday Night Football broadcast, he watches 10 hours. Then he, Al Michaels, Cris Collinsworth, and members of the production team sit with players and coaches to pick their brains on strategy, trying to identify the things they should be looking for in the game, so the crew can best break down the action.
"In that meeting, a QB may say, 'I expect wide receivers X and Y to be double-covered, so I'm going to look to Z,'" Gaudelli said. "That's a tip to us to observe that on a play, see if it comes to fruition, and set up a replay sequence to show the viewer."
G/O Media may get a commission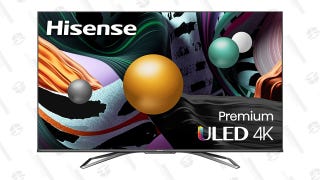 Save $350
Hisense ULED 65" Android 4K HDR Smart TV

The Super Bowl has a bloated budget, allowing a network to deploy every bell and whistle at viewers. But in Gaudelli's hands, the bells and whistles can serve a purpose beyond inducing seizures or producing Michael Bay-esque exploding graphics. Back in the '90s, when he was working for ESPN, Gaudelli implemented the virtual first-down line that has become a staple of every football telecast. A few years ago, he introduced NBCEE It, the technology that allows the broadcast team to zoom in on a shot and pan around a frame. That capability allows viewers—and replay officials—to more accurately assess whether a player has fumbled before going down or has caught the ball in bounds. In the NFC championship game, Fox used the technology to determine whether the Giants' punt had grazed Kyle Williams's knee.
The planning for Super Bowl XLVI began back in the summer of 2010, when Gaudelli and his crew headed to Indianapolis to start scouting camera positions. They've returned three times this year to refine the placement of NBC's 40 cameras—seven more than a normal Sunday night broadcast—29 trucks and trailers, and 60 miles of camera and microphone cable. While the NFL was locked out over the summer, Gaudelli's team gathered for five days to dissect the past three Super Bowls, to see if they could glean any new information to add to the telecast.
Sensory overload is normal if not expected in this most American of holidays, but Gaudelli subscribes to a less-is-more ethic (Bob Costas's essays during pregame, halftime, and postgame notwithstanding.) "That's a battle you fight sometimes," he said. "There are so many things you want to do, but you have to stay true to the game and you have to make what's happening on the field a priority."
Storylines will emerge as the game dictates, not as the pregame narrative or the producers dictate. If the Patriots go into a hurry-up offense, the backstory on Rob Gronkowski's loudmouth dad will have to wait, because the production crew will go into its own version of no huddle, focusing analysis on what's happening right in front of them at that moment. It seems like such a simple idea, but it requires a fair bit of restraint to not just talk over the game.
Ultimately, Gaudelli expects to be judged not on the spectacle, but on the nuts and bolts. "When we get to Indy," he said, "in our camera meeting I'm going to play that tape of Harrison's interception, because we had those basic shots nailed: feet, knee, ball, goal line, and boundary. Had we not had those basic shots, it would have been an embarrassment. Focus on executing those things 100 percent correctly, because if you get caught up in the hype of the game and go in thinking you're going to rock the world, you're going to make mistakes, and it will be a long day."
Jeremy Repanich is a writer who lives in Brooklyn. His work has appeared in Popular Mechanics and Men's Journal, and on Wired.com. You can follow him on Twitter @racefortheprize.