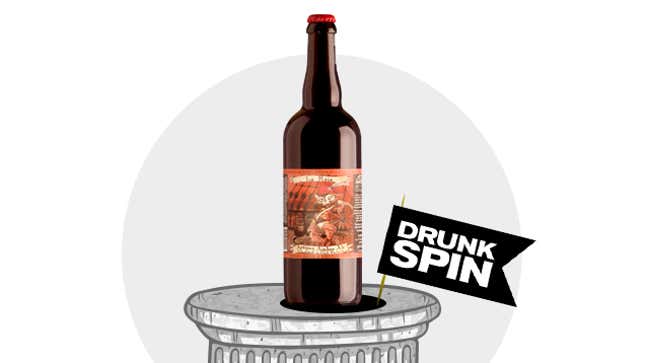 Christmas is a weird time for a boozer. I realize everyone's circumstances are different—profoundly different if you have kids of an age that requires them to be catered to in a Santa-type fashion—but even if you are religiously or culturally uninterested in the actual holiday, you probably have a day or two off work that can't be frittered away at dentist appointments or pretrial hearings.
I know you're a drinker, or else we wouldn't be having this conversation, but I can't profess to know what kind of drinker you are, and of course I have no idea which sort of Chinese restaurant you're going to haunt on and off for the next 48 hours. A bright and dirty buffet with no liquor license but a look-the-other-way approach to a thirsty patron's back-pocket bottle of Crown Royal?
Or maybe you're back home with your parents, and they've agreed to stuff you full of deluxe Chinese food, the type from a specific region, at a place with fish and linens and a nice little wine list. Then you might be advised to just drink as much as Ma and Pa will tolerate before they wish you sweet, degrading dreams back in your childhood masturbatorium.
Perhaps you'll find your way to the type of dreary-yet-lively strip-mall Chinese place with carpet and French fries, where you'll join all the other noncustodial parents in mai tais that you know aren't very good, but what are you gonna do, drink Coors Light on Christmas? (Yeah, a couple of those, too.)
Or hell, I don't know, maybe you're the sort of pervert who doesn't even go to a Chinese restaurant on Christmas. Takes most kinds. And I confess that I don't even have my own plan ironed out yet. We're leaving for Puerto Rico late on Christmas Day, and I'm currently telling myself that I'm just going to have a couple pops at home tonight and then a few more with dinner tomorrow before heading to the airport, but that doesn't sound very festive. What I'll almost certainly end up doing is running to the beer store in a panic right around sundown and picking up something moderately indulgent.
It's always easier to blow too much money on beer if you're pretending to do it in a themed or celebratory manner, but I'm pretty well burnt out on traditional Christmas beers by now. Therefore, I'll probably try to qualify on a technicality by going with La Roja from Jolly Pumpkin. This Dexter, Mich., brewery specializes in open-fermented, barrel-aged, bottle-conditioned beers, which means expensive beers; the word "Jolly" is right there in the name, which means these expensive beers are Santa-sanctioned. Let's do it.
La Roja (7.2 percent alcohol-by-volume, about $14 per 750-millileter bottle) is a Flanders-style ale that pours a deep amber, with a minimal head of lacy tan foam. Sour cherry and apple aromas blend with light caramel malt and subtle but distinct oak. The flavor starts off very tart and fruity, featuring light tropical notes along with the cherry and apple, plus some raspberry. The sour sensation begins to fade mid-palate, with minor lemon, a funky barnyard hint, and maybe a little bit of vinegar in the otherwise malty middle, leading to a dry finish with hints of black pepper, vanilla, and wood.
Jolly Pumpkin La Roja is complex and interesting, in addition to being pretty damn good. It's special-occasion beer, and no matter what you end up doing over the next few days, you should try to make your buzz at least a little bit special.
---
This is Drunkspin Daily, the Concourse's adequate source for booze news, reviews, and bullshit. We'll be highlighting a beer a day in this space; please leave suggestions below.
Will Gordon loves life and tolerates dissent. He lives in Cambridge, Mass., and some of his closest friends have met Certified Cicerones. Find him on Twitter @WillGordonAgain. Image by Jim Cooke.
The Concourse is Deadspin's home for culture/food/whatever coverage. Follow us on Twitter.