Long before John Rocker offered him his thoughts on New York City transit, SI.com columnist Jeff Pearlman was a rosy-cheeked collegian who was more than happy to share his sexual habits with the world.
And by "world" I mean "local news," and by "sexual habits" I mean "proud virginity."
The video is helpfully and wincingly annotated by Pearlman his ownself. (Pearlman, in addition to writing the profile that briefly turned John Rocker into America's most famous bigot, is the author of The Rocket That Fell To Earth, which we excerpted here and which he'll be discussing tonight here.) For those of you at work and sadly unable to watch ancient teevee trend stories about the sexual predilections of American youth, here is Pearlman's money quote:
I see, maybe, being editor of a college newspaper, or being really good at something, or being a good citizen, or something like that, as a real sign of manhood. I don't see being able to whip out your penis, heh heh, and do the nasty thing or whatever you wanna call it as a sign of manhood. That's not what I see it as. I consider myself a man just as much as anybody.
It's an irony of history that this abstemious young lad went on to write the definitive account of football's greatest collection of hedonists and not, say, a biography of A.C. Green.
G/O Media may get a commission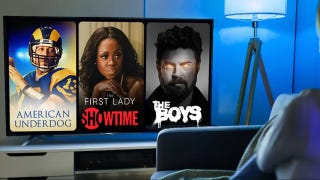 UNDER $1
99¢ Prime Video Channels
The most embarrassing segment of my life … [JeffPearlman.com]