Don't worry too much about A-Rod, you guys. According to his former third-base coach's wife, he's ready to be saved by God, or something.
Here we have a blog post—and what a blog post it is—written by Gari Meacham, a devoutly Christian author and public speaker who also happens to be married to former MLB player Bobby Meacham. A few year ago, Bobby was the third-base coach for the New York Yankees, but then he was fired—because, Gari says, A-Rod complained about him to management. What did A-Rod have to complain about? Gari has a few ideas:
Was it because I had consoled his wife (now ex-wife) and prayed with her about the struggles she was enduring in their marriage? (A week later he was publicly paling around with Madonna…) Was it because Bobby was closer to other infielders on the team and A-Rod felt threatened? Could he sense a spiritual tug as we covered him in daily prayer; only to get thrown under the bus by the very man we prayed for?
Deeply religious, pious people who still know how to passive-aggressively fling mud are my favorite kind of deeply religious, pious people. But the past is the past, and this blog post isn't about making A-Rod look bad (even though it kind of is). It's about celebrating God's plan.
Gari goes on to describe how her husband, now managing the Blue Jays' Class-A affiliate, crossed paths with A-Rod while the slugger was on his rehab assignment. That's when everything came full circle:
"I've been praying for you Alex" Bobby said with a warmth in his smile. "I know you're going through a lot right now and I want to tell you something."

Alex remained frozen on third base. As if time stood still, Alex leaned in to listen. "All the things you're going through right now (drug investigation by Major League Baseball and the threat of a life-time ban from baseball) it's too much for you to handle on your own. Without God, you'll struggle to make it."

Alex listened intently as Bobby continued. "I want you to know that you're not alone. The Lord is with you, and He won't fail you. No matter what you've done, or what lies ahead, He loves you."

Alex quietly lifted his voice as his eyes looked through Bobby; as if he was in communion with something Bobby couldn't see. "I guess I'm learning what's really important" he whispered. "You are," said Bobby "so don't forget what God teaches you."
G/O Media may get a commission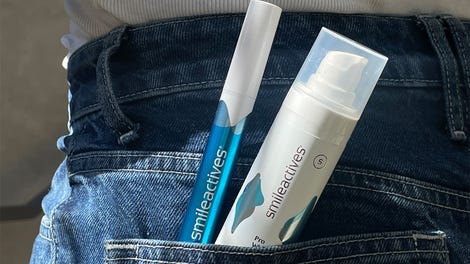 58% off
Whitening Powerhouse Pen & Gel Duo
Here we have a chance to feel some real empathy for A-Rod. The next time your religious aunt corners you and tells you that she thinks it's time the two of you "had a conversation about your faith," just remember that even Alex Rodriguez has to deal with that bullshit. You aren't so different after all.
Photo via Getty