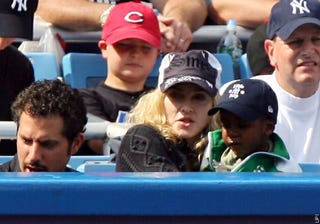 The New York tabloids have awakened from their Alex Rodriguez/Madonna hook-up snooze and are now in full-on attack mode against the Yankees' third baseman and the singer. The tabs are running the photos of Madonna sitting in A-Rod's seats during the June 22 game, which she attended with one of her children..
But leave it to the Post to put a positive spin on this so they don't completely alienate their beat writers from the Yankees' locker room during what is sure to be an ongoing ordeal:
The alleged affair seems to be having a positive effect on the Pinstripe swinger, who last night hit his 534th home run, tying him for 14th place on the all-time homer list.
Yes. Clearly. One Deadspin e-mail tipster says this affair has been going on for "months":
A co worker of mine has a good friend who is married. His wife's family owns a private jet business in NYC and confirmed to me that A Rod and Madonna have been using the plane for get a ways for the last couple of months.
Fun.
And, of course, the pun headlines will be aplenty come tomorrow morning.
Report: A-Rod Late Night Visits With Madonna [NY Post]











Alex Rodriguez In Late Night Visits To Madonna's Apartment [NY Daily News]











Alex Rodriguez and Madonna Affair Report triggers tabloid frenzy [Newsday]