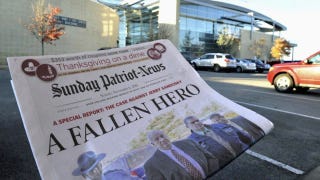 A lot has happened since law enforcement officials in Pennsylvania released the 23-page summary of a grand jury's findings against Jerry Sandusky for alleged sex crimes against children, plus the two Penn State administrators accused of covering it up.
Here's what's worth noting:
The unnamed then-graduate assistant is current wide receivers coach Mike McQueary: "In the presentment, jurors wrote that McQueary—identified in the presentment only as a 28-year-old graduate assistant—was credible but Schultz and Curley were not. Several sources have identified that witness as McQueary." [PennLive]
Got that? Joe Paterno acknowledged McQueary told him about "something inappropriate" between Sandusky and a child in a shower, but he didn't know specifics and he's now "shocked" at the allegations: "As my grand jury testimony stated, I was informed in 2002 by an assistant coach that he had witnessed an incident in the shower of our locker room facility. It was obvious that the witness was distraught over what he saw, but he at no time related to me the very specific actions contained in the Grand Jury report. Regardless, it was clear that the witness saw something inappropriate involving Mr. Sandusky. As Coach Sandusky was retired from our coaching staff at that time, I referred the matter to university administrators." [PennLive]
Paterno's son said Paterno never even discussed the allegations with Sandusky: "'From my imperfect recollection, once he referred it off, I do not believe he had a second conversation about it,' Scott Paterno said of his father and how he handled any follow-up on the allegation. He added: 'The appropriate people were contacted by Joe. That was the chain of command. It was a retired employee and it falls under the university's auspices, not the football auspices.'" [New York Times]
The state police commissioner has weighed in: "Noonan said subsequent reports of activity were ignored, and in the case of the 2002 incident police were not notified. 'And that's very unusual. I don't think I've ever been associated with a case where that type of eyewitness identification of sex acts taking place where the police weren't called.'" [CBS]
The DA who oversaw the 1998 investigation in which two detectives secretly overheard Sandusky admit to a mother he had touched her son—resulting in no charges filed—has been missing for six years: "A member of law enforcement who was in the room with Gricar said the DA was told about the report, and had two police officers hide in the mother's home while Sandusky came to her house to talk about what happened. The meeting, according to the source, was Sandusky's idea. 'That mother said to the police, 'He's coming over to explain what happened to me,'' the source said. 'Ray and the detectives decided that they would go to the house to find out what was going on—to hear what he had to say.' A few days later, Gricar got a report back from police. 'Ray said 'I'll be in touch,' and he called the chief or supervisors for those detectives. I don't know what he said, but I know that no investigation or charges were pursued from that point on,' the source said. By June 2, the report was labeled 'unfounded' by Penn State police, and the case was closed. The Penn State police officer who led that investigation, Ron Schreffler, is now retired. When approached in March, Schreffler said he couldn't comment and asked a reporter, 'How did you see that report?'" [PennLive]
Penn State has denied that overnight football camps Sandusky ran until 2009 were affiliated with the university: But having them take place on satellite campuses still constitutes an implicit endorsement, since they still took place on satellite campuses. [Onward State]
Jerry Sandusky gave a 2007 commencement speech at Penn State: For the College of Health and Human Development. Seriously. No word on whether Penn State now says it didn't endorse his speech. [PSU]
[Photo via @dennisdoddcbs]
Click here to read all of our coverage on the Penn State scandal, which will appear in reverse chronological order in the sidebar to the right.