Chris Benz and Dave Shireley will be filing dispatches from the Rugby World Cup in New Zealand, in the odd moments that they are sober. For a rugby glossary and position guide, click here.
This World Cup is the biggest event ever to come honking and stumbling through New Zealand, and the country has had the additional privilege of watching its own team, the best in the world for nearly two years, make a run into Sunday's final. And yet something's wrong. Our hosts—instead of believing in its boys, instead of watching with steadily mounting glee, instead of simply enjoying the party—have decided to turn themselves into ... Cubs fans. Here they are, just hours from the final, still waiting for something to go wrong. It's the insecurity of a small country on the bottom edge of the world, where sheep outnumber people eight to one. Rugby is the thing New Zealand does best. Here, losing hurts worse than winning feels good.
The All Blacks, despite having been favorites or co-favorites in all seven World Cups, haven't won since that first one in 1987, played in Eden Park (site of Sunday's final) against France (Sunday's opponent). France has sent New Zealand home from two of those seven World Cups. In 1999, in a semifinal against one of the greatest All Blacks sides ever assembled, the French came back from a 24-10 deficit with a flurry of second-half drop goals and glorious tries in what the BBC called "without question ... the greatest game in World Cup history."
Four years ago, with the World Cup in Paris, Les Bleus again ended the All Blacks' tournament, this time in the quarters. The match began with a jersey controversy (the French changed their kit from normal blue to nearly black, forcing the All Blacks to fade to gray) and involved an infamous forward pass, which made mistaken referee Wayne Barnes a marked man in New Zealand.
G/O Media may get a commission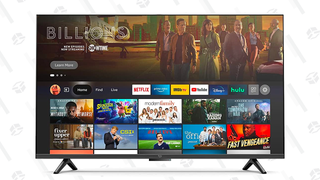 22% off
Amazon Fire TV - 50" Omni Series 4K - Early Access Deal
The World Cup history between the two sides is enough to make even the staunchest All Black supporter paranoid. I was in Eden Park for the semis, when New Zealand routed Australia, 20-6—the Aussies are the All Blacks' archrivals, of course, and most people saw the match as the real final. For a second the atmosphere shifted palpably from drunken pessimism to drunken optimism—then back to grim fatalism when everyone remembered France was in the final, too (once again thanks to another dubious refereeing decision). Sunday night will either be the happiest, drunkest night in New Zealand history, or the saddest (and drunkest). There is no middle ground.
Roughly analogous to: Canada's hockey team in the Vancouver Olympics/2007 New England Patriots/Lance Armstrong (New Zealand) vs. France's 2010 FIFA World Cup team (France). In our quarterfinals preview, I compared the All Blacks to Brazil in the FIFA World Cup mixed with the '07 Patriots. But as the final looms, on home soil, a more apt comparison comes to mind: Canada's hockey team in the 2010 Olympics. Hockey belongs to Canada the way that rugby belongs to New Zealand. Victory is expected, and all hell breaks loose after a loss. Now imagine if Canada hadn't won gold since the last time the Olympics were played there (in the '88 Games in Calgary, the Soviets actually took gold), and that Sid the Kid tore his groin in pool play. That's the All Blacks going into the final. Fly-half Dan "the Man" Carter, leading points scorer in rugby history and perhaps the most famous man in New Zealand, tore his groin before the last quarterfinal. Then his replacement, Colin Slade, tore his groin in the quarters. Enter 22-year-old testicular cancer survivor Aaron Cruden, who made his first start in the No. 10 jersey in the semis. He wasn't even on the All Blacks' squad to start the tournament, and he had to cancel a trip to Disney World to play in Sunday's final. Think Tom Brady coming in for an injured Drew Bledsoe, mixed with a little bit of Lance Armstrong.
And France? Could the analogy be anything but another French side—the 2010 FIFA World Cup team? Both suffered from internal divisions and player mutinies that couldn't have been more characteristically French if everyone had been toting around baguettes and arguing about Sartre. Both of their World Cups have been marked by underachieving and crappy reffing. The French got into the soccer World Cup through that Thierry Henry handball against Ireland. They didn't deserve to be in the tournament. And while Les (rugby) Bleus may belong in the tournament, they could very well be the least-deserving team to ever play for a world title in anything. This is the first team ever to lose two games in pool play and make it to the final, and it beat a clearly superior Wales side in the semis thanks to a controversial red card. France played 60 minutes 15-on-14 and still got outplayed. Coach Marc Lièvremont, who started in the 1999 World Cup defeat of New Zealand, has consistently baffled, both in his coaching decisions and in his weird Gallic press conferences. Players were openly criticizing him in the press after their final pool defeat to Tonga. Captain Thierry Dusautoir has basically taken over their side. So French.
A brief word about the awesomeness of the haka: When Piri Weepu leads the All Blacks in the haka just before kickoff, get out of your chairs, turn up the volume, and prepare to get goosebumps. In the Eden Park press seats, halfway around the world, I'll have them too. There is no greater spectacle in sports than the All Blacks laying down the challenge with the traditional Maori ritual. Sunday night's promises to be something special.
Players to love: Piri Weepu (New Zealand): The third New Zealand nominee for player of the year, Weepu put the All Blacks on his shoulders after Dan Carter tore his famous groin, becoming a Facebook meme in the process. His poise and passion marshaling his forwards and distributing to his backs has taken pressure of of Aaron Cruden at No. 10. He might be the player of the tournament. And he leads the haka with nothing short of liquid badassery.
Aaron Cruden (New Zealand): The 22-year-old Cruden is possibly the story of the tournament. He looks like a pimply Frodo Baggins who can't believe someone handed him the ring. Initially left off the squad. Third choice at fly-half. Currently missing a trip to Disney World and one of his testicles. But his performance against Australia, including the most nonchalant of drop goals, has proven he has more balls than anyone could have guessed before the World Cup began.
Richie McCaw (New Zealand): The most-capped All Black in history, he's already lost one World Cup against France. He'll do everything he can not to let it happen again, in what is almost certain to be his last World Cup game. McCaw is magic around the ruck, stealing the ball with a blatant disregard for his body and the laws of the game. If he can lead his boys back to World Cup glory on home soil, he will go down as one of the greatest All Blacks of time. No pressure, Richie.
Thierry Dusautoir (France): Seemingly the only solid, normal member of the French squad, Dusautoir does all the dirty work for Les Bleus, and he does it well. If you don't notice him, it's because he's at the bottom of every pile, everywhere on the pitch—a class act in a team that has been lacking class all tournament. Dusautoir nearly single-handedly has held his team together, against all odds, all the way to the final.
Maxime Médard (France): He is still almost as good as his sideburns, and his sideburns are excellent.
Players to hate: Sonny Bill Williams (New Zealand): As hard as it is to hate anyone on a squad that holds the dream of an entire nation in its over-muscled arms, Sonny Bill has made it easy. He's the Los Angeles Galaxy David Beckham of the All Blacks: more a star in the media than on the field. He came off the bench against Australia with the game still within a score, performed a five-minute handshake with fullback Izzy Dagg, then shoulder-charged the equally loathsome Quade Cooper (for which he does get a few grudging bonus points), and got sent off for 10 minutes. The All Blacks have no room for a player who puts himself above the team, and that's SBW. He starts on the bench, and don't be surprised if he stays there.
Marc Lièvremont (France): Continue to hate the absurdly mustachioed French coach. And know that when you ask him a question in English during a press conference, he looks at you as if he just walked in on you fucking his daughter. He'll glare at you, then answer, curtly, in French. Please hate him. Everyone else does, including pretty much his whole team.
Possible drinking game: Drink every time the years 1987, 1999, and 2007 are invoked. Drink for every on camera appearance of the Webb Ellis Cup. You will be quite hammered. But so will everyone in New Zealand, this reporter included. You'll be in good company.
Desired result: The All Blacks can't lose, can they? All 4 million Kiwis will wake up this morning asking themselves the same question. But they'll go to bed drunk and happy, and World Cup champions at long last. The All Blacks are better than the French at nearly every position on the field, and they want it more than anything. Meanwhile, the French often look like they'd rather be anywhere other than a World Cup rugby pitch. Piri Weepu will lead the Haka, and Richie McCaw will lead the All Blacks to glory. Margin? Same as 1987. Twenty points. 33-13, mighty All Blacks.
Dave Shireley is also a Deadspin rugby correspondent. He arrives in New Zealand with 1.5 TBs of downloaded rugby matches on three hard drives and with zero girlfriends. During his otherwise undistinguished career at Colorado College, he was a hooker for three years. That's a rugby joke.