The Mighty MJD's Smorgasbord runs every Monday. Do enjoy.
• Starting your NFL Sunday by seeing a 10-year-old reading ESPN-written material poking fun at your favorite team ... that's a special kind of pain.
• I'll refrain from saying anything bad about the 10-year-old ... there's got to be boundaries somewhere, and you know, he's not so bad. Maybe ESPN saw him and thought he combined the best elements from FOX's pregame show ... Terry Bradshaw's 4th-grade reading level and Jillian Barberie's lack of public hair.
• There seems to be some waitress confusion today. There are alternating waitresses stopping by the table; a very sweet blonde girl and a brunette with an ass off of which you could play quarter bounce. I am not unhappy.
• The farther and farther away we get from the Patriots cheating scandal ... the more it looks like they're cheating. I know it's just the Browns, but this opening drive from Tom Brady is just surgical. Eazy Eric Wright is trying to cover Randy Moss ... and he's just fucked. There's no hope. I think we're going to see some double-teams.
• LenDale White loses control of the ball for the Titans, and dickhead Falcons corner DeAngelo Hall picks it up and takes it to the house. Given the Michael Vick situation and the fact that Joey Harrington's their quarterback, I feel pretty sympathetic towards the Falcons ... except for DeAngelo Hall. It makes me feel sad to see him happy.
G/O Media may get a commission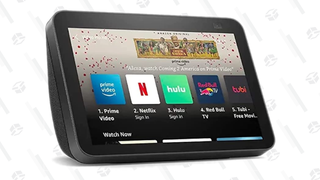 • I finally hopped on the bandwagon and started Derek Anderson in my fantasy league today ... that's what happens when you draft Phil Rivers. Anyway, my opponent started Joe Jurevicius, so now that the Browns are on the goal line (with a chance to take a 7-3 lead), I'm begging for Anderson to throw the ball in the endzone to a black man. And he's happy to oblige me ... though I forgot to specify that I wanted that black man to play for the Browns. He hits Asante Samuel in the hands, it bounces off, and there's an interception for Junior Seau.
• The Fish run a reverse to Ted Ginn Jr. ... not much happening, he reverses field, gets a crushing block from Ronnie Brown, and then OH DEAR LORD ... Today, the Smorgasbord is profoundly sorry to mourn the loss of Trent Green. I honestly think there's a chance he might be dead. Texans DT Travis Johnson just rammed his knee into Trent Green's earhole and killed him.
• I think my favorite part of that was when Johnson got up and started talking shit on a motionless Trent Green. I understand, you're upset that the guy took a dive at your knees, but still ... he's Trent Green, he's 58 years old, he's one concussion away from being Terry Schiavo, and he's laying on the ground and not moving. You might wanna ease it back a notch.
• Someone said they just saw Trent Green moving ... which is good, I guess. Hell, he barely moves when he's up and under center. But here comes the stretcher, the prayer circle, and the countless replays of the hit against the Bengals last year that made his head bounce like a rubber ball. Given his history, and the size of the man whose knee just rattled his dome, it's not crazy to think this is the last we'll see of Trent Green.
• And it's Cleo Lemon time! Hooray!
• CBS has captured extremely rare footage of Randy Moss blocking. I don't think the Discovery Channel's Planet Earth camera teams ever captured anything that rare.
• Hey, Bobby Beamer's guest starring in a special upcoming episode of Bones on FOX. Hopefully, we'll get to hear the rest of that poem.
• Good news, Dolphins fans ... Cleo Lemon doesn't appear to suck any worse than Trent Green. Also, you don't have to start worrying about what you're going to wear to his funeral every time someone touches his head.
• David Carr, after switching to black gloves last week, is back to the white gloves this week. Dan Marino was right; those look really really gay. I suppose if you're Tom Brady or Peyton Manning, you can get away with that, but if you're David Carr ... you just look like a physically overqualified member of the marching band.
• The Lions have a guy with the last name "Beckham." Somewhat ironically, the first time I ever see him, he's leaving the game with an injury.
• There are a lot of pink ribbons around the league today. I see some coaches wearing pink ribbons on the sidelines, and there's a big pink ribbon banner in Giant Stadium. It's nice to see the league supporting breast cancer research and everything, but given the gender makeup of the league ... where's the love for testicular cancer research? I don't think there are any ribbon colors left available for ball cancer, so I think any color ribbon should be fine, as long as it's dripping with white goo.
• There's a wrestling pay-per-view being advertised for tonight, and the main event is apparently a "Punjabi Prison Match." I have no idea what that is, but I hope it doesn't have to end with forced sodomy. Sometimes, I wish the NFL could put different variations on games ... so if a particular game looks like it'll be boring (Baltimore @ San Francisco this afternoon strikes me as a good example), they could put a giant steel cage around the ring, or make it so you had to climb a ladder to score a touchdown. I think they were planning on doing this today, but having Ray Lewis in a Punjabi Prison Match just takes home field advantage right away from the 49ers and gives it to Ray Lewis. That's not fair.
• The Steelers, after taking a 7-0 lead into the half (probably because of the refs) open up the third quarter with a 10-minute, 17-second touchdown drive. That looked pretty demoralizing.
• Rodney Harrison, in his first game back from being suspended for receiving HGH, is penalized when he lines up across from Kellen Winslow and decides to defend him by grabbing Winslow's facemask and pulling it in various directions. It had to be difficult for Rodney to sit at home for four weeks and not be able to cheap shot anyone. Every now and then, he'd probably get up off the couch and trip his wife or hit one of his kids in the balls just so he could feel like his old self again.
• Jon Kitna falls down in his own endzone ... and now seems like a good time to point out that what the Redskins defense has done today has been pretty impressive. They'd end up holding the Lions to 144 total yards, when their previous low had been 310. That's pretty good.
• The next time the Steelers get the ball, they unleash an eight minute, six second drive, this one ending with a Najeh Davenport touchdown. Long drives, power running, wearing a defense down ... Mike Tomlin is more Bill Cowher than Bill Cowher was. This is turning into an ass-beating.
• The Seahawks are getting fucked by the officials, though. If they weren't, it would be 42-0 Seattle.
• Andre Dyson ... you are little more than a chew toy belonging to Plaxico Burress. In maybe the single-most embarrassing play of the afternoon, Plax catches a ball along the sidelines, Dyson has him lined up, hemmed against the sidelines ... and Plax just turns and shoves him by his face down to the turf. House. 28-24 Giants ... that turned the game.
• Byron Leftwich is in the game for the Falcons ... I have no idea if that's because Joey Harrington is hurt, or if Joey Harrington was ineffective. Wait ... FOX has this stat: the Falcons are 3-of-15 on third down ... that might have something to do with it.
• The Steelers/Seahawks game ends early (so the refs could go collect their paychecks from Dan Rooney!), so good news ... we get to see the last 3:00 minutes of the Panthers vs. Saints game. This should be exciting football.
• David Carr drops back ... and it's as if he knows his game just went to a national audience, the pressure kicked in, and he threw an interception. Amazing. Of course, the because the Saints are terrible, they can't advance the ball past where it was returned, and they settle for a 54-yard field goal attempt, and of course, miss.
• Derek Anderson throws to Kellen Winslow ... and it's a touchdown for the Browns, pulling them to within 10 of the Patriots. I think this game, even more than beating the Bengals or the Ravens, is concrete proof that the Browns don't totally suck. It's going to be late in the 4th quarter, they're down just 10 to the Patriots ... I don't think any other Patriot opponent has been able to say that.
• Texans kicker Kris Brown hits his third 50+-yard field goal of the day (he's only the third guy to ever do that) for the Texans, and shockingly, Cleo Lemon is not able to bring home the victory for Miami.
• The Falcons are able to block a Titans punt, or at least get close enough to convince the punter that any effort to actually punt would be futile ... so they're going to have the ball at the 17-yard line, down 7, with a chance to tie it up.
• With this chance, Byron Leftwich throws two consecutive passes that sail a good 10 feet over the heads of anyone who happened to be in the endzone. It's like an NBA team brought someone off the bench in the closing seconds to hit a three ... and that guy closed his eyes and heaved the ball over the entire fucking backboard. It really didn't look like Leftwich was throwing the ball away ... he set his feet, picked a target, and threw it ... and might have hit someone who was standing about 20 yards behind that target. People in the stands wearing Falcons jerseys are not eligible receivers, Byron.
• Carolina hits a last-second field goal, proving that they are slightly less shitty than the Saints. I wonder if losing at home to a David Carr-led team could be considered rock-bottom. I certainly hope so.
• On 4th down, Leftwich's final effort bounces off a Titan for an incompletion ... a never-(really, never, ever, ever)-say-die Falcons fan behind me screams, "GET LEFTWICH THE FUCK OUT OF THERE!" Since there's one minute left in the game, the Falcons are out of timeouts, and the Titans just took possession ... I think Bobby Petrino will be happy to oblige.
• The Browns are attempting to put together a late, garbage-time drive, just working on their 2-minute drill ... Derek Anderson takes a snap and spikes it to stop the clock, and some asshole Patriot makes a bee-line to the football (as if it wasn't an incompletion, as if the officials weren't running in towards the play, waving their hands and blowing their whistles, and as if this new "spike" play was something new and confusing), knocks Anderson down, and nearly incites a riot.
• The 49ers/Ravens game is underway, and the 49ers are punting (Trent Dilfer's not off to a hot start, I guess) ... Punter Andy Lee gets off a beautiful, high punt, and Shawntae Spencer is down at the goal line waiting for it, on his knees, fielding it like a ground ball. Ravens take over at the 1 ... that may be the best play of this entire game.
• The Chargers are putting together a nice-looking opening drive ... they've got the right plays called, they're making use of Tomlinson, taking advantage of Denver's blitzes ... it looks rather sharp. Phil Rivers must be pulling a VooDoo Tatum and calling his own plays out there (I doubt Norv would notice). He caps off the drive with a 2-yard touchdown run.
• The Chargers kickoff, and the Broncos cough it up on the return ... it pops into the warm and loving hands of Chargers special teamer Brandon Siler, who takes it to paydirt. YEAH. YOU LIKE THAT, ESPN 10-YEAR-OLD? WHO GETS A D-MINUS NOW? WHY DON'T YOU SUCK MY C ... whoa. You know, I probably shouldn't do that. Sorry, ESPN 10-year-old. Stay in school. Don't do drugs.
• San Francisco punter Andy Lee is on again ... and holy fuck, this one goes for 74 yards and is downed at the 2. That is beautiful punting. Andy Lee is a one-man show ... I'm so glad this wasn't a Punjabi Prison Match.
• Sign at the Bucs @ Colts game: "ONE GAME AT A TIME." That's awesome, Colts fan ... your team is so brain-erodingly boring that you're making signs that spout meaningless clichés. Other signs seen in the RCA Dome: "IT'S A TOTAL TEAM EFFORT," "TAKE WHAT THE DEFENSE GIVES YOU," and "I'M REALLY PROUD OF THE WAY WE HUNG IN THERE."
• Jeffy Garcia has the Bucs on the board, pulling to within 13-7 ... I kind of had a feeling that this game wouldn't be a blowout, given the Colts injuries, the Bucs rejuvenated defense, and the way Jeffy's been playing.
• Speaking of the Bucs, if George Clooney plays a convincing Michael Clayton in this new biopic, and he does it without blackface ... I think he deserves an Academy Award.
• I wonder why there are only three afternoon games this week ... it seemed like the league had sort of changed policy over the first few weeks and had five or six games going at once in the afternoon. I liked it better that way. Especially when one of the games is Baltimore @ San Francisco, which really shouldn't even count.
• And speaking of that "Offense Optional" game, the Ravens hit a field goal with 2:44 left in the first half to take a nearly-insurmountable 3-0 lead.
• The Chargers lead 17-3 with about a minute to go in the half, and they're deep in their own territory ... it looks like Norv would've been perfectly content to just run out the clock, but they kept handing it off to LaDainian Tomlinson (11 yards) and Michael Turner (49 yards), and the Chargers are going to get a field goal out of it. 20-3 at the half.
• Good news during the halftime report of the late games (unless you want the Dolphins to win at some point this year): Trent Green was said to be alert and talking as he was being wheeled off the field. He's expected back.
• Also, Matt Leinart has a fractured collarbone, and according to early reports, will be out at least six weeks. Call it karma, call it God, call it whatever you'd like ... but the selfish douche who wants the team to "ride or die" with him, even if that means losing, is out for an extended period of time ... and the friendly, willing-to-share, holy roller just became the unquestioned starter at quarterback for the Arizona Cardinals. If I was Matt Leinart, I'd call Stephon Marbury and get some advice on finding God.
• Trent Dilfer at the half: 2-of-6, 8 yards. The 49ers, at the half: 26 plays, 56 yards. Punter Andy Lee is the 49ers best player, and everyone else is tied for last.
• Coming out to start the third quarter, I get this stat from CBS, trying to break my will: The Chargers, thus far this year, are +27 in the first half, and -24 in the second half.
• Also, the Red Sox have taken a 9-0 lead in the top of the 8th, and I'm thinking that lead is safe. So that's going to make 3 postseason sweeps on the books already ... this makes me feel pretty confident that the Yankees are going to win this evening, even if Bud Selig himself has to umpire home plate.
• Whoa ... Trent Dilfer completed a pass downfield.
• Holy fuck, he did it again ... and this one was even completed in the endzone. Amazing. I might've bet my right foot that Trent Dilfer wasn't going to be throwing any touchdown passes today. Dilfer celebrates like ... well, like a man who hasn't had a whole lot to celebrate in a while. I guess it's hard not to be happy for him.
• Philip Rivers goes to Vincent Jackson in the endzone ... and my goodness, that's going to make it 34-3. I feel more relief than joy, really. I don't know what's made the difference ... Phil Rivers hasn't sucked today (especially in the second half), the offensive line's been much better ... maybe it's the pink ribbon on Norv's chest that's making the difference. Some guys just look more comfortable in pink. I'm all for wrapping Norv in head-to-toe in pink ribbon next week.
• Gus Johnson's calling the Ravens/49ers game ... not even Gus can do a whole lot to help this one. I think I just heard him snoring.
• 49ers punter Andy Lee is on again ... and this one's boomed for 64 yards. This guy's in the zone ... I don't know if I've ever seen a punter take over a game before.
• The Broncos, looking to add a garbage time TD, are in Chargers territory, and it's raining like hell ... Jay Cutler drops back and throws over the middle, and his receiver falls down. Cutler's screaming at the guy as he comes back to the huddle ... because he fell down trying to make a cut in freshly-drenched grass. That's a dick move, Jay Cutler ... the guy fell down. It's wet. It happens. And it might be different if you hadn't been asshole-awful yourself today, Jay. Any receivers jump your shit after you underthrew Brandon Marshall by about 10 yards a few minutes ago, handing San Diego an easy interception?
• Two plays later, Denver goes for it on a 4th and 3. Cutler runs off-tackle left, and comes up way short. Good. Dickface.
• San Diego responds by handing the ball to Michael Turner, who runs 78 yards nearly untouched through a Broncos defense that didn't seem particularly interested in tackling anyone. 41-3.
• About that Bucs/Colts game not being a blowout ... nevermind.
• I've really got to hand it to Gus Johnson ... Steve McNair throws the ball deep, and he still turns on the "I am Gus Johnson, and THIS IS EXCITING" voice while the ball's still in the air, as if there was any chance that it would be completed. That's a professional.
• Ray Lewis lays a hit on 49ers fullback Moran Norris ... and Norris shrugs him off, keeps his feet, and keeps picking up yardage. I probably wouldn't mention this if it weren't Ray Lewis.
• According to FOX's Jay Glazer, there's a chance that Matt Leinart could be out for the year. That's no good.
• The end of this Ravens/Niners game has turned into a timeout-fest ... which is good, because if any game should be dragged out, it's this one. You know what's better than shit? More shit. The Ravens pick up one last first down, the 49ers have no timeouts left, and can just kneel on it now ... but not before calling another fucking timeout ... we're not confident that Steve McNair can execute the kneel-down without going over it first? Fuck you, Brian Billick.