Last year, residents of Philadelphia's Kensington section created a dumpster pool for their block party. Though the stunt was incredibly cool, the city deemed it incredibly dangerous and forbade the 2400 block of Cedar Street from getting any more block party permits.
"We are not screwing around, Philly," the city said in a statement, citing various dangers of opening a fire hydrant to fill a dumpster with water (okay, fair enough). Further attempts at dumpster pools were immediately thwarted; the city said "for the cost of what is needed to do this legally, a resident could install an actual above-ground pool."
But there is one place where there is a free outdoor dumpster pool for aficionados. Unfortunately for Philadelphians, it's an expensive 10-hour flight away. It's in Brussels, Belgium.
That's where the similarities between the two cities' dumpster pool situations end, however. Philly's dumpster pool was a DIY, under-the-radar block party stunt. Brussels' dumpster pool has an official sanction from the Palais des Beaux-Arts (generally known as Bozar—get it?—or PSK). And while Philadelphia residents can swim in any of the city's 70 outdoor public pools, Brussels' dumpster pool is literally the only public outdoor pool in the city.
G/O Media may get a commission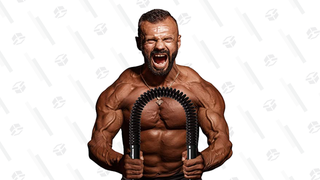 10% off
Zenooze Boa Power Twister
Yes, the lovely, gorgeous, historic capital of Belgium and the de facto capital of the European Union has 69 fewer pools than fucking Philadelphia. Nice! Well, if you live in Philly and not Brussels.
The Pool Is Cool movement—"We tried really long to find a better name but it didn't work out," says one of the founders, Paul Steinbrück—began around 2015 with Facebook posts. It began with the same incredulousness I made in the paragraph above: How the hell does Brussels have no outdoor public pools?!
The first year, it was small. A group of friends held guerrilla swims in public fountains and small lakes in Brussels (which, like making a dumpster pool in Philly, is technically forbidden). In 2016, they created a pop-up pool in a Brussels neighborhood, which Steinbrück says was well-received. This year, Bozar invited them to set up a pool outside the museum as part of their summer project. (Amazingly, it's part of a hip-hop history exhibition called Yo.)

The museum rented the dumpster pool from a company that builds such container pools for short-term use in Belgium. "They organized the pool," Steinbrück says, "and asked us to organize the story around it." The Pool is Cool team built a sun deck with a shower next to the dumpster pool. The pool will be up through the summer. It's been a hit so far.
"People, all of a sudden, they drop off their working clothes in a sense," says Natasja Rubiano, one of 12 on the Pool is Cool team. "They go and grab a drink and stand around and chat and go for a swim. It's just transforming the city all of a sudden. To see people really enjoying being outdoors around this phenomenon of water, that's absolutely incredible."
There used to be outdoor public pools in Brussels, though the last one closed in 1978. "There's no real history about it," Steinbrück said. "They just disappeared. Most of them today are built up with housing or other buildings. They're really not even visible anymore in the city." The Pool Is Cool crew hopes their stunts will bring back swimming to the city.
"Don't you remember when you were younger, when it was so hot in the city you just wanted to go somewhere to refresh yourself?" says Louisa Vermoere, another member of the crew that runs Pool is Cool. "I'm not originally from Brussels, and when everyone comes to this city they are shocked there is no place to get refreshed when it's hot—except the shower. And that's not a place.
"It's not that I love swimming so much. There's just such a big social life around it."