According to Unbroken, director Angelina Jolie's adaptation of Laura Hillenbrand's 2010 nonfiction bestseller, Louis Zamperini had one hell of a life—so momentous, in fact, that it would make a great movie. Turns out, that ends up being part of the problem. Child delinquent, Olympic champion, World War II bombardier and prison-camp survivor ... Zamperini, who died this summer at the age of 97, experienced an uncommon youth, but Jolie only manages to suggest how blandly dramatic and inspirational it all was.
The best sports movies according to Toheeb Jimoh
The film, which opens Christmas Day, features rising star Jack O'Connell (terrific in the little-seen prison drama Starred Up) as Zamperini. Growing up in Southern California between the world wars, this son of Italian immigrants seemed destined to be a two-bit criminal, stealing and getting into scuffles, before his older brother Pete turned him around, helping him develop his talent as a runner instead. Unbroken portrays these early days as something of a highlight reel: We see the delinquency, but then it's time for the kid to get a couple important character-building quotes from Pete ("If you can take it, you can make it" and "A lifetime of glory is worth a moment of pain") before we go into montages of Zamperini's training and eventual appearance at the 1936 Olympics in Berlin.
The bulk of Unbroken, though, concerns what happened next. Fighting the Japanese during World War II, Zamperini and the rest of his flight crew (played in part by by Domhnall Gleeson and Finn Wittrock) crash in the South Pacific in 1943, forced to survive on a raft for more than 40 days with almost no rations. Thankfully, he's rescued, which seems like a miracle, until Zamperini realizes he's been scooped up by the Japanese army. Soon, the young man is targeted by a ruthless prison commander named Watanabe (musician Miyavi), who wants to break this Olympic hero so as to prove Japan's superiority to the West.
Mark Twain's line about the difference between fiction and real life—"fiction has to make sense"—haunts Jolie's adaptation. Assuming that no creative liberties were taken, Unbroken dramatizes a life with such a straightforward passivity that it feels made up. Handsomely put together—longtime Coen brothers cinematographer Roger Deakins makes every one of Zamperini's hardships look gorgeous—the film oozes "prestige," but also fetishizes the man's suffering. Whether he's slowly dehydrating on a raft or being systematically punched by each of his fellow prisoners—one of Watanabe's cruel tactics to crush his spirit—our hero suffers majestically. O'Connell goes through the wringer physically in Unbroken, but he gives such a consciously restrained performance that there's no penetrating the man's inner being.
G/O Media may get a commission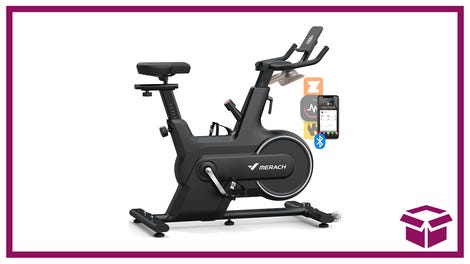 14% off + Coupon
Merach Indoor Cycling Bike
And that's a big problem. In this and her previous directorial effort, the 2011 Bosnian War-set In the Land of Blood and Honey, Jolie demonstrates a fascination with how individuals manage to keep their spirit intact amid impossible circumstances. But in both films, the physical and emotional agonies are more grueling than the characters are resonant. Callous as it might be to say, it's quite hard to muster up much sympathy for brutalized individuals when you don't get to know them at all. Zamperini's back story—a hardscrabble existence redeemed by maturity and focus—is all Jolie gives us, but O'Connell fails to make him a fascinating cipher, a flawed man whose odyssey will lead to a personal redemption. Mostly, we just admire how Deakins lights the mud on his battered, sweaty face during his latest ordeal at the hands of Watanabe. (The Coens are two of the four credited screenwriters here, but their usual wit and off-center characters are nowhere to be found in this dry film.)
The Greatest Generation has received plenty of adoration for its bravery and sacrifice during World War II, and no doubt some will respond to Unbroken for similar reasons. (Again, Zamperini's story really is extraordinary.) But despite the film's athletic competitions, aerial battles, and prison-camp drama, the real person always seems hamstrung by Jolie's dutiful attempt to deliver an inspirational epic. You see the care put into Unbroken's widescreen compositions and period detail. But you never see much life.
Grade: C+
---
Grierson & Leitch is a regular column about the movies. Follow us on Twitter.
The Concourse is Deadspin's home for culture/food/whatever coverage. We're on Twitter, too.