Helsinki-based KHL team Jokerit wrapped up a fairly easy first-round series victory over HC Sochi tonight. They won in five games on the back of teen phenom Eeli Tolvanen, who scored five goals to add to his 19 that he got in 49 regular season games (not to mention his three in the Olympics).
Ohtani has the WBC, but will Mike Trout ever lead the Angels to a championship? | Agree to Disagree
Tolvanen ended the series seemingly by just deciding it was time for it to be over, tying the game up with three minutes remaining on a rebound goal, then finishing it with an overtime wraparound winner that saw the 18-year-old holding the puck for way longer than any skater has a right to.
(For context, the KHL's skill level relative to the NHL is roughly the same as Japan's NPB is to MLB. Tolvanen won't immediately dominate like this in America, but the fact that he's making these moves as a teenager is still pretty amazing.)
G/O Media may get a commission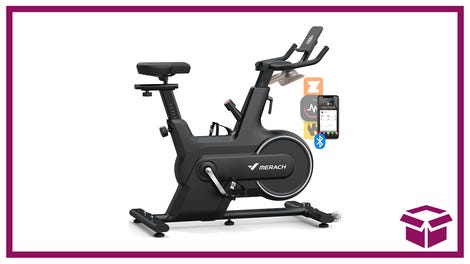 14% off + Coupon
Merach Indoor Cycling Bike
Why should you, the North American hockey fan, care? Because Tolvanen is coming here soon—perhaps soon enough to even make an impact on this year's NHL playoffs.
Tolvanen, a slender 5-foot-10 winger, was a 2017 first-round pick of the Nashville Predators. He hit it big on the national stage last month, when he scored nine points in five games for Finland in the Olympics. That's where everybody got a glimpse of his signature move: an absolutely lethal wrist shot that, when he has room in the slot to fire, zooms to the back of the net in a blink.
Check out that hilarious double take from the Germany goalie after the puck whizzes by. That's what Tolvanen can make the opposition feel on the regular.
These rockets are normal, if you're Eeli. He's scored like this three times in a single game, even. It's awesome. His stick is a cannon in any league, and the level of excitement (or dread, depending on your rooting interests) that Tolvanen can draw when he's setting up for a shot can, at its highest heights, remind you of Alexander Ovechkin. I'm not saying he's next season's NHL MVP—the kid is still extremely raw, and definitely benefits from the more spacious ice that he won't find in the NHL. But seeing him trying to recreate that KHL magic on the Predators' ice—perhaps as a power-play specialist at the start—will be fun as hell.
Tolvanen is scheduled to come to Nashville as soon as his KHL playoff run is over, which could be as early as mid-March or as late as the end of April. The Predators don't exactly need the help right now, seeing as they're the best team in the Western Conference and clear favorites to return to the Stanley Cup Finals. But it never hurts to have a potential future stud along for the ride, too.