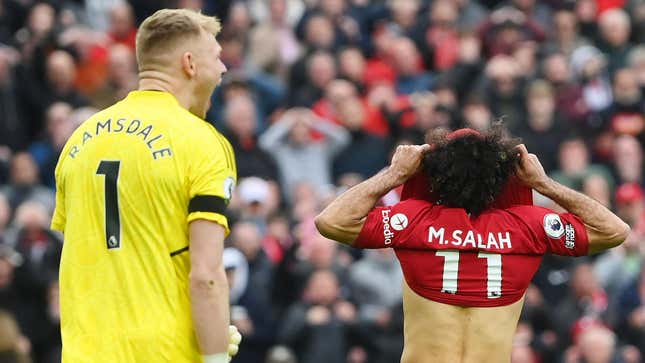 There isn't another league that can produce the utter chaos, at least as consistently, as the Premier League can with yesterday's 2-2 draw between Liverpool and Arsenal at Anfield. It starts with the end-to-end action, two teams waylaying into each other for various periods of the game. Which is then compounded by the noise, and the combination of the two lends a desperation to just about every action on the field that leaves every fan who watched in with their hands on their knees gasping for air when it's over. If Italy, Spain, or Germany want to know what's at the root of the Premier League's ascension to a stratosphere above them both in popularity and financially, that's it.
Erling Haaland set to break records | Premier League
What that 2-2 draw means for Arsenal and their still miraculous chase for the title, given where they've been for years, is in the eyes of the beholder. In fact, that dominated the conversation after the final whistle. Is getting a draw at Anfield always a good result, or is it always disappointing to throw away a 2-0 lead anywhere? Probably both.
What is undeniable is that without Aaron Ramsdale in injury time, Arsenal wouldn't have had to have any of this debate, because they would have left with nothing and assuredly handed the initiative to Manchester City.
The second save is the one that got the most fanfare, given how certain Ibrahim Konate looked to score and the proximity to the goal line. But the first against Mo Salah is the more impressive, as Konate's awkward finish gave Ramsdale a chance. Everything about the save from Salah made it harder, given that he had it heading for the corner anyway, it was going through players, and it took a deflection that only took it farther away from Ramsdale and gave him even less time to react. It is world-class. Without either, Arsenal are probably in a full-blown crisis.
And they'd be there by their own hand. For the first 40 minutes, Arsenal looked as good as they ever have all season. They smothered Liverpool, giving them the same "typewriter" that your older brother used to torment you with. They harvested the organs of both of Liverpool's fullbacks, Trent Alexander-Arnold and Andrew Robertson, with Bukayo Saka and Gabriel Martinelli using their usual slingshot method of movement–moving wider and wider until the right moment arrives to cut inside and frolic through the acre of space they've created between opposing fullback and centerback. When they moved Oleksandr Zinchenko into midfield when they had the ball, they essentially had four against three in there, and two of Liverpool's three were Jordan Henderson and Fabinho, two players that have been spitting oil and making a weird clanking noise since August. Liverpool basically had one Robertson shot wide of the post while being down 2-0. The crowd was silent if not in outright mutiny. It looked…easy, for Arsenal.
I was so much older then, I'm younger than that now
But even though this is the new Arsenal, burgeoning on possibly leaving the old Arsenal behind, there are still traces of the latter in the former yet to be eradicated. All Arsenal had to do was keep the ball, which Liverpool couldn't really do much about, not do anything stupid, and find a third goal when Liverpool pressed too far forward and Virgil van Dijk went off for his regular trip to the zoo this season.
And they couldn't do it. For reasons only known to him, as it always is, Granit Xhaka when Granit Xhaka, and decided to get into a scuffle with Alexander-Arnold. It smacked of a player still not knowing how to deal with his team's dominance, and it woke Liverpool and maybe more importantly, the Anfield crowd up. As shoddy as the Reds have been this season, there are still few teams on the planet that want to face down a fully baying Anfield. Within minutes, Liverpool had a goal back and momentum.
Halftime might have calmed things down, that is if the referee's assistant didn't decide to Chris Pronger Robertson (what?) which only kept the furor up through the break. Only in England.
As good as Arsenal were in the first half, they were equally pummeled in the second. Liverpool took a page from their book, and City's, moving Alexander-Arnold into midfield with the ball. With Xhaka and Thomas Partey retreating so deeply, it gave one of the best passers in the world all the time he would ever need to pick them apart. When Thiago was introduced, it only got worse for Arsenal. From both sides they were being shelled and never got anywhere near close enough to either Alexander-Arnold or Thiago.
And if Salah hadn't been basically wretched the whole match, they might have lost and lost badly. Not only did Salah miss the goal for a second straight time with a penalty, but he couldn't get any shot on target until that last one that Ramsdale saved (he had 10 shots!). If you want some idea of what has happened to Liverpool this season, you only need to see van Dijk meandering through the first half like he'd lost his phone or Salah not putting up four goals with the kind of chances he used to bury as a great starting point. As wonderful a manager as Klopp is, and the way they used to work as a team, it had an element of individual brilliance that covered all the cracks, a la the Triangle Offense only worked when Jordan or Kobe were there to pick up the pieces. They don't have that now, and the results are there to see for everyone.
Still, Salah's missed penalty and Ramsdale's saves are the kind of moments teams look back on and see the margins on which trophies were collected and lost. Going from a win to a draw means Arsenal probably have to get at least a draw at City at the end of the month. Neither has a free pass of a run-in, given how many teams are in the relegation fight, so most weeks both teams will be seeing an opponent with something on the line.
What's scary for Arsenal is that every time City have basically had to be perfect in the run-in to claim the title, last season and 2019, they were (grumble, grumble). But thanks to Ramsdale, Arsenal will still probably make City do just that.
---
To follow along as Sam still tries to come to grips with his enjoyment of watching Arsenal, follow him on Twitter @Felsgate.