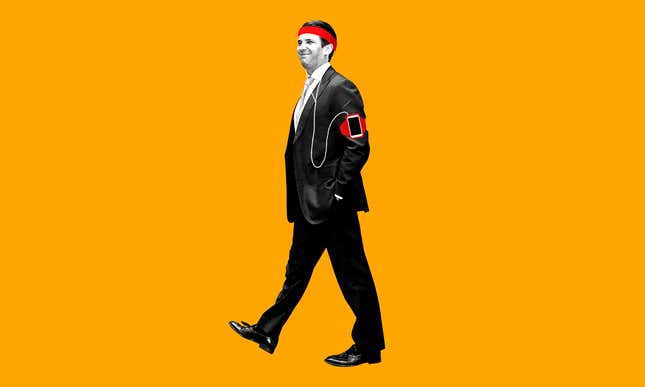 CrossFit is a program dedicated to its rituals. The intense, pan-disciplinary workout regimen practiced by thousands of Americans in WODKILLA t-shirts maintains a healthy competitive scene, and practitioners routinely compete in segmented workouts. One such workout is known as the Murph. It's named after Navy SEAL Michael P. Murphy, a lieutenant, later canonized in the book Lone Survivor, who died in a mission in Afghanistan. The Murph is one of a series of hero workouts, ultra-intense workouts of the day (WODs) named in honor of military personnel killed in the line of duty. To complete the Murph, you have to run one mile, do 100 pull-ups, 200 push-ups, 300 squats, and then run another mile. It's especially popular on Memorial Day. This brings us to Donald Trump Jr.
How running an NFL team is like running a restaurant | Chef Emeril Lagasse
When he's not trawling hunting message boards, Trump Jr. is a semi-active member of the CrossFit community. He's called himself a "big CrossFit guy" and appears to have been most active in the community between 2013 and 2015, before he started getting into Twitter fights and picking cabinet members for his dad. This Memorial Day, he claimed that he'd gone to an upstate New York CrossFit gym and knocked out a Murph in around 37 minutes. That's just five minutes off his previous personal record of 31:56, logged four years ago as 31:46 on popular CrossFit tracking site Beyond The Whiteboard.
The Murph is supposed to be completed while wearing a 20-pound vest; photographic evidence suggests that Trump Jr. did the workout unburdened. Still, his sub-40-minute time is impressive for a 39-year-old. The 31:56 he clipped off when he was 35, though, is ultra-elite. According to a few leaderboards on Beyond The Whiteboard and The Murph Challenge's website, in fact, a 31:56 would have put Trump Jr. somewhere near the 95th percentile of Murph finishers.
In the comments of his Instagram post, Trump Jr. declared that the Murph is tailored to his strengths and "by far my best WOD." He also claimed that he split both of his miles at sub-6:30 pace in his PR Murph. As Trump Jr. clarifies, he did the full Murph—though he doesn't mention whether or not he wore a vest in either attempt.
These times are truly impressive, even without a weight vest. Either Donald Trump Jr. is a world-class athlete or, as several members of the online CrossFit community have claimed, he's fudging the numbers a bit.
Trump Jr.'s BTW profile shows that he did the Murph in 66 minutes in May 2012, and then shaved a whole half an hour off by June 2012. A fair-minded observer might consider this degree of improvement in one month suspicious. I spoke with a handful of CrossFit enthusiasts, all of whom said that a typical time is much higher. House workout enthusiast Hamilton Nolan said it was unlikely that anyone could shave half an hour off of their time in a month, and that a more human time would be between 55 and 75 minutes. Ex-USF football player and current CrossFit coach Nick Schuyler told Deadspin that a 31:56 Murph was an "unbelievable time" and that he wasn't sure if it was possible.
Deadspin asked Andrew Moose, a former CrossFit coach and current owner of Ethos Strength and Conditioning in Sacramento, about Trump Jr.'s PR. He noted that Trump Jr.'s reported Memorial Day time was faster than the winning time in the Murph event at the 2015 CrossFit Games:
2015 CrossFit Games men's division first place time: 38:56. Nothing else needs to be said really. He is completely full of shit.
An instructor at CrossFit Queens noted that completing the Murph in a full weight vest in under 38 minutes would be "very difficult," but did acknowledge the possibility that a truncated version of the workout would be "entirely possible" if he wasn't wearing a weight vest and partitioned his reps into sets instead of doing them progressively.
To complete Murph, partitioned, with no weight vest, with various ranges of motion for each movement, as a 39 year old, in under 38 minutes is entirely possible. I have no idea what DTJ's fitness like is to begin with, but it's possible that he did two miles and 600 reps of something in that time.

The thing about the internet and including fitness on the internet, is that people can make claims, without offering further explanation and that leaves a lot to interpretation.
She is right, of course. Anyone can go online and claim to have completed any physical feat, and no matter how many eyebrows are arched at a Murph time, there's no definitive way to prove its veracity. This makes it entirely possible—perhaps even likely—that Donald Trump Jr. truly is a world-class athlete, as he claims. We encourage him to sign up for and compete in the next CrossFit Games. He won't have a chance to qualify until spring 2018, so he's got plenty of time to get in shape.
h/t Ashley