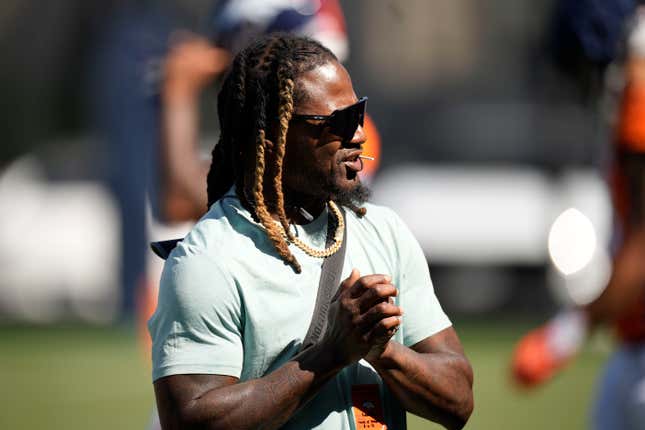 People are usually complex. They come with good and bad qualities. Hopefully, the bad ones don't hurt anybody. At one time Adam "Pacman" Jones was the face of an out-of-control NFL. These days, it's still a fight for him to stay out of trouble, but he has also taken on the ultimate task for a dear friend — the late Chris Henry.

The season might already be over for these two
In December it will have been 15 years since Henry died. At 26 years old he was one-third of what could have been one of the most dominant wide receiver rooms in the history of the NFL. However, like his friend Jones, he was in the middle of several off-the-field controversies and arrests, and plea bargains. While trying to turn his life round, it was tragically extinguished

Jones was out of the NFL in 2009, before he recharged his career with the Cincinnati Bengals. He has still had his struggles, including serving a month in jail in late 2021 after his alleged involvement in a bar fight. Before that sentence was levied, he appeared on Shannon Sharpe's podcast and discussed his recently extended family. A family that includes Henry's.

The Athletic's Zak Keefer spent time with Jones. In a story published on Monday, Jones told him that at first, he had simply asked the mother of Henry's children — Loleini Tonga — to move the family in with him and his wife and children. Jones and his wife would go on to become the legal guardians of the two boys, Chris Jr. and DeMarcus. Their sister Seini, Tonga's daughter from a previous relationship, is off to Ohio State on a basketball scholarship. Her two younger brothers hope to follow in her footsteps as major college athletes in a few years.

Chris Jr. just finished his freshman year at Withrow High School in Cincinnati and is already pushing 6-foot-6. DeMarcus will start high school in the fall with an athletic focus on basketball. He currently stands at 6-foot-3. The size did not fall from the tree at all, and Jones is making it his responsibility to see to it that the only chaos that those two cause is between the lines.
"I'll tell you this," Jones said in The Athletic's write-up. "I'll be damned if these kids make the same mistakes I did."
Henry was released by the Bengals in March 2008 due to his habitual off-field issues, but he was brought back that August. He wasn't able to take the game field for a few weeks due to a four-game suspension. The Bengals were telling the media that Henry had been making a significant effort to live life differently, including making more of an effort to be open with his teammates.

Sadly, his attempts at becoming a better person were cut short. He broke his forearm late in 2009. It was after that injury when during an argument Henry allegedly fell out of the bed of the truck that Tonga — then his fiancee — was driving. Henry died from blunt force trauma. She was never charged with a crime. Also, a year after his death, it was discovered that Henry had CTE.

Nothing will ever make up for the fact that Henry's kids grew up almost entirely without their father. A Google search of stories about what exactly happened on that day would leave them with far more questions than answers. They will never know him, but at least they have people in their lives who did. Including one who was close to him during a transitional time in their lives.

Adam Jones does not fit neatly into a box. Hopefully, he can keep his own nose clean from here on, but he is pouring himself into the next generation to make sure that they do.